Focus On Delivery Systems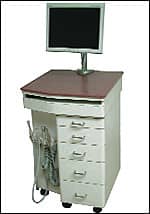 Dome
Dome introduces a standard side-delivery unit that can be modified for a computer with a keyboard tray and space for the CPU. The top of the cabinet and the keyboard tray are angled to allow easy access to the handpieces, syringe, and vacuum. The drawer face for the tray provides wrist support for typing on the keyboard. A large vented service door on the back allows easy access to the CPU and the plumbing utilities. If a flat-screen monitor is attached to the work surface, the wires can be concealed for a clean installation. A variety of articulating arms are available. The countertop can vary from 20 to 26 inches wide.
For more information, contact Dome Inc, 18668 Oxnard St, Tarzana, CA; (800) 423-5767; www.domeortho.com.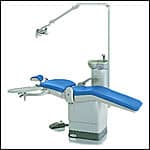 J. Morita
J. Morita introduces the Spaceline EMCIA, which promotes a balanced posture by reducing unnecessary movements, operator stress, and fatigue. The instruments and handpieces are arranged so that the clinician can pick them up with a natural and consistent movement without bending his or her elbow. The handpieces are positioned on the back of the chair below the headrest, while the soft-touch switches are located on the backrest and tray for easy access. The chair's thin design allows the clinician to work closer to the operating field, reducing body contortion. Other unique features include warm air and water, and a low chair-height setting of approximately 18 inches. A Piezo Electric Scaler and cuspidor are available.
For more information, contact J. Morita USA Inc, 9 Mason, Irvine, CA 92618; (949) 581-9600; www.jmoritausa.com.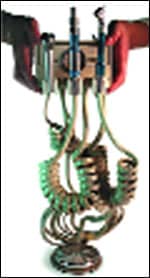 Medidenta International
Medidenta International offers Unibase America 1, a miniature, manual, two-handpiece, and triplex-syringe control unit with coolant and disc foot control designed to mount on any vertical surface or on an arm. Unibase America 1 is available with Air King America high-speed and Meditorque America slow-speed handpieces.
For more information, contact Medidenta International Inc, 39-23 62nd St, Woodside, NY 11377; (800) 221-0750; www.medidenta.com.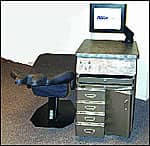 Ross Orthodontic
Ross Orthodontic offers the Spacemaker Plus, a complete workstation with room for chairside computers. The unit has more than 636 square inches of tabletop work surface, a pullout keyboard and mouse tray, and storage space for the computer. Standard equipment includes high- and low-speed suction, a two-handpiece control, and a three-way syringe. A flat-panel mount is optional.
For more information, contact Ross Orthodontic, 880 Eastgate Rd, PO Box 882, Midlothian, TX 76065; (800) 247-4109; www.rossorthodontic.com.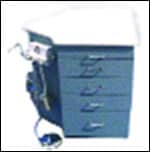 Dansereau Health Products
Dansereau Health Products offers a complete line of dental and cabinet delivery systems. The company offers a 10-year warranty on any delivery system that it currently manufactures.
For more information, contact Dansereau Health Products Inc, 250 E Harrison St, Corona, CA 92879; (800) 423-5657; www.dhpdental.com.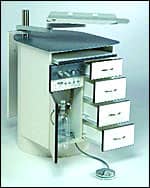 Arrow Industries
Arrow Industries offers four different styles of orthodontic chairside units. All units are equipped with the Dentraction™ tube-retraction system. Other features include a controller and a five-port tube configuration; a self-contained top-fill water bottle; a GFI-protected, four-opening, 20 amp electrical outlet; and a variable-height, 2-inch, round, stainless-steel mounting post. A lifetime limited warranty covers drawer slides and door hinges. Optional features include traditional-style exposed tubing instead of Dentraction, up to six-port tube configurations, an exam light, epoxied quartz stone worktops, and varied drawer configurations with and without a rollout keyboard shelf.
For more information, contact Arrow Industries, 530 Fifth St, Neche, ND 58265; (866) 865-7722.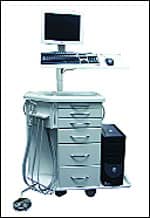 Summit Dental Systems
Summit Dental Systems introduces the 900SH orthodontic cabinet with computer workstation. Standard cabinet features include five easy-to-remove full-extension drawers, one breadboard, hardware throughout, oversized caster wheels for fluid movement, three stationary handles for cart positioning, and a choice of a removable flat plastic surface tray or a sectioned plastic surface tray for instrument and accessory placement. The cabinet's computer workstation uses an outside CPU shelf to prevent heat buildup inside the cabinet. The monitor and keyboard mount rotate independently and provide angle adjustments to allow the orthodontist or assistant access. The standard delivery control includes a three-way autoclavable syringe with a universal tip adaptor, two handpiece selections for one low-speed and one high-speed handpiece, a round handpiece-pressure gauge, a water on/off switch with flow control, a variable-speed disc-type foot control, and asepsis-style handpiece hangers with tubing. The 900SH comes in four colors. Optional features include custom laminate, a solid surface top, and a self-contained water system.
For more information, contact Summit Dental Systems, 3560 NW 53rd Court, Fort Lauderdale, FL 33309; (800) 275-3368; www.summitdental.com.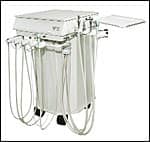 ASI Medical
ASI Medical offers a self-contained delivery system that features an oil-less air compressor and a dry vacuum pump with sound-reduction technology, a waste purge system, and an aseptic dual clean-closed water system. Operation requires only a standard electrical outlet, eliminating traditional plumbing requirements. Standard features include up to three pneumatic handpieces, an air/water syringe, a saliva ejector, and a high-volume evacuator with a solids trap. A durable powder-coat finish on a full metal chassis and the WilsonArt worktop provide a low-maintenance design.
For more information, call ASI Medical Inc, 14550 E Easter Ave, Suite 700, Centennial, CO 80112; (800) 566-9953; www.asimedical.net.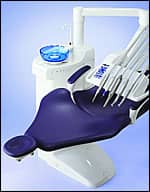 Planmeca
Planmeca introduces the Compact Dental Unit. Compact "a," "i," and "e" models feature an over-the-patient delivery system with balanced instrument arms. The Compact "s" model has a spring-balanced side-delivery arm. All Compact units are designed to allow a seamless orthodontist/assistant workflow and flexible console positioning to give the orthodontist optimal access to all the instruments.
For more information, contact Planmeca Inc, 100 N Gary Ave, Suite A, Roselle, IL 60172; (630) 529-2300; www.planmeca.com.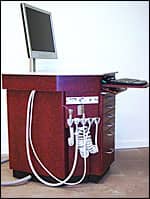 Dexta
Dexta introduces CPU Ready compact side units that accept a CPU along with various mounting schemes for a monitor or laptop. The side units feature hand-delivery systems, storage drawers, breadboards, and keyboards. Also included is a ventilating fan and thermal switch, along with door vents to ensure proper air ventilation. The CPU units accept a minicomputer or full-size computer.
For more information, contact Dexta Corp, 962 Kaiser Rd, Napa, CA 94558; (800) 733-3982; www.dexta.com.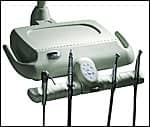 Midmark
The Midmark Procenter instrument-delivery system, backed by a 10-year warranty, features third-generation "kink valves" that offer long life and an individual control system to drive air and coolant water for each handpiece. A patented pop-up lid allows easy access to fine needle-valve adjustments. Anti-friction needle bearings provide easy arm movement. The counterbalanced flex arm facilitates vertical positioning, while the "one-way" positive air-lock securely holds the delivery unit in place during procedures. Dual air-lock release buttons are integrated into the handles for efficient operation. Integration of fiber optics, scalers, Bien Air electric micromotors, and a digital doc intraoral camera with integrated touch-pad controls are factory-installed options.
For more information, contact Midmark, 60 Vista Dr, Versailles, OH 45380; (800) MIDMARK; www.midmark.com.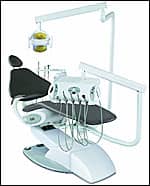 KaVo Dental
KaVo Dental features integrated delivery systems that offer dual touch-pads to access all chair functions and handles on each side of the unit to allow easy access for the orthodontist and assistant. A standard integrated fiber-optic control provides individual voltage adjustment to accommodate multiple manufacturers' fiber-optic handpieces. The control head accommodates up to three electric handpieces, which can include an optional integrated brushless electric motor with digital readout or an integrated intraoral camera. KaVo Dental's delivery systems are available as left-and-right, over-the-patient, rear- or side-delivery solutions.
For more information, contact KaVo Dental, 340 East Main St, Lake Zurich, IL 60047; (888) 275-5286; www.kavousa.com.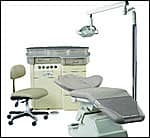 Boyd Industries
Boyd Industries offers the CSU362 delivery unit, which enables "stand-up" entry of information by a staff member. All Boyd delivery units are ETL-approved and carry a 510 (k) FDA approval. CPU storage is isolated from water in the delivery system, and electrical outlets are GCFI controlled to eliminate a shock hazard. A fuse-protected electrical junction box is provided for the CPU. All Boyd computer-compatible delivery units have large ventilation ports, and Boyd offers an optional thermocoupler-controlled fan to evacuate excess heat. All units are backed by a 3-year warranty.
For more information, contact Boyd Industries, Inc, 12900 44th Street North, Clearwater, FL 33762; (800) 255-2693;www.boydindustries.com.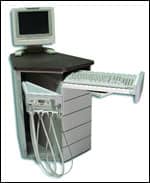 Craftmaster Contour Equipment Inc
Craftmaster Contour Equipment Inc (CCEI) introduces the Vista Unit Visual Aide for patient operatory needs. The Vista Unit features a standard instrument tray that pulls out to bring accessories close to a patient's head and retracts when it is not in use. It also has an optional HVE, a saliva ejector, a high- and low-speed handpiece system with a three-way syringe, an electrical outlet in the back of the unit, pole mounts for lighting options and trays, a keyboard shelf and drawer, and five storage drawers.
For more information, contact Craftmaster Contour Equipment Inc, PO Box 331345, Fort Worth, TX 76163-1345; (800) 475-9260; www.ccei.net.