Focus On Practice Management Software
Advanced Ortho Systems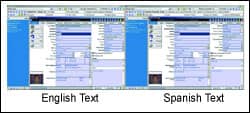 Advanced Ortho Systems offers Program Director 2005 orthodontic management software in all of the world's major languages. Users of each workstation on the network can select the language they want to use at login, and multiple languages can be used in a network. The software is available for use via Internet Program Delivery (IPD) from Advanced Ortho's data center or in office-based local area networks (LANs). The same full-featured program is used for both types of networks; all the system functions and integrations required for paperless operation are available via IPD. Workstations on IPD networks can consist of PCs, thin client terminals, or Macs. IPD does away with the need for daily data backups and is ideal for operating multiple offices.
For more information, contact Advanced Ortho Systems, 41769 11th St, Suite A-1, Palmdale, CA 93551; (877) 803-4412; www.advanced-ortho.net.
ASOS Products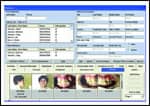 Absolutely Simple Orthodontic Software (ASOS) offers a practice-management software package that features appointment scheduling with editable, color-coded procedures. Appointment times can be found manually or with the automatic search engine. The program manages treatment charting, US and Canadian insurance forms, recalls, and patient tracking. Notes can be attached to patient files or a day schedule. Calls to patients can be made with one mouse click, and the software helps you customize correspondence to patients, parents, referral sources, or family dentists. Easy financial management provides automatic contracts, account inquiry reports, deposit reports, daily and monthly summaries, referral reports, and accounts receivable. The software works for either single desktop users or networked environments; and works with Microsoft Windows XP Pro, Windows 2000 Pro, or Windows Server 2000.
For more information, contact ASOS Products, 94 Laurelcrest Ave, Toronto, Ontario, M3H 2B3; (866) 261-5385; www.asosproducts.com.
Dentrix Dental Systems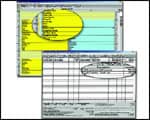 Dentrix Dental Systems offers Dentrix practice management software, which provides exceptional scheduling and billing features as well as advanced imaging tools. Dentrix offers true seamless integration with digital radiography, cosmetic imaging, and advanced voice recognition. No bridging software or software links are necessary.
For more information, contact Dentrix Dental Systems, 727 E Utah Valley Dr, Suite 500, American Fork, UT 84003; (800) DENTRIX; www.dentrix.com.
Dolphin Imaging & Management Solutions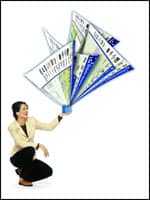 Dolphin Imaging & Management Solutions offers a complete practice management system that includes scheduling with doctor-time tracking, patient GPS with light bar, treatment card, comprehensive patient financial and insurance tracking, patient and doctor database and tracking, correspondence and diagnostic questionnaires, and standard and custom reports. It enables easy management of high patient loads, multiple locations, or multiple doctors, and offers a secure, fingerprint-biometric option that enhances compliance with HIPAA guidelines.
For more information, contact Dolphin Imaging & Management Solutions, 9200 Eton Ave, Chatsworth, CA 91311-5807; (800) 548-7241; www.dolphinimaging.com.
Exceptional Software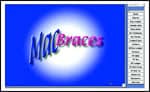 Exceptional Software introduces The MacBraces™ orthodontic management system, which runs on Macintosh and Windows machines. It includes patient scheduling, sign-in and on-deck, patient accounting, insurance forms, letters, referral tracking, statements, day ledgers, coupon books, recalls, school excuses, and email appointment reminders. This complete system can be single-user or networked.
For more information, contact Exceptional Software, 40 E Alamar Ave, Santa Barbara, CA 93105; (805) 682-2741; [email protected]
Foxfales Inc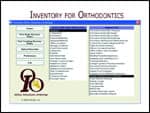 FoxFales Inc offers Office Inventory Ordering Pro (OIO Pro), which reduces supply expenses and generates more than 150 reports, including purchase history by employee, shipping and handling, price changes, overstocked, and MSDS info. OIO Pro generates its own bar codes and allows supplies to be assigned vendor-supplied bar codes. It also connects with a free price-comparison service.
For more information, contact FoxFales Inc, PO Box 1749, Nokomis, FL 34274; (941) 480-9440; www.foxfales.com.
GAC International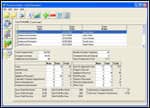 GAC International introduces Practice Pulse® software, which enables you to track the profitability of individual cases and the manipulation of key financial variables to better understand their interaction. It also provides a way to see the ripple effect caused by making changes to the practice. Practice Pulse enables the user to make direct comparisons of different scenarios that may contribute to a healthy practice. The program allows new graduates to develop customized business plans that include monthly cash flow over the next 5 years.
For more information, contact GAC TechnoCenter, 2108 Rocky Ridge Rd, Suite 2, Birmingham, AL 35216; (888) 422-2376; www.gactechnocenter.com.
JulySoft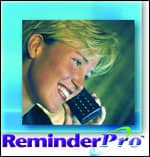 JulySoft offers ReminderPro, an interactive doctor-to-patient communication tool that allows users to create customized phone messages in their own voice. It features multiple language options, operator transfer, and instant, detailed reports documenting every call. Also, it can be used to handle additional messaging needs such as follow-up reminders, individualized provider instruction and information, and patient-satisfaction surveys. ReminderPro includes fully automated operation, flexible message construction, and custom touch-tone responses. The system also includes integration with practice management software.
For more information, contact JulySoft, 610 E Knox Dr, Tucson, AZ 84705; (800) 350-7693; www.julysoft.com.
Just-Swipe-It

Just-Swipe-It offers Inventory Ordering Software, which helps orthodontists order products from all dealers. The software produces bar-coded SMART labels to apply to each product. Just swipe the ID on the bar code, and the software will automatically know the product, last quantity, last price paid, and the last dealer from which it was ordered. The software automatically generates all orders for as many dealers as you ordered from. The Web version enables you to send orders by fax or over the Internet. The program comes with more than 30,000 common items already in the database.
For more information, contact Just-Swipe-It, 209 Ft Lauderdale Beach Blvd, Suite 11-D, Ft Lauderdale, FL 33304; (954) 465-9299; [email protected]
Kodak Dental Systems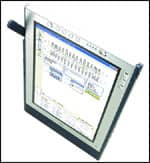 Kodak Dental Systems offers OrthoTrac practice management software, which follows patients from their first visit to their follow-up and retention visits and tracks appointments, billing, communications, and patient information. Its point-of-care module allows the use of tablet PCs from anywhere in the office to manage scheduling and patient flow, enter patient information, view digital images, and update treatment information. OrthoTrac software integrates seamlessly with Kodak orthodontic imaging software and the Kodak 8000C digital panoramic and cephalometric system.
For more information, contact Kodak Dental Systems, 1765 The Exchange, Atlanta, GA 30339; (800) 944-6365; www.kodak.com/dental.
New Horizons Software Inc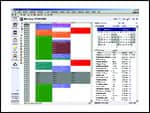 New Horizons Software Inc offers OrthoExec and OrthoExec Advanced Series 5.0 for single-user and networked environments. OrthoExec is an affordable tool that provides all of the functionality needed to efficiently manage a practice, while OrthoExec Advanced Series offers an enhanced level of control with its configurable design platform. Both solutions feature accounting, word processing, insurance processing, patient check-in and scheduling, management reporting, electronic treatment cards, and recall tracking functionality. A variety of training, support, and conversion packages are also available.
For more information, contact New Horizons Software Inc, 301 NE 117th Ave, Vancouver, WA 98684; (800) 316-2869; www.nhsoftware.com.
Oasys Practice
Oasys Practice offers a completely paperless orthodontic office management system with modules that track patient financials, scheduling, treatment, diagnostics, insurance, and conversations. The system provides an integrated approach to all treatment information with treatment card, treatment planning, and an interactive, graphical tooth chart. It offers electronic conversions from most other software systems. In addition, Oasys has a knowledgeable and responsive support team available for all technical and customer service needs and questions. Oasys presents recent graduates with a discounted pricing structure.
For more information, contact Oasys Practice, 370 Winkler Dr, Suite A, Alpharetta, GA 30004; (888) 876-2797; www.oasys.us.
Ortho Computer Systems
Ortho Computer Systems offers seven new features of ViewPoint™ 3.5 practice management software: ViewPoint Imaging allows offices to capture, enhance, and present patients' digital records; ViewPoint Reminder automates both phone and e-mail patient appointment reminders; ViewPoint Messaging helps communicate via on-screen text to each workstation; ViewPoint Document stores exact copies of anything needed for a paperless office; ViewPoint Remote provides safe access to office applications from anywhere; ViewPoint To Do helps the orthodontist or the staff assign, prioritize, and track office tasks; and ViewPoint Timeclock tracks staff time for payroll and shows staff work status.
For more information, contact Ortho Computer Systems Inc, 1107 Buckeye Ave, Ames, IA 50010; (800) 678-4644; www.orthoii.com.
OrthoChart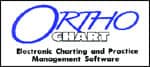 OrthoChart offers a Windows practice management system that features accounts receivable, electronic charting, examinations and treatment plans, letter merging with Microsoft Word, patient check-in, patient tracking, scheduling for multiple offices, and video imaging integration. Dymo LabelWriter printers allow staff to print individual address and x-ray labels, as well as custom appointment cards, receipts, excuses, and coupon books. Multi-user systems begin at $7,995 and include a four-user license as well as a comprehensive video user manual.
For more information, contact OrthoChart, 3246 Montgomery, Suite 211, Dothan, AL 36303; (800) 231-7945; www.orthochart.com.
Televox Software Inc

TeleVox Software Inc introduces the T.Link™ online communication system, which gives patients around-the-clock access to appointment dates, times, locations, and account information. Patients can easily make secure online payments via bank draft or credit card. With T.Link, patients can view case presentations and Invisalign ClinCheck® animations online and receive personalized e-mail appointment reminders. T.Link enables staff to create a variety of customized calendars for vacation days, sick days, and team meetings, and view daily appointment schedules from home. T.Link also provides after-hours, urgent, and emergency call management and paging.
For more information, contact TeleVox Software Inc, 1110 Montlimar Dr, Suite 700, Mobile, AL 36609; (800) 644-4266; www.televox.com.
Virtual Intercom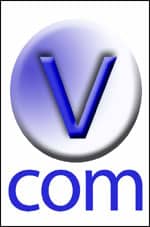 Virtual Intercom offers V.Com, the intercom that can be installed on an existing computer network with no wires, hardware, or lights. V.Com allows orthodontists to send and receive messages that come into view with a banner whose appearance, location, color, and style are adjustable. V.Com doesn't interfere with any existing software, and it functions as a clinical director and message center. In addition, it enables the user to store messages, respond to them, and print them without the need of paper.
For more information, contact Virtual Intercom, 553 Park Ave, New York, NY 10021; (212) 983-5050; www.virtualintercom.com.