by Richh Smith
Peter C. Knudson, DDS, MS, maintains order in three offices—and in the Utah Senate
Utah orthodontists seeing an increase in referrals from general dentists over the past couple of years can give at least some of the credit to Peter C. Knudson, DDS, MS, a board-certified orthodontist from Brigham City.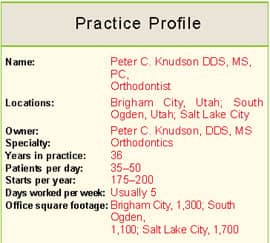 In addition to running a three-office practice, Knudson serves as a ranking member of the Utah legislature; he was the chief sponsor of a 2000 law to make affordable health and dental insurance available to children. The measure doesn't directly benefit orthodontists, but it has contributed to an increase in the number of youngsters seeing dentists in a position to refer patients to orthodontists.
"It gave children greater access to health care, including dentistry," Knudson says of the Children's Health Insurance Plan, which provides affordable coverage to children of working-class parents whose employers don't offer insurance as a job benefit.
As this piece of legislation demonstrates, Knudson—in his capacity as state Senate majority leader—has the power to ensure that the interests of Utah orthodontists (and dentists, too) are taken into consideration when governmental policy touching upon health matters is made.
"We have a seat at the table," says Knudson. "When you have a seat at the table, you have a voice in what happens."
Time on a Leash
Knudson's voice is a rather prominent one, and it has grown more commanding in the years since 1994, when he was first elected to Utah's House of Representatives. Now, in the Senate, Knudson oversees the Republican caucus and runs the floor of that chamber. (He does not actually preside over the Senate; that's the responsibility of the body's president.)
And while the majority leader position gives him plenty of power to get things done, there is one significant drawback: As the Senate GOP's second in command, Knudson must devote more hours to the legislative process than most of his fellow lawmakers.
"In Utah, the legislature convenes annually for 45 consecutive days beginning the third Monday in January," he says. "During that period, we're expected to produce a budget and act on the myriad of bills introduced. However, it's not like in some states where they address the budget one year and then bills the next; we do both in the same year. Then, after the legislative session ends in March, we break for a few weeks and then go into what are known as interim committees, where we begin developing the issues and agenda for the next year's session. So we're busy for most of the year."
But even with all that on his plate, Knudson still manages to see patients. Lots and lots of patients.
"I'm a full-time legislator, but I'm also a full-time orthodontist," he says.
To succeed in both capacities, Knudson—a fellow of the American College of Dentists and of the International College of Dentists—has had to learn to be an especially adroit manager of his time.
"I'm a firm believer in the notion that, if you can manage your time effectively, you can make for yourself enough hours in the day to accomplish just about anything you want."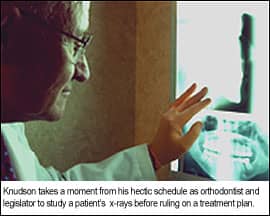 Accordingly, in his orthodontic offices, technologies from computerized records to cutting-edge banding materials and adjusting methods are in play to help Knudson shave a few minutes here, a few steps there, freeing up hours in the aggregate each week, month, and year. However, Knudson believes the most crucial assist in the effort to manage time wisely has come from having a highly competent, hard-working clinical and administrative staff.
"They help me work more efficiently," he says. "Most of my team has been with me long enough to anticipate what I need and when I need it."
The staff is relatively few in number: two chairside assistants, a receptionist, a scheduler, and an accounting specialist—and that's about it. Knudson contends that the size of this crew is sufficient because he has empowered them to make decisions on their own—in the case of the chairside assistants, up to the legal limits of Utah licensure law.
"I rely on my staff to point out things that we can do differently to make things just that much more efficient and better. I've never been one to think I have all the answers. I consider myself a learner, someone open to new ideas."
A typical week for Knudson finds him at his Brigham City office on Tuesday and Thursday. On Wednesday, it's South Ogden. His day in Salt Lake City is Friday. Monday is spent either at South Ogden or Salt Lake City, or both. Brigham City hours start at 7 am and continue to about 4:30 pm In South Ogden and Salt Lake City, the office opens at 8 am and closes at 4:30 pm.
All of that flies out the window during the 45 days when the legislature is in session. For most of that time, his offices aren't open at all, except on Saturdays—and at that only for purposes of meeting with brand-new patients or dealing with existing-case emergencies.
The 6-week legislative session is a major reason why Knudson (who, by the way, favors early treatment for kids) puts his patients on an 8-week visit schedule. If he makes a concerted effort to see as many patients as possible in the 2 or 3 weeks prior to the start of Senate business, he can minimize the number who'll require adjustment during his 45 days of nonstop lawmaking.
Pulled the Trigger
Even with the demands of helping lead the state Senate, Knudson enjoys a successful-enough practice to qualify him as a hometown boy who made good, having been born and raised in Brigham City.
That Knudson as a youth would be attracted to a career in health care is testimony to the sway held by members of his extended family, which included several physicians and dentists. Most influential was his uncle, a general dentist from Southern California who impressed 10-year-old Knudson not with tilt-back chairs, shiny drills, or crisp, white lab uniforms, but with outdoor adventure in the form of pheasant hunting.
"Once a year, my uncle would come to Brigham City to shoot game birds and other small quarry," Knudson explains, adding that this ritual was punctuated by plenty of good, old-fashioned male bonding around the campfire. "I thought having good times like this went hand in hand with the job of being a dentist."
As he grew older, he was, of course, disabused of that idea, but nonetheless remained fully enamored of the profession. Knudson undertook predental training at the University of Utah (with some supplementary courses at Weber State University and Utah State University). In 1966, he graduated from dental school at the University of the Pacific in San Francisco.
Knudson then performed a hospital-based internship with the US Public Health Service on New York's Staten Island. Each Saturday, the service conducted a seminar in which a different dental specialist would describe his field and illustrate it by discussing a number of interesting cases. Knudson enjoyed listening to all of the guests, but it was the specialist in orthodontics who came across as the most intriguing. That led Knudson to make orthodontics his own focus.
"It was a specialty that excited me like no other," he remembers discovering.
At the completion of his internship in 1967, Knudson went on to orthodontic training at Loyola University, Chicago. After finishing there in 1969, he returned to Brigham City, where he launched into solo private practice.
"It was difficult to attract patients in a small town that already had a well-established and respected orthodontist," he says of his earliest days in practice.
To develop the case volume he needed for survival, not more than 1 year later Knudson made the risky move of opening a satellite in the city of Ogden, about 30 miles away. There was competition in Ogden, too, but the new venue offered the advantage of a larger population from which new patients could be culled. The gamble soon paid off.
Lodge-ical Thinking
In 2002, Knudson opened his second satellite in Salt Lake City, not far from his Senate office in the Capitol. (Salt Lake City is roughly an hour's drive from Brigham City.)
The Salt Lake City satellite is the largest of the three offices. Its 1,700-square-foot floor plan is a blend of open-bay and private configurations: One room includes a three-chair open operatory, while elsewhere are three individual operatories separated by cubicle walls.
On the other hand, the Brigham City flagship office is strictly open-bay. It's owned by Knudson and his dentist cousin (They built it while Knudson was still in graduate school.). Brigham City itself is located in mountain country, so the 1,300-square-foot, split-level office is designed to resemble a ski lodge, with rich, rustic wood used extensively inside and out. The only things missing are a hearth in the center of the waiting room and, through the window, the sight of a lift line rising up the snowy slope in the distance.
The South Ogden office is more conventional in look. At 1,100 square feet, it's compact. However, it still affords ample space for a trio of semiprivate, cubicle-enclosed operatories.
Prior to opening this satellite, Knudson rented space in the downtown section of nearby Ogden with two general dentists. Later, they bought land in South Ogden, in a part of that growing community where a new hospital was planned. The office they built for themselves became home as well to an oral surgeon, a dental lab, and an optometrist.
All three sites today are busy enough that Knudson is now weighing the possibility of taking on an associate. Doing so would enable him to continue expanding the practice despite the constraints imposed by his other life as a lawmaker.
"An associate would be able to do the one thing I haven't had time to attend to: outreach." he says.
In less than 18 months, Knudson's term in the Utah Senate draws to a close. At the moment, he is undecided about whether he will make another run for office (although he says he's leaning toward it), or whether he wants to try for something entirely different in the political realm. If he chooses to seek re-election, there's always the possibility that he could be unseated by a vigorous challenger. But no matter the outcome of that next election, with or without him in it, Knudson will come away a winner, having long ago earned the nod of approval from patients and orthodontic colleagues for his work on their behalf. z
Rich Smith is a contributing writer for Orthodontic Products.
Road to the Senate
Peter C. Knudson, DDS, MS, started in politics soon after becoming an orthodontist, beginning by participating in the Brigham City, Utah, branch of the Republican Party.
He says it was his restaurateur father, a longtime Republican activist, who encouraged him to get involved.
"I never imagined myself having a career in public life, but my dad believed strongly that one should never shirk civic responsibilities," says Knudson, who eventually became local chairman of the party.
In the mid-1970s, one of the city council's Republican members resigned. Prodded by well-wishers, Knudson decided to toss his hat into the ring as a candidate to complete the departing councilman's term. During the time Knudson served on the council, the economy of Brigham City— heavily dependent on national defense spending—was in decline.
"Key components for the military's Minuteman missile system were built here, and that provided a lot of jobs for people," says Knudson. "But then the Minuteman was phased out, and local unemployment started rising dramatically as more and more workers at the production plant were laid off."
To kick-start the local economy, Knudson began burnishing his credentials as a business booster. With a little guidance from friends in Washington, he helped the company that formerly made Minuteman parts navigate the bidding process to become a prime contractor for NASA's then-new Space Shuttle program.
"Our community's economic downturn reversed very quickly after that," he says. "In the years that followed, Brigham City kept adding jobs; the climate for business opportunity grew more and more favorable."
In 1978, Knudson announced his intention to seek the office of mayor. He won in part by promising to make job creation a priority. And he was re-elected twice for delivering on that pledge. Knudson held onto the title of mayor until 1990.
"I didn't want to run for a fourth term. I felt the time had come for a fresh face with fresh ideas and vision. And, besides, I needed a rest."
The respite didn't last long. A short time later, the governor appointed Knudson to a 4-year stint as chairman of the state's job-training coordinating council, an agency providing oversight of all the federal unemployment and workforce-redevelopment programs operating in Utah.
Afterward, Knudson again returned to the quiet life of an orthodontist. Until, that is, his local representative in the Utah legislature's lower chamber paid him a visit.
"He was the speaker of our House of Representatives, and he wanted to know if I would be interested in filling the remainder of his term," Knudson remembers.
Knudson agreed to be the speaker's replacement. The governor sealed the deal by appointing Knudson to take the departing representative's place.
As the term drew to a close, Knudson decided to enter the race for election to that vacated post. He won handily. Knudson served in the House two more full terms, then took a shot at a seat in the state Senate. That, too, he won. He is now completing his second term.