by RICh Smith
Miniscrew maverick Jason B. Cope, DDS, PhD, runs a true solo practice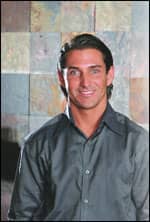 Tell an adult patient that you want to implant a 6-mm miniscrew, and right away the horrified fellow might picture you driving a 6-inch-long Home Depot wood screw into his gums.
The patient is wrong about that, of course. However, Jason B. Cope, DDS, PhD, finds merit in the hardware store imagery, so he does his part to promote it—not to patients, but to other orthodontists.
"What a lot of my colleagues don't appreciate about miniscrew implants is that they're no more difficult to place than a wood screw in a board," says Cope, a Dallas-based orthodontist and a leading authority on miniscrew implants.
Miniscrew implants are a hot topic just now: Many prominent speakers at recent orthodontic meetings, like Cope, see them as a way to eliminate the need for headgear and many types of Class II appliances—a potential boon to practices in terms of clinical efficiency and efficacy, as well as a way to attract new general orthodontic patients.
But that's still a matter for debate. More concretely, the big benefit of miniscrew implants (also known as TADs, short for temporary anchorage devices) is found in treating what would otherwise be surgical cases: first and foremost, those with skeletal open-bite and, second, those that require maximum anchorage.
Practice Profile

Name:
Cope Orthodontics
Location:
University Park, Tex
Owner:
Jason B. Cope, DDS, PhD
Specialty:
ADs, interdisciplinary treatment, orthognathic surgery
Years in practice:
8
Patients per day:
20-40
Days worked per week:
4
Office square footage:
1,800
"Using miniscrew implants, we're able to close the open bite by intruding the upper and lower posterior teeth," Cope explains. "This represents an ideal alternative for patients whose financial status or aversion to risk prohibits orthognathic surgery.
"We're also able to move teeth anteroposteriorly to close extraction sites, or to even distalize teeth to eliminate the need to extract teeth altogether in certain types of cases."
Cope's first exposure to miniscrew implants came in dental school, where, he says, "I saw the German orthodontist Wehrbein, who helped develop the palatal implant, lecture about it."
Later, Cope himself used a palatal implant to intrude upper molars 6.5 mm. At that point, he remembers, "I said, 'Now we've got something.'"
Cope's final impetus to taking the hands-on approach to miniscrews was when he saw his oral surgeon perform the simple procedure required to place one. "That's when I realized," he says, "that the orthodontist should control this treatment modality, and not anybody else."
Flying Solo
Cope's practice, located in the upscale Dallas neighborhood of University Park, is known for providing treatment for adult interdisciplinary orthodontic cases in which he readies spaces for the placement of implants in patients referred to him by local restorative dentists. Half of his cases are adults.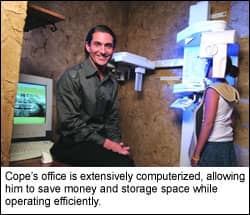 "I didn't plan that; it just kind of evolved that way because of my willingness to take on difficult cases," he says, disclosing that fully 60% of his referrals come from dentists and fellow orthodontists.
Cope sees patients 4 days per week, during which he designates certain hours for specific types of casework. It's more efficient that way, he says, because it allows him to take advantage of his energy's natural ebb and flow throughout the workday.
"I like to start off with easy, short appointments, such as retainer checks," he says. "Then, midmorning, it's exclusively full-banding and bonding appointments. Since these require a fair amount of time to complete, I only schedule a few such appointments in this period."
Late mornings are when Cope occupies himself with less difficult and time-consuming appointments, such as initial exams and consultations.
Come midafternoon, schools let out and Cope often finds himself up to his jawline in archwire-change work. "During this next hour or two, I try to fit in as many kids as possible, which I can do because these are relatively short tasks," he explains.
A small part of Cope's practice income derives from insurance, but only indirectly.
"Many of my patients are covered for my services by insurance, but I don't take assignment of insurance benefits," he says. "The patient is responsible for charges; it's fee-for-service all the way here. My only involvement with insurance billings is the assistance I offer to a patient who needs help filling out the request-for-reimbursement forms from their insurance company.
"The reason I don't take assignment is because, if I did, I'd have to hire someone just to file claims. That's not in my budget."
Another budget item with which Cope does not have to concern himself is funding to pay for office employees of any kind.
"I run the office entirely by myself," says Cope. "I have no chairside assistants. I answer the phones myself. In fact, people are taken aback when they call and the first voice they hear is mine. Same thing when they walk in and the first person they encounter is me."
It's not that Cope can't afford to hire a staff. It's just that bringing people aboard at this stage of his practice's development would only slow him down. Besides, he's already got plenty of office help in the form of the latest computer technology.
"I've been able to maximize my efficiency by being extensively computerized," he says, adding that computerization benefits him economically as well. "There's not a lot of paper in my office; all my charts are electronic. And, because I don't have thousands of paper-based charts requiring physical storage space, I don't have the problems and costs associated with that. I'm able to instead take the money that would be tied up in real estate for paper file storage and use it to pay for more and better high-tech hardware and software."
Writing the Book (and the Web Site)
Where many orthodontists would consider running an office without the benefit of single support employee enough work to constitute a full-time job, Cope has been carving out time each day to edit a textbook intended as the definitive tome on TADs. He has already earned his stripes by serving as guest editor of an issue of Seminars in Orthodontics that dealt with TADs, and now he is hard at work writing a primer and then some for those who want to learn how, when, and where to use the devices, along with how to select the most appropriate products from among those available. So far, more than 50 academicians and private-practice experts from around the world have contributed content. Cope himself has chipped in with nearly a half-dozen of the planned 21 chapters, along with eight case reports.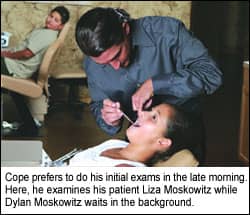 Elements of these, along with other general information about TADs, including FAQs and a newsletter, will also be available at a Web site edited by Cope, www.OrthoTADs.com, which is scheduled for completion in January 2006.
Also due out in early 2006, the textbook—entitled OrthoTADs: The Clinical Guide and Atlas—opens with the history of TADs, which include miniscrew implants, miniplate implants, and palatal implants. It then proceeds to take a look at the basic biology of TADs, and offers a complete explanation of how to incorporate them into clinical treatment planning. Additionally, the book contains evaluations of the various types of miniscrew implants written in a way that permits apples-to-apples comparisons of the many offerings on the market.
Among the book's more intriguing messages is that orthodontists should not be daunted by the thought thatthe placing of miniscrew implants is a surgical procedure.
"Thinking they are a surgical procedure is the reason most orthodontists have steered clear of them, and that's unfortunate," says Cope.
"In reality, placing a miniscrew implant is no more difficult than fitting a headgear. When orthodontists see it performed, they're amazed by how easy it is. It takes all of about 60 seconds to place each one. You'll spend longer by far just preparing the sterile field, and even that's been made easier thanks to various new products on the market. From start to finish—preparation, placement, and attachment—you're looking at maybe 30 minutes, and the patient is out the door."
Cope says he has turned down offers by three separate publishers to print his book. Instead, he plans to go the solo route once again and publish the book himself.
"The way it works in the publishing world, the author—the person who's done all the hard work to create intellectual property—receives 10%, maybe 15%, of the book's net," he reveals. "The publisher primarily functions as the investor who fronts the money to produce, promote, and distribute the book, then takes the biggest share of the proceeds. That arrangement wasn't particularly appealing to me, since I really enjoy the entire publishing process."
But wariness of being financially shortchanged was the lesser of Cope's concerns. More worrisome was the likelihood of losing control over the final editorial product.
"A book publisher can change your words to suit his needs, and there's not a lot you as the author can do about that," says Cope, indicating that self-publishing will allow him full rein over the text and also the choice and quality of the images that grace the book's pages.
Addicted to His Work
Many of the facts and figures contained in the upcoming book are those that Cope has presented during lectures on miniscrew implants. His speaking history includes appearances at several universities and at AAO Annual Sessions, plus at various local study clubs and state association gatherings; recently, Cope began conducting in-office seminars for fellow orthodontists.
These seminars are usually daylong affairs. Even so, Cope finds that it's necessary to maintain a rat-a-tat pace to cover the topic adequately in the time allotted, especially since he's given to reinforcing his points with citations galore from published scientific literature.
With so many irons in the fire, it's a wonder Cope has so much as a moment left in his week to enjoy outside pursuits. Yet, he has a wide range of outside interests that make for long, full days every day.
"I'm a Class A-plus-plus-plus-plus workaholic," he confesses. "I start my day at 6 in the morning and don't shut down until around midnight. But it's not all work and no play. I make time for the gym and running three or four times a week. I think it's essential to keep the body strong and healthy in order to be effective when it comes to the various hats I wear."
Helpful, too, is having a comfortable place in which to conduct that work. Cope's four-chair, 1,800-square-foot office (which includes a full-size lab) is done up in a relaxed Southwest motif, with heavily textured walls and stained concrete floors. It's filled with rustic-looking furnishings, half of which Cope built himself in his garage woodworking shop.
"As long as it's a hobby or other pursuit that requires creativity, then I can really get into it," he says.
Always a Teacher
As much as he enjoys the way things are now, Cope envisions a possible shift to a more academic-oriented practice at some point down the road.
"I see myself perhaps being drawn back in that direction, since I gain my greatest pleasure from teaching," he says. "A perfect example is miniscrew implants. They have the potential to greatly improve the typical orthodontist's practice, yet that's not something widely known. I could keep myself busy for the next several years just spreading the word on miniscrew implants."
Clearly, Cope has his work cut out for him. Fortunately, he's up to the challenge. His biggest asset? Not his tirelessness. It's his passion for the subject.
"I love telling people about miniscrew implants," he says. "I feel they're one of the most important innovations ever for our profession."
Rich Smith is a contributing writer for Orthodontic Products.
Learning to Cope
Jason B. Cope, DDS, PhD, was born into orthodontic privilege—a kid with a silver band in his mouth, so to speak.
Cope is the son of practicing orthodontist Don Cope, DDS, MSD, who encouraged him to spend time after school and during vacations helping out around the office and lab. Thus, at 13, when most of his peers were receiving retainers, Cope was making them; by the time Cope turned 15, he'd been promoted to unofficial chairside assistant.
Cope learned so much about orthodontics under his dad's tutelage that, as a freshman at Southern Methodist University (Class of 1991), he was already capable of performing almost any task in an orthodontic office.
Cope was born in Dallas during the time that his dad was still a dental school student. Upon completing training, the elder Cope moved his young family to Bossier City, La, near Shreveport, where he set up practice. Young Jason Cope grew up there, returning to Dallas as a collegian. There, at Baylor College of Dentistry, Cope undertook both dental and orthodontic training, plus his work as a PhD candidate in craniofacial biology (with an emphasis on distraction osteogenesis). He completed dental school in 1995 and the orthodontic program in 1997.
At that point, Cope decided to hang his shingle in Dallas, finding the big city much to his liking. Initially, he devoted just 1 day per week to practice. He maintained that schedule for 2 years while pursuing the PhD, which he received in 1999.
The PhD was central to Cope's plan to enter academic practice and become a full-time orthodontics instructor. However, he quickly developed a distaste for the politics of faculty life and decided to make a home for himself in private practice.
That's not to say he completely turned away from academics. He found he could teach quite effectively as a lecturer on the symposium circuit. He also received a part-time orthodontic clinical appointment in both the orthodontic and oral surgery departments at Baylor.
From 1999 to 2001, Cope worked full-time in the office of an established Dallas orthodontist. It was only then that he went solo. Cope has been on his own ever since.
—RS