by Rich Smith
Flavio Uribe, DDS, MDS, takes on difficult cases and grueling triathlons
Complicated orthodontic cases are seldom as profitable as the easy ones—Practice Economics 101 teaches that. They involve more chairtime per visit and a longer course of treatment. Accordingly (and understandably), many orthodontists prefer referring them to someone who is set up for that kind of patient, someone who welcomes the challenge of mutilated dentition and more.
In Farmington, Conn, that someone is assistant professor Flavio Uribe, DDS, MDS, director of the orthodontic clinic and orthodontic residency program in the Craniofacial Sciences Department at the University of Connecticut. Although Uribe functions mainly within the Orthodontic Division as an academician and administrator, he also works as a clinician. A substantial number of patients are treated by Uribe each week, with about half qualifying as exceptionally challenging.
"The hardest cases usually involve everything from bone grafts to periodontal procedures and prosthodontic treatment," Uribe says, indicating that he routinely brings in other specialists on his cases. "Here at the university, we have a great environment for multidisciplinary care. All the different dental specialties are physically in close proximity, and that's very helpful with the difficult cases."
It's All in the Planning
PRACTICE PROFILE
| | |
| --- | --- |
| Name: | University of Connecticut |
| Location: | Farmington, Conn |
| Owner: | Craniofacial Science Department |
| Orthodontist: | Flavio Uribe, DDS, MDS |
| Specialty: | Orthodontics |
| Years in practice: | 6 |
| Days worked per week: | 3 (half days each) |
| Clinic square footage: | 4,000 |
Typical of difficult cases seen by Uribe is a mouth containing fewer than normal teeth, all of them growing in a crazy quilt of directions. Such patients are cautioned during initial consultation to expect to be in braces for at least 3 years. "The thing about complex cases is they take longer because of all the movements we must accomplish," he says.
Thus, treatment planning becomes a matter requiring the most thoroughly detailed formulation possible. Uribe is adept at such planning, which, he offers, is invariably developed around goal-oriented mechanics. Uribe also insists on treatment plans that incorporate only those clinical techniques and technologies supported by scientific evidence published in peer-reviewed journals.
One such technology is fiber-reinforced composite material. "I use it to splint teeth together, which reduces the number of brackets needed," Uribe says. In his armamentarium, too, are implants employed as permanent anchorage devices to augment biomechanics. "I often place implants at the beginning of treatment, but in the middle of treatment as well," he says. "We've found that implants properly utilized help reduce the side effects of treatment."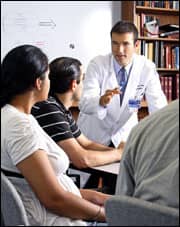 Uribe teaches a class of young orthodontists.
Progress in complicated cases comes about only with extra thought and extra effort, so it's necessary to reassess the treatment plan and modify it accordingly at every visit, Uribe explains. Uribe is thankful that the school provides him significant time to treat his own patients. He also supervises a significant number of patients under treatment by the residents. Uribe uses a chair in one of two rooms set aside for faculty in the residents' clinic. Aiding him are school-supplied orthodontic assistants and a chairside computer that provides access to an imaging and management system by Dolphin. "Scheduling is run from a different system that is schoolwide, and we're still making the transition to electronic charting," he says.
Research and the Talent Search
When not in the clinic treating patients or supervising residents, Uribe is busy with classroom teaching, departmental administrative duties, and research. In particular, Uribe revels in the fact that, at the University of Connecticut, teaching and research are conducted in team style. His primary partner in those activities is Sunil Wadhwa, PhD, a veteran of the National Institutes of Health and a basic scientist in orthodontics. Both Uribe and Wadhwa are overseen by Ravindra Nanda, DDS, MDS, PhD, chairman of the Craniofacial Sciences Department—a man Uribe counts as both friend and mentor. Together with Nanda, Uribe and Wadhwa recently edited a brand-new book published by Elsevier titled Temporary Anchorage Devices in Orthodontics.
One of Uribe's research goals is to find ways of moving teeth faster. "Dr Wadhwa and I have developed an in vitro model and will soon be advancing to an in vivo model to test our ideas about expedited movement," he says. "Other schools are also doing this, but our advantage is we have a very good orthopedic group here doing bone research; our hope is to not only draw upon their previous discoveries but to involve them with the work we're currently doing."
Uribe believes that good researchers and educators are needed to help the profession of orthodontics remain strong. Alas, across academia, attracting top talent is no easy task. "It's as true today as it was in the past that orthodontists who teach full-time face longer hours and less income potential than their counterparts in private practice," he says. "Also, many young orthodontists who would make fine instructors and researchers feel economic pressure to instead go into private practice in order to be able to repay their student loans."
Many are of the opinion that a dearth of cream-of-the-crop teachers might mean that the next generation of orthodontists will enter the field with less complete training, while a shortage of elite researchers may presage a decline in technological innovation. Uribe, on the other hand, is more optimistic. "Orthodontic education in America is still able to turn out good clinicians, despite the challenges," he says.
A Quick Start
Uribe himself joined the University of Connecticut faculty a mere 1 day after completing his orthodontic residency there. In 2005, he was named director of the orthodontic postgraduate program.
A career in orthodontics was something for which Uribe yearned from the time he was about 7 years old in his native Colombia. "Since the second grade," he says, "I wanted to specialize in orthodontics and follow in the footsteps of my dad, an orthodontist trained in the US at the University of Iowa. I often spent time in his office, not to help but, rather, just to observe. It was by spending time observing that I became very motivated to be like him."
After graduating from high school in 1987, Uribe enlisted for a 1-year tour of duty in the Colombian army. During that hitch, he served as a member of a multinational peacekeeping force in the Sinai Desert of Egypt.
Then came dental school at the city of Medellin's Instituto de Ciencias de la Salud, beginning in early 1989. "In Latin America, you go directly to dental school instead of to college first," he explains. During those years of training, a requirement for students is that they perform 12 months of community service in an impoverished village. "The village I went to fulfill my obligation was in a conflict zone—lots of fighting between the army and guerrillas and paramilitary forces—so I only had to be there for 6 months instead of a full year."
Uribe graduated from dental school in late 1993. The ink on his sheepskin barely had time to dry before he began applying to American orthodontic schools. "I knew gaining acceptance to a program—any program—would be very difficult because I was coming from outside the country," he remembers.
A friend of his sister's was a medical student at the University of Connecticut. Via this friend, word reached Uribe that the school was open to considering foreign-trained dentists and, as such, he ought to apply there. He did, and was accepted. He entered the Advanced Education in General Dentistry program in 1996, receiving a certificate 1 year later and completing fellowship training 2 years after that. From there, he was accepted to the university's orthodontic program.
Love Affair
Shortly before graduation in 2002, department chairman Nanda took Uribe aside to extend an invitation to remain with the university as an instructor. "I had no student loans to repay, so I wasn't under pressure to get into private practice," he says. "I did, however, go for an interview with one private practice group in Chicago, just to see what my options were. But, in the end, I decided I'd be happiest in academia, where there would be more opportunity to get out on and stay on the cutting edge of the profession. I love innovation and investigation, which is at the heart of the university mission. Additionally, I wanted to join the Orthodontic Department at the University of Connecticut as a faculty member; an institution with significant tradition and a great reputation around the world."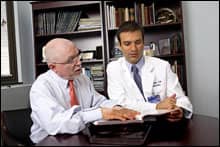 Uribe joined the University of Connecticut faculty exactly 1 day after completing his residency there.
He also loved an Argentinian pediatric dentist by the name of Patricia Pina, DDS. So much did he love her (and she him) that he proposed marriage. They were wed 2 years ago. "We met while I was lecturing outside the county," he shares. The couple have no children, but Uribe hopes to someday soon hear the patter of tiny feet in his home.
Meanwhile, Uribe intends to continue his relationship with the University of Connecticut far into the future. "Right here is where I feel I can best achieve my goal: to help advance orthodontic science." There are many private-practice orthodontists near and far who urge him to do just that. The ones closest to the university want Uribe to keep plugging away so they will be able to refer to him their toughest cases; the ones most distant want him to remain affiliated with the school so they can continue benefitting from the innovations flowing from his research lab. In both cases, it is all about orthodontic Practice Economics 101.
Marathon Man
Flavio Uribe, DDS, MDS, is a man on the run. "I started running in long-distance events 7 years ago and have to date competed in 10," Uribe says.
Uribe's fascination with marathon running began shortly after he started his orthodontic residency. He happened one day to strike up a conversation with a classmate, during the course of which he discovered that the other resident was planning to participate in an upcoming local marathon. The student orthodontist invited Uribe to tag along for a training exercise. Uribe, an athletic young man, managed to gut it out for 12 miles, enjoying every inch of it. "I felt confident enough about how I did on that practice run that I decided to enter the marathon with my classmate," he says. "It turned out to be a lot more difficult than I imagined because the course was so much longer. I thought I was going to die. I finished the run, but it took me almost 4 1/2 hours."
Undaunted, Uribe decide to devote himself to serious training and was able to greatly improve his time in subsequent marathons. "In 2005, I ran in the Chicago Marathon and finished in 3:07," he enthuses. Most recently, he broke the 3-hour mark, completing the Houston Marathon in 2:59.
Uribe is now making the transition from marathon runner to triathlete, combining marathon running with distance swimming and cross-country bicycling. The three activities take place back-to-back-to-back, and there is no opportunity for resting in between. "You have to be in supremely good shape to do this," he says.
There are different types of triathlons: each is distinguished by the distances involved and the composition of the courses. For example, one that takes place in San Francisco features a 2.4K swim from Alcatraz Island to shore through hypothermia-inducing icy water, while another in Hawaii obliges swimmers to stroke 3.86 kilometers in water warm enough to practically poach eggs.
Uribe plans to start with a half-Iron Man triathlon this October. Half-Iron Man triathlons typically entail a swimming race of approximately 2 kilometers, followed by a 90K cycle race (that's 52 miles), and conclude with a 21K run. "I want to compete in a full Iron Man triathlon before I turn 40," he says. For the record, a full Iron Man triathlon is made up of a 3.8K swim, a 180K bike race, and a full marathon run.
To prepare for these grueling endeavors, Uribe runs, swims, and cycles in some combination throughout the week. "The training requires lots and lots of dedication," he says. "There are mornings in the winter when you get up before sunrise and the temperatures are below freezing, and you just think to yourself, 'What am I doing out here?' Also, you have to set goals and then concentrate on achieving them. Some people find it hard to be dedicated and goal-oriented when there are so many other things in their life—career, home, friendships—that divert their attentions. As for me, I like to train. When I'm out there working my body hard, the distractions of life all just sort of disappear and my head becomes clear. In fact, when I finish running, my body is very relaxed and I feel like I just woke up from the best night's sleep ever."
—RS
---
Rich Smith is a contributing writer for Orthodontic Products. For more information, contact