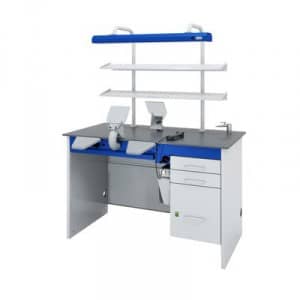 DentalEZ Integrated Solutions, Malvern, Pa, has debuted two new products—the InOffice workstation (pictured) and the  StarETorque electric handpiece.
The InOffice workstation can be customized and offers flexibility to add new features as the needs of the practice change. Overhead lighting, an air gun, and a handpiece are some of the features that can be added to the workstation. The unit is available in a number of colors and surfaces, including a steel color and solid surface countertops. The InOffice workstation features front dust collection. This system, according to the company, has the highest particle capture rate compared to other leading brands, based on independent testing.
The StarETorque is a one-touch system designed to allow the practitioner to move easily between high- and low-speed applications. The handpiece uses a small, lightweight, brushless motor for less noise and vibration. The motor is autoclavable, with six customizable operative modes. The StarETorque's Motor Control Unit features a bright, easy-to-read color touch screen and a compact design for a small footprint as a standalone or detachable for modular mounting.