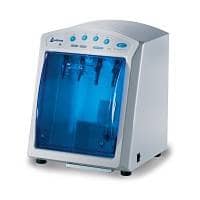 J. Morita, Irvine, Calif, has updated its Lubrina Automatic Handpiece Maintenance System.
Lubrina, which uses a rapid-air blow system to clean and purge handpieces, now features increased airflow speed, resulting in more power. Lubrina also features a long blow-out mode to help ensure proper maintenance and maximize service life, according to the company.
In addition to five-hole and six-pin, Lubrina is now compatible with a standard five-hole connection.
For more information on this and other orthodontic companies, visit our Buyer's Guide.