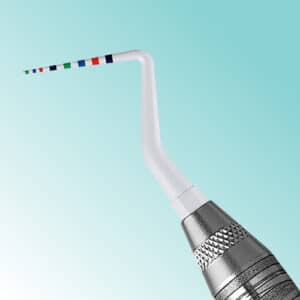 Hu-Friedy, Chicago, recently launched their Colorvue® Goldstein Probe, developed in partnership with renowned clinician Dr Ronald Goldstein. The probe offers improved visibility for improved measurement accuracy in both diagnostic and restorative procedures.
The Colorvue probe features 1/2 mm increments and extends up to 3 mm. In addition, it uses bright colors to differentiate these measurements and features a narrow, flexible tip, which is designed to alleviate the feeling of irritation for the patient.
The Colorvue Goldstein probe is the latest of more than 50 instruments created through the collaboration between Hu-Friedy and Goldstein.
Goldstein is the clinical professor of oral rehabilitation at Georgia Regents University School of Dentistry, adjunct clinical professor of prosthodontics at Boston University Henry M. Goldman School of Dental Medicine, and adjunct professor of restorative dentistry at the University of Texas Health Science Center. He is the author of the text Esthetics in Dentistry, third edition, to be published by Wiley this year. His best-selling consumer book for the public titled Change Your Smile, now in its fourth edition, is published by Quintessence.
The Goldstein Colorvue probe is offered as a starter kit (includes one handle and seven tips) and as a replacement set (includes 12 replacement tips).