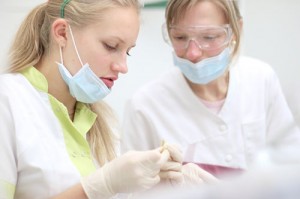 A report this month in the Journal of Dental Education, a publication of the American Dental Education Association (ADEA), details the findings of a survey of seniors graduating from US dental schools. The survey asked questions about students' decision to pursue a dental career, how they financed their education, how much education-related debt they have, and their plans after graduation.
More than 80% of seniors from 65 dental schools responded to the survey and revealed several commonalities. Two-fifths of the seniors said they decided to pursue a career in dentistry before entering college. Among all respondents, the top three reasons cited as "very important" to their decision to enter the field were: having control over their work schedule, providing service to others, and the opportunity for self-employment. These findings are consistent with those in prior years.
"Once again, the ADEA Survey of Dental School Seniors shows that this profession attracts students looking for a career that offers independence and autonomy, but who also have a strong altruistic streak," says Richard W. Valachovic, DMD, MPH, ADEA president and CEO.
The survey found that the average educational debt—college and dental school combined—totaled more than $215,000, nearly 10% more than the class of 2012 reported. While seniors who attended private or private state-related schools faced smaller-than-average increases in debt in 2013, they graduated with more than $249,000 in debt, on average, while those graduating from public schools owed just over $189,000. Dental students are also entering dental school with an average $45,000 in college debt, a 21% increase compared to 2012.