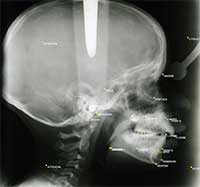 After more than a decade of work, the American Association of Orthodontists Foundation (AAOF) Craniofacial Growth Legacy Collection is now completed and available online for orthodontists, residents, and academics. Nine of the 11 known collections of longitudinal craniofacial growth records in the United States and Canada have been joined together to create this priceless collection of images of untreated orthodontic cases. The collection can be viewed at aaoflegacycollection.org.
"The materials they contain are literally irreplaceable and provide a control group that we will never be able to attain again," says St Louis orthodontist Jeff Cavanaugh, DDS, and long-term AAOF volunteer leader and member of the oversight committee. "These collections represent the work of hundreds of investigators. They have been gathered, cataloged, and studied over a period of more than 75 years."
Each of the collections is independent from the others and has pursued its own sampling and data-collection strategies. According to the AAOF, taken together, these different and complementary strategies have produced a rich longitudinal record of craniofacial development among children who did not receive orthodontic treatment.
"Many children were reviewed from ages 2 to 3 throughout early adulthood as part of university studies at least once a year, and some more frequently," Cavanaugh says. "Current medical standards no longer enable us to capture this type of data, which is why these collections are so important."
Available documentation of the growth process in the several collections includes skull x-ray images of various sorts, hand-wrist films, dental radiographs, facial photographs, and study casts as well as written records on the physical and educational development of children of varied ethnicities and growth patterns.
The contributing collections, working individually, have produced most of the information that is available in the contemporary orthodontic literature on longitudinal craniofacial growth in untreated children.
"By merging data from the several collections, we hope to encourage further collaborative studies to enrich and refine our knowledge of craniofacial growth in untreated children and adolescents," Cavanaugh adds. "Many of these records were literally in boxes in university basements, and we're grateful to the AAOF for providing the funding to catalog and computer image these irreplaceable images."
During the initial phase of this project, the AAOF focused on the collection of lateral and frontal cephalograms. There are more than 13,000 digital images, including 8,700 lateral cephalograms and more than 3,000 frontal (PA) cephalograms generated at different ages from 704 cases, gathered from nine different collections.
"As some cases are still being added, this site is a continually developing resource for orthodontic teaching and research," says Robert Bray, DDS, MS, and president of the AAOF. "The goal of the AAOF is to help fund academic research, and we feel this repository for longitudinal records of all types with sufficient numerical documentation will facilitate study for years to come."
The following collections are available at www.aaoflegacycollection.org. Contributors to the collections are:
Bolton-Brush Growth Study – Case Western Reserve University – Cleveland
Burlington Growth Study – University of Toronto – Toronto
Denver Growth Study – University of Oklahoma – Oklahoma City, Oklahoma
Fels Longitudinal Study – Wright State University – Dayton, Ohio
Forsyth Twin Sample – Forsyth Institute – Cambridge, Mass
Iowa Facial Growth Study – University of Iowa – Iowa City, Iowa
Matthews Growth Study – University of the Pacific – San Francisco
Michigan Growth Study – University of Michigan – Ann Arbor, Mich
Oregon Growth Study – Oregon Health and Science University – Portland, Ore