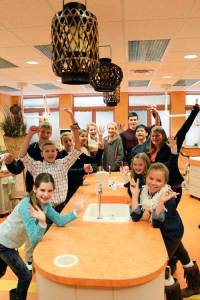 3M Unitek, Monrovia, Calif, has teamed up with the Lifetime® Network show Designing Spaces® for a special "Kids Spaces"-themed episode. According to a press release from 3M Unitek, the episode is designed to help teens and their parents get excited about orthodontic treatment, and facilitate conversations between orthodontists and their patients about new orthodontic solutions that make treatment more efficient, comfortable, and aesthetic.
The episode, titled "Exploring the Options in Braces Technology: An Education for Today's Parents," includes commentary from Ohio-based orthodontist Lisa Alvetro, DDS, as well as 3M Unitek's global professional services manager, Ann Bruck, RDH. The episode originally aired on the Lifetime Network in March, but will re-air periodically. It can also be viewed online at go.3m.com/lifetime.
A number of 3M Unitek products are covered in the segment, including Clarity™ ADVANCED Ceramic Braces, Incognito™ Hidden Braces, APC™ Flash-Free Adhesive, and Forsus™ Appliances.