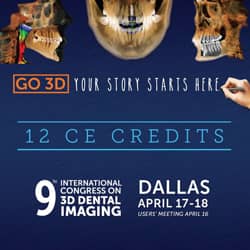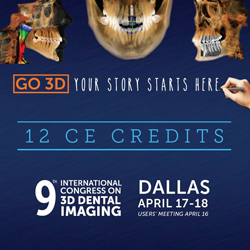 The 9th International Congress on 3D Dental Imaging will take place from April 17 to 18, 2015 at the Dallas Marriott City Center in Dallas. The event, sponsored by i-CAT™ , a brand of the KaVo Kerr Group and Henry Schein Dental, will feature the theme "GO 3D. Your Story Starts Here." At the Congress, industry experts will share with attendees their perspectives on relevant topics regarding 3D applications in dentistry, with a concentrated focus on airway evaluations.
The program will provide attendees with tips and best practices for this technology and its applications, and will feature presentations on topics including:
"The Use of CBCT Planning and Guided Surgery Applications to Improve Quality of Life After Traumatic Injury" by Scott Ganz, DMD;
"DICOM Multiplanar Reconstructed Images—What Do You See, and is it Important?" by Bruce Howerton, DDS;
"Orthodontic: Unlocking the Power of CBCT: Beyond Basics and into the Future" by Sean Carlson, DDS; and
"Airway: Their Story, CBCT and Airway-Centered Treatment Planning" by Juan Carlos Quintero, DMD, MS.
In addition, keynote speakers Cynthia Brattesani, DDS, and John Graham, DDS, will discuss the "whys" of 3D imaging and their personal experiences on the journey to a 3D-enriched practice. Besides the clinical aspects of 3D imaging, Lou Shuman, DMD, DDS, will explore practice marketing opportunities using social media, and Christine Taxin, New York University Dental School adjunct professor, will offer insurance and billing tips that could lead to a smoother reimbursement process.
An i-CAT user's meeting will be held on April 16 and will feature a product and technology update, including discussions about how to select the best scan for each patient; optimize the use and performance of a 3D system; and select the best 3D scan protocol, resolution, and field of view for each patient. A variety of other topics will also be covered, including the integration of the 3D system into the practice, and best practices for marketing the system to help drive increased patient traffic.
Clinicians can earn up to 12 CE credits by attending the event.