An early adopter of the iTero intraoral scanner, Sandra Tai, BDS, MS, Cert Ortho, FCDS (BC), FRCD (C), has learned how to fully utilize the latest technology to benefit her patients and practice
By Alison Werner | Photography by Mike Crane
When intraoral scanners first hit the market, the main selling point was that they offered an alternative to alginate or PVS impressions. And to this day, that is still how many orthodontists use the technology. But the fact is, in recent years, intraoral scanners have evolved to be so much more than that.
Sandra Tai, BDS, MS, Cert Ortho, FCDS (BC), FRCD (C), knows firsthand how true that is. The Vancouver-based orthodontist, who started practicing in 1995, was an early adopter of intraoral scanning technology—not at all surprising as she was also an early adopter of clear aligner therapy, jumping on board with Align Technology's Invisalign in 2000. Over the years, Tai has learned how intraoral scanners can be a vital tool for not only treatment planning, but also treatment progress and patient conversion. What's more, she has learned the value and become an advocate for fully maximizing the tools built-in today's intraoral scanners.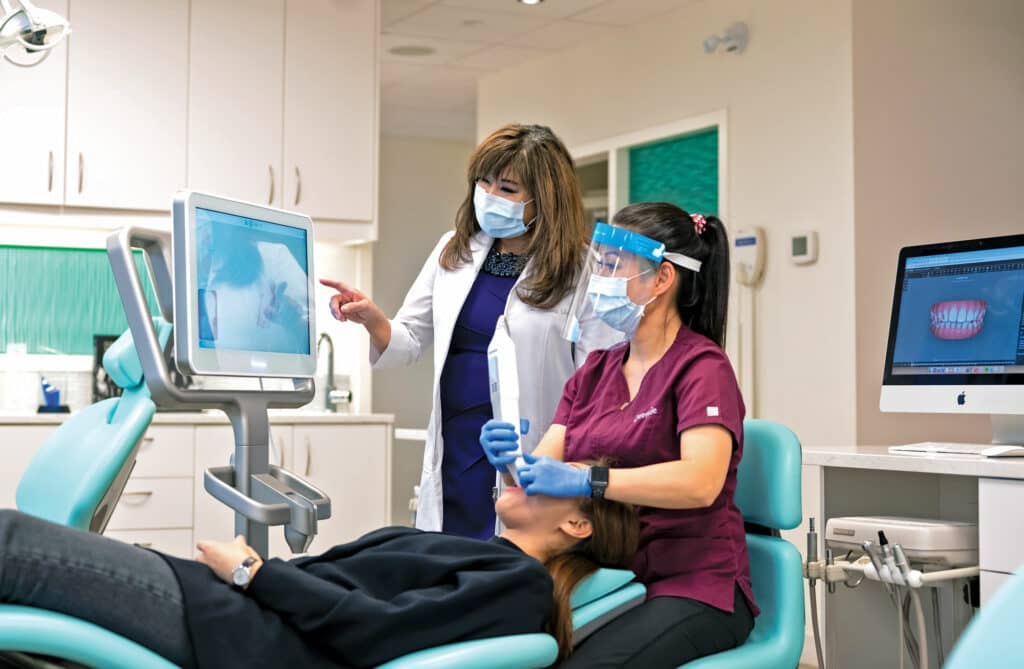 Value-Added Expertise
Tai purchased her first iTero intraoral scanner from Align Technology in 2012. She saw how those first patients welcomed the technology—no more goopy stuff in their mouth—and how they were wowed at the sight of their teeth appearing on screen. It helped set her practice apart.
Today, Tai has 8 iTero intraoral scanners in her two-office practice—including first-generation Element scanners and second-generation Element 2 scanners and four of the new Element 5D imaging systems. The technology built into the Element 5D scanner specifically gives Tai the ability to provide patients with a truly customized experience.
Once the intraoral scan is taken with an iTero scanner, Tai uses iTero's Invisalign Outcome Simulator tool to provide the patient with a projection of what their final smile will look like. This visualization allows the patient to see their chief concern on screen—for example, a tooth they say is sticking out, and then immediately see how treatment will resolve the issue. From there, Tai pulls up the adjusted treatment outcome feature and uses the 3D controls to move the teeth to illustrate how she is going to arrive at the final occlusion, whether it's simulating a distalization to correct a Class II malocclusion or intrusion to correct a deep bite. She takes the time to use these 3D controls in front of the patient for a very specific reason.
"In this day and age, a consumer can get clear aligners from anywhere they like. They don't even have to leave their house. Every general dentist has a sticker in their window that says they do Invisalign. Why would a patient want to come and see me, the orthodontist, and pay more? I use the 3D controls and make some minor aesthetic adjustments on the front six teeth to show the patient it's not the appliance that moves the teeth. It's my expertise and skill as an orthodontist," says Tai, who is the author of Clear Aligner Technique, an orthodontic textbook, published in 2018.
"I want to tell patients not all clear aligners are created equal. My value-added proposition is, as the orthodontist, I'm going to be the one who designs your smile using this digital software. Based on my design, your aligners will be made to straighten your teeth."
That value added extends further. With the iTero Element 5D imaging system, Tai is able to provide her patients with information that better informs their overall oral health. For example, the Occlusogram feature allows Tai to see where the occlusal contacts are, while the near infrared imaging (NIRI) feature allows her to detect interproximal dental caries above the gingival margin. Tai uses the Occlusogram feature at the new patient consultation and routinely conducts an NIRI review of both dental arches in front of patients.
"The iTero is the wow factor that gets the patient started. It is the single most important instrument you can have in your new patient room. With the Outcome Simulator, Occlusogram, and NIRI features, the patient is completely convinced that this is the doctor that they want to see," says Tai, who is a graduate of the University of Minnesota.
And when the patient asks, 'Can I start today?' The response is an easy Yes. "We've already done half the records by doing the scan. We can take 10 minutes more and you'll get your aligners at the next appointment."
Cost Justification
An intraoral scanner is a significant financial investment for an orthodontic practice. It's a cost that needs to be justified. Many orthodontists think they need to do a lot of clear aligner cases to do so. Tai contends it's a mistake to think this way. After all, an intraoral scanner can be just as useful when evaluating patients with fixed appliances.
Tai uses her iTero Element 5D scanner to look for caries in her bracket and wires cases. This saves on those archwire removal and replacement appointments when a dentist wants to do a cleaning and take bite wings. These two additional orthodontic appointments are not only an inconvenience for patients and parents, but also for the orthodontic team.
"[These appointments] clutter up my daily schedule. Now, I'll do a 5D scan and I'll let the dentist know if there are any areas of decalcification or other areas of concern. If there are, then it's worth removing the archwires; but if the 5D scan comes up clean, then we don't have to do anything. We can just send a report to the dentist and review again in 6 months," says Tai. "I think that really blows away the misconception that most orthodontists have, that they have to be a high-volume provider to justify owning a 5D scanner. No, you don't. If you have lots of bracket and wire patients, this is going to save you time in the chair."
What's more, this technology ends up being a value-added proposition for that new bracket and wire patient consult. This technology allows the practice to say: We have the ability to track not only your treatment progress but also your overall oral health.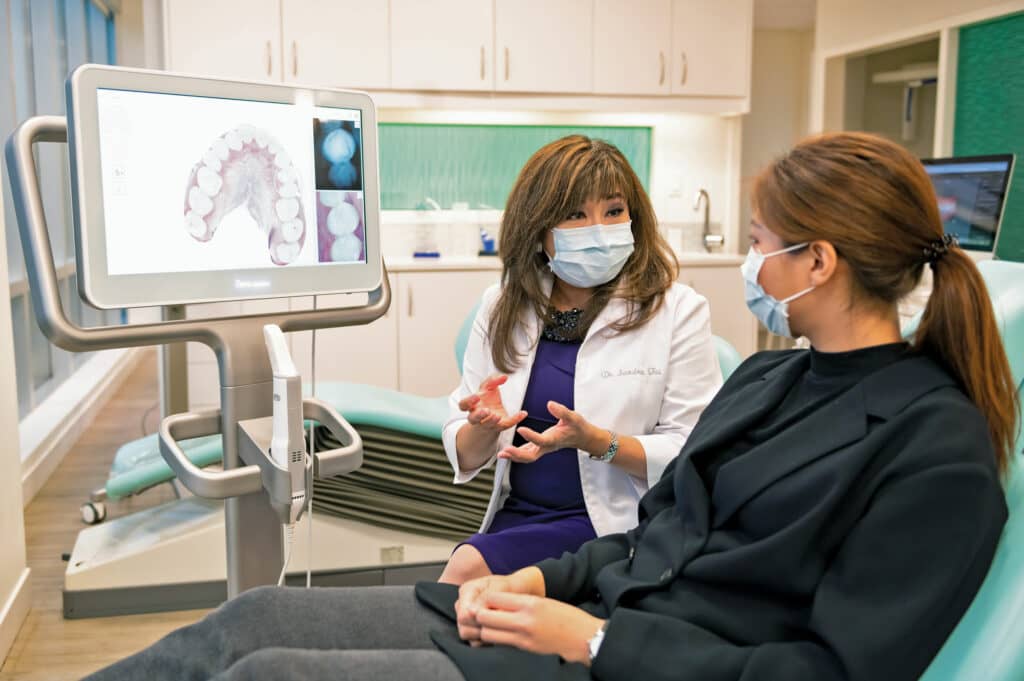 The Bottom Line
Once an orthodontist understands what an intraoral scanner like the iTero Element 5D can do, it becomes easier to understand the impact this technology can have on a practice's bottom line, says Tai.
Number one is its impact on the practice's conversion rate. In Tai's practice, every new patient gets a scan with the iTero Element 5D imaging system. "When you have the 5D scanner, it positions your practice as a leader in digital technology and differentiates your practice from orthodontists who don't own a 5D," says Tai, whose personal conversion rate is 96%.
Number two is the impact on the practice's relationship with referring doctors. The fact is, it's harder for dentists to detect caries and decalcification when a patient has brackets and wires. But, as mentioned, the iTero Element 5D imaging system allows Tai to scan her patients for the dentist and share this information with them. In addition, the Occlusogram feature allows the orthodontist to assess bite issues. For example, a patient came to Tai following the placement of a crown on the upper second molar. The patient complained their bite was off. While Tai couldn't adjust the porcelain crown, she could share the Occlusogram data with the dentist and let them determine what needed to be done.
"That communication between the referring dentist and the orthodontic practice, it really enhances [the relationship]. It gives you more reasons to talk to the referring dentist. It makes the referring dentist feel like you are really taking care of the patient.
"Once your circle of referring dentists knows that you have this scanner, they're going to be much more inclined to work with you," she says.
And number three is the impact the technology has on the practice's overall efficiency. The ability to detect caries eliminates those unnecessary archwire removal and replacement appointments, reallocating them to revenue-generating procedures. From there, the iTero Element scanner Progress Assessment feature allows the orthodontist to be on top of treatment every step of the way.
According to Tai, the Progress Assessment feature allows the user to compare the tooth movement with a certain stage in the ClinCheck software, color coding the teeth to show which are moving according to plan (green), which are not quite tracking (yellow), and which are moving in the opposite direction from the plan (purple).
"If the majority of your teeth are green and you have four or five teeth that aren't toeing the line, it's okay. You can fix that when you make additional aligners. If you suspect the teeth are tipping or moving badly, you can do a scan and the progress tracking feature will actually tell you and it's amazingly accurate.
"For example, it will say the pretreatment intercanine width is 35 mm. The current intercanine width is 33 mm. You programmed in 32.5. It will show you that you're 1 degree or 1 mm off, which means it's probably tracking. It will give you a lot of confidence in the aligners that they are doing what they're supposed to do. And it tells you which are the problem teeth to address when you make additional aligners," says Tai.
Similarly, the iTero Element TimeLapse feature can compare two scans taken at two different time points in treatment to assess any changes. While Tai uses this feature to assess treatment progress, it is also helpful when allaying patient concerns. For example, Tai, who sees hundreds of patients a year, doesn't have to rely on memory when a patient asks her if she thinks his teeth are wearing down. She can pull up two scans taken during the course of treatment and use the TimeLapse feature to compare them. The iTero Element scanner will show her exactly the amount of tooth wear that has occurred. So, for the patient who had gum grafts done before starting orthodontic treatment and 9 months into treatment was worried their gum recession was getting worse, Tai can pull up the pre-treatment scan and compare it to the current scan and say, "Let's find out!"
"Now I can give him an educated answer and the patient knows that I didn't glibly say yes or no or brush off his concern," says Tai.
Maximize the Technology
Given the utility of these features, Tai is surprised at the number of iTero Element 5D imaging system users who don't know that they are available. And she would know. When Tai isn't in her practice, she is more than likely lecturing for Align Technology as a member of their Global Faculty.
"I was lecturing at a university alumni event and there were 200 orthodontists in the room. I asked, 'How many of you have an iTero scanner?' Everybody put up their hand, literally. Then I asked, 'How many of you know about, and use the Progress Assessment feature?' Zero hands. I couldn't believe it."
Not only were these users not fully maximizing the technology they had invested in, but they were also selling the intraoral scanner short. As Tai puts it, if orthodontists don't fully understand the capabilities of an intraoral scanner, it leads to false equivalency.
"They figure I'll buy any scanner; any scanner will do. I'll buy the cheapest scanner on the market. But the cheapest scanner on the market isn't going to tell you if your patients are tracking or give you a simulation of the treatment outcome. It will replace your alginate, but that's it."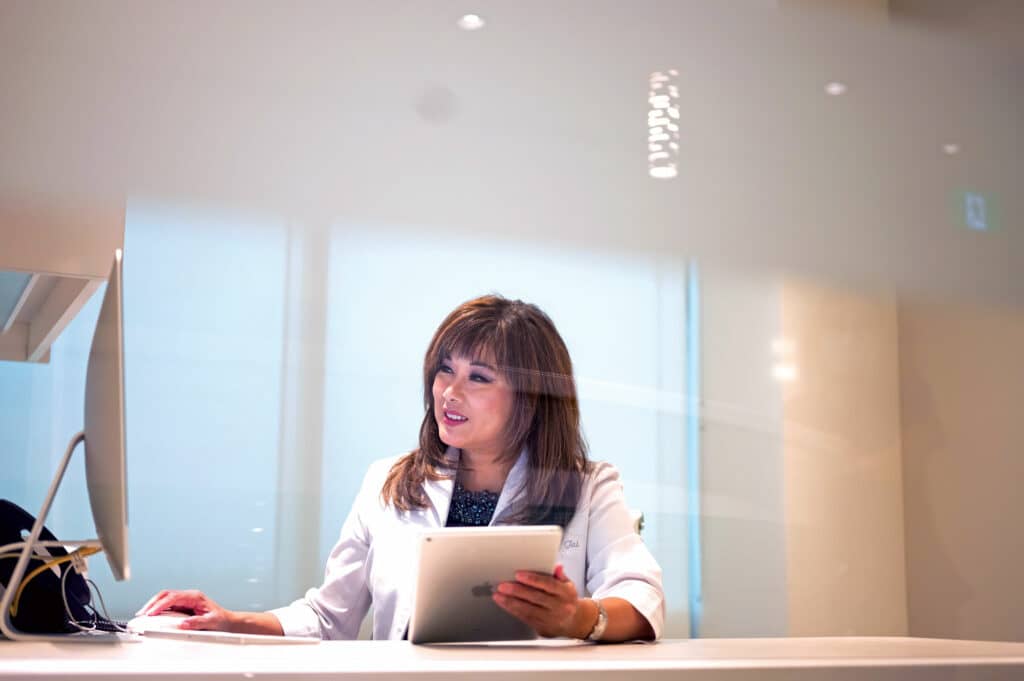 COVID Impact
Like her colleagues in the United States, Tai's Canadian-based practice was closed for 9-weeks. Upon reopening, the practice had to reschedule 2,300 appointments—a herculean task. In the months since, the practice has changed how it provides care, says Tai.
First up was the converting of a few bracket and wire patients to aligners. "Patients who are in brackets and wires understand that if they don't get their braces tightened, their teeth are going nowhere," Tai says, adding that in August she was seeing patients whose last appointment was prior to closure. Meanwhile, her aligner patients were able to pick up their remaining aligners during closure and keep their teeth moving. To ensure that both the practice and patients are prepared for a second wave of closures, the practice now gives every patient all their aligner boxes.
Tai's practice has also adjusted the intervals at which aligner patients come in for checks, recognizing that her patients aren't keen to come as COVID-19 cases continue to surge.
"[Before] patients felt that since they paid for treatment, therefore, they've got to see the doctor. But, because of the pandemic, patients are now buying into the idea that they don't have to come in to see me. [The pandemic] has changed my patients' mindset. They are much more receptive to teledentistry," says Tai.
Her patients are now going 12 weeks, with a virtual appointment at 6-week intervals. Tai utilizes the Invisalign Virtual Appointment and Virtual Care tools launched at the start of closure.
"Patients can take pictures of their teeth and send it in to you if they have an issue with an aligner not fitting," says Tai, adding that her practice now conducts 20% of its appointments virtually using the Invisalign tools.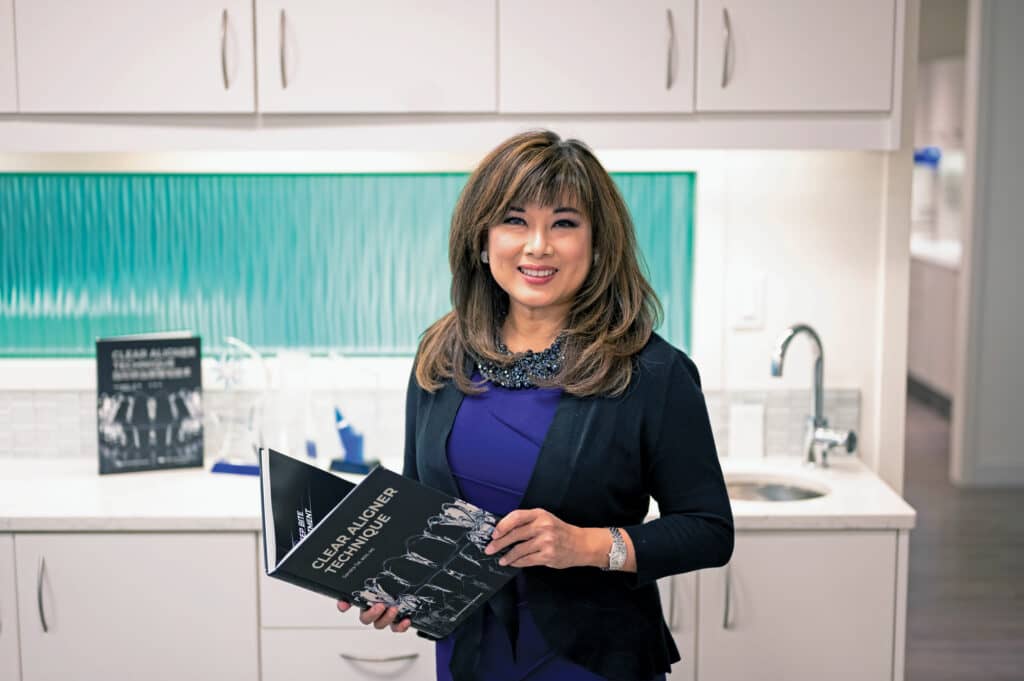 Writing the Book
Tai clearly enjoys being at the forefront of the evolution of orthodontics, and, what's more, she enjoys educating both her peers and the next generation of orthodontists to make sure they are at the forefront as well. Nowhere is that clearer than with her work as an author. Her book, Clear Aligner Technique, was written to give students and practitioners a go-to textbook/reference book, to keep them on the cutting edge of clear aligner treatment.
"I've been teaching at the University of British Columbia for many years. Everywhere I lecture, people would ask, 'What book do you recommend I read?' For years, my students would ask, 'What's the reference text for this course?' My answer, 'There really isn't one.' Finally, I said, I'm just going to write one," she shares.
According to Tai, the book, which includes 35 case reports and a full bibliography, covers diagnosis, treatment planning, biomechanics, and anchorage. From there, it is written to help orthodontists translate the foundational principles of orthodontics and apply them to the world of clear aligners.
"That's why the book is so popular," says Tai. "It doesn't make clear aligners out to be some magic concept that's hard to understand. It leads the reader from the basic principle of biomechanics that we know applies to fixed braces, and transfers that principle into the world of clear aligners."
The fact is, whether it's intraoral scanners or clear aligners, there is no magic in their evolution. When technology is maximized to its fullest extent, it can fundamentally change our patient outcomes and practice success for the better. OP
Alison Werner is chief editor of Orthodontic Products.