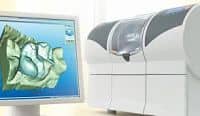 Sirona Dental Systems LLC, Charlotte, NC, recently received two "Best in Class" awards for its CEREC® CAD/CAM system and CEREC® AC CAD/CAM system.
The Pride Institute named both Sirona's CEREC (pictured) and CEREC AC technologieswinners in the "diagnostic" technologies category. In addition, theCEREC AC acquisition center, which features Bluecam technology, wasawarded "Best in Class" in the diagnostic category for digitalimpressions.
Launched in 2009, the [removed]Pride Institute[/removed]Best of Class Technology awards were created to provide an unbiased,nonprofit assessment of available technologies in the dental field.