As a dental care professional, it's important to be aware of the latest technologies and advancements in treatment. To stay ahead of the curve, you may want to consider incorporating some of the products and services listed here into your practice. 
Dental Lasers
Although the use of lasers in dentistry isn't new, it is an area that is seeing significant changes and greater adoption. This works in favor of both dentist and patient. They allow dental professionals to perform more procedures in less time. For patients, they're able to shorten their chair time. The exciting new laser uses:
Shrinking tissue on the soft palate to allow more air to pass through, thus reducing or eliminating snoring.

Intraorally enhance lips and cheeks as fillers do.

Treating periodontal disease without flapping or traditional cutting.

Increasing root canal treatment success. Minimizing tissue damage when removing veneers and crowns.

Treating the rapid rise of peri-implantitis.
Because lasers essentially save time, they often justify the return on investment (ROI) for dental practices.
Cone-Beam Computed Tomography
In addition to lasers, there's also a push towards diagnostic cone-beam computed tomography (CBCT), radiology, and digital scanning of the mouth on the shortlist of what's to come. 
CBCT systems are used by dental professionals to rotate around the patient and gather data using a cone-shaped X-ray beam. The data the system collects is used to create a 3D image of the patient's teeth, oral and maxillofacial region, ears, nose, and throat. 
These images can then be used for dental implant planning, visualization of abnormal teeth, evaluation of the jaws and face, cleft palate assessment, diagnosis of caries, root canal diagnosis, and diagnosis of any dental trauma. 
Advanced Management Systems
Innovative devices may make your job a whole lot easier, but they might not be enough to get new patients through your office doors. Enter Property Management Systems, also known as PMS. 
Dental practice management software companies are popping up everywhere, making it easier to elevate the organization of your appointments, and automate tasks to help save staff time and effort. 
The more advanced software offerings can be a seamless integration into existing PMS systems and offer an array of helpful functions, including the ability to automate everything from billing and scheduling. 
What automation can do for your front desk: 
Remind and confirm patients about their appointments

Send out treatment plans

Encourage follow-up visits

Find waitlist patients and contact them about last-minute openings

Scheduling appoints online

Obtaining patient consent

Sending bill and processing payments

Help with managing online reviews
In addition to automation, you can encourage patients to do more online with a self-service portal to help staff even further. Incorporating live chat or a chatbot into your website also allows patients to find answers to common questions on their own. It's another proven wait to attract new patients and make current ones happy. You can read more on tips for choosing a practice management software here.
Holistic Dentistry
Patients have been exploring more holistic options when it comes to healthcare in general. Taking a closer look at what is going into their bodies, some have the desire to receive treatments without chemicals and other unnatural substances. Holistic dentistry opts for "biocompatible" or natural materials instead. Holistic dentistry includes therapies like:
nutrition education

Ayurveda

Aromatherapy

Homeopathy

Herbology

spiritual healing

Hypnosis

Electroacupuncture
Along with alternative therapies, the approach is a little different. A traditional dentist could discuss nutrition with a patient whereas the holistic approach would place more emphasis on the effect of nutrition on oral health. 
Plus, the materials they use are all-natural. For instance, a holistic dentist might give you an herbal mouthwash for gingivitis. But a traditional dentist may prescribe a medicated mouthwash called chlorhexidine, which is scientifically proven to reduce gingivitis. Other examples of holistic remedies include:
Herbal tooth powder

Propolis

Neem toothpaste

Composite fillings
EverSHARP
The worst part of traditional needles is, well, the needle. Verena Solutions—a company created and run by enigineers and dentists realized that the current needle system wears quickly and can create pain for the patient. Oral tissues are sensitive and can be exposed to tearing and trauma with multiple injections, thus, creating a poor situation. Using a proprietary new coating, Verena created EverSHARP. 
This new-to-the-market dental needle uses a proprietary amorphous Thin Film Metallic Glass-alloy (TFMG) coating that is both much stronger and more flexible than what is currently available. This new patented coating never wears away, can handle up to 40 punctures without dulling, and has a lower coefficient of friction than Teflon. Unlike most metals which are Crystalline and prone to fracturing, amorphous materials are much more elastic and resilient. This makes the system longer-lasting, less damaging to oral tissue, and less painful for the patient.
Artificial Intelligence
Data is crucial in making any clinical decision. Artificial Intelligence (A.I.) tools can provide dentists even more information to provide the best treatment recommendations for patients. It can also provide a deeper understanding of individuals, so you can provide more personalized care. With the pervasiveness of technology in every facet of life, that's exactly what patients are becoming to expect. 
Where AI becomes interesting in the dental field is genomic data. Having access to this information can help to identify pathology early and predict the probability of success of certain treatments and procedures. In addition to obtaining this kind of data, A.I. algorithms can help dentists approach more serious dental conditions. 
In 2019, a machine learning method was created to quantify immune cells in the vicinity of oral cancer cells. This provides more insights into the spread of this cancer and its resistance. It also helps predict the chance of survival.
The Smart Toothbrush
You've heard of the smart home. Why not a smart brush? Although it has a lot of the features of a typical electric toothbrush, it does have a few interesting upgrades. 
Yes, a smart electric toothbrush can ensure patients are brushing their teeth correctly. But it has the capability to do so much more with a connection to an enticing and supportive companion app. Connecting to a sensor in the toothbrush, the app can warn users if they're applying too much pressure or not brushing for long enough. For kids, it offers fun real-time feedback, fun, and a feeling of accomplishment. 
These small wonders are already on the market. Quip, Philips' Sonicare, Colgate, and Oral-B being the key manufacturing companies.
Augmented Reality
You might be using Augmented Reality (AR) and don't even realize it. Those filters on your social media apps that make you look like a puppy? That's AR. That same technology has great applications in dentistry both in education and in practices. 
In the education sector, a simulator paired with AR allows students to perform procedures on mannequins while receiving immediate feedback on their movements. Thus, improving and developing their skills like they never could before. It's already used by thousands of students in dental schools around the world.
There have also been recent studies to evaluate the feasibility of using a virtual display for dynamic navigation using AR. From the outcome, it seems that AR can be useful in dental implantology for displaying dynamic navigation systems.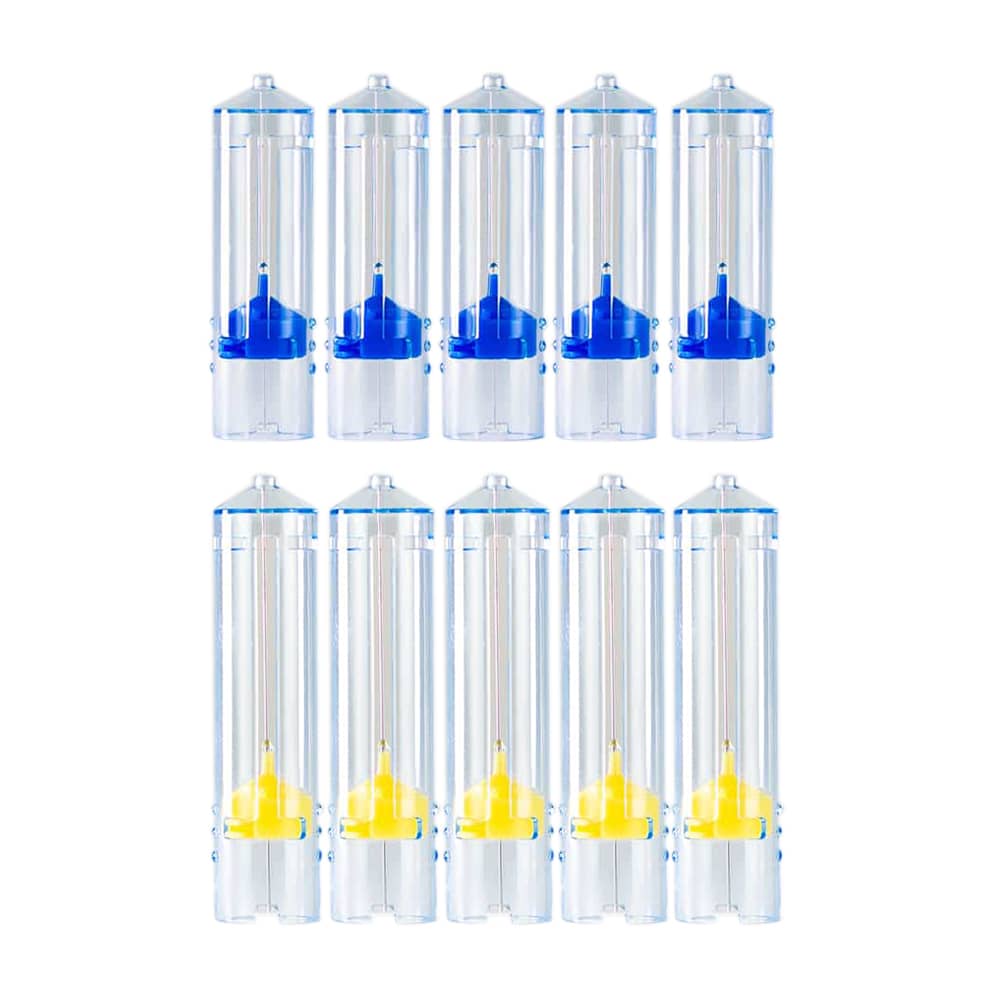 Ready to Try a Better Needle System?
Unlike traditional needles, the SimpleCAP needle promotes safety during assembly, usage, recapping, disassembly, and disposal. The result is a needle system that makes patients more comfortable, staff safer, and the delivery of care more efficient.