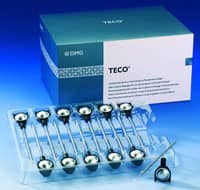 Zenith Dental, Englewood, NJ, announces that its TECO™ total etch bonding system received very high ratings from The Dental Advisor, an independent organization that performs research and provides information to dental professionals regarding dental products and equipment. The TECO system received a rating of 4½ out of a possible 5.
Distributed exclusively by Zenith Dental and manufactured by DMG, TECO Total Etch Control Bond is a total etch bonding system for all light-cured materials. TECO offers microtensile bond strength of 38 MPa for adhesion to enamel and dentin using a single-layer application.
According to the company, TECO's water-based adhesive formula may reduce the incidence and severity of postop sensitivity, often associated with acetone or alcohol-based total etch bonding agents. TECO can be used with the wet or moist bonding technique, and its nonacetone formulation works with all curing lights.
"We're extremely pleased with the positive feedback we routinely get from dental professionals. This independent evaluation report confirms that TECO has a place in virtually every dental practice where efficiency, reliability, and patient comfort are a concern," said George Wolfe, president of Zenith Dental.
For more information, contact Zenith Dental.