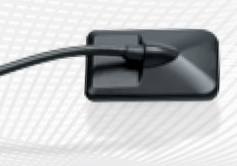 LED Imaging, Atlanta, has launched the LED IS100 – a digital radiography intraoral sensor designed to provide dental professionals with simplicity and versatility, the company says.
The third product to be added to LED Imaging's product portfolio, the LED IS100 intraoral sensor is a replacement for traditional dental film, as it captures intraoral images of the teeth and supporting bone structures. And, according to the company, the sensor boasts a number of product features that support practice needs, including: high-definition image resolution, direct USB plug-in, and durable construction.
The sensor's ergonomic design was created with both practitioners and patients in mind, according to LED Imaging. The slim casing and rounded edges allow for faster, easier, and more comfortable patient positioning.
The LED IS100 is available in two sizes to suit diagnostic needs, such as retroalveolar, posterior, bitewing, and other necessary images. It can be used in endodontics, periodontics, prosthetic surgery and implants, as well as for cavity diagnosis. Plus, the sensor features an automatic wake-up system, reducing the steps required for the sensor to capture an image.
The sensor also features an open-architecture design for streamlined integration with third-party software and imaging solutions. The LED IS100 can be implemented into a practice seamlessly, further streamlining workflow, the company adds.