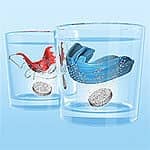 Batavi Corp USA,New York, now offers Zeltek™ antibacterial mouthguard cleaning tabletsin the United States. Developed by dental professionals and FDA-approved, Zeltekcleaning tablets eliminate harmful bacteria and germs that grow onsports mouthguards and orthodontic retainers.
Users dissolve one Zeltek tablet in lukewarm water and soak themouthguard or retainer for a minimum of 15 minutes or as long asovernight. Zeltek tablets are designed to be used after every wearing ofan appliance and come in packs of 12.
For more information on this and other orthodontic companies, visit our Buyer's Guide.