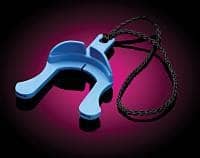 Totalgard Corp, Woburn, Mass, now offers a sports mouthguard designed for use with Class II activating appliances. It is designed to slide past the activating springs and pistons.
The mouthguard can be used with Herbst, Forsus, and Eureka Springs, requires no molding to use, and has full bite-rim protection.
For more information on this and other orthodontic companies, visit our Buyer's Guide.