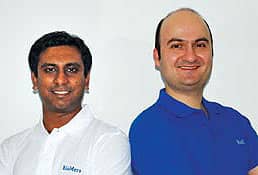 Mervyn Fathianathan, PhD, CEO (left), and George Aliphtiras, MSc (right), vice president of business development, are the co-founders of BioMers.

Orthodontic Products: What is SimpliClear?
Mervyn Fathianathan, PhD: SimpliClear by BioMers is the world's only completely clear braces system. Being virtually invisible, it allows patients to undergo orthodontic treatment without the embarrassment of unsightly metal braces.
OP: What makes this system unique?
George Aliphtiras, MSc: SimpliClear is unique in that it is the only fixed appliance system available today that offers a clear orthodontic archwire capable in treating all types of malocclusion. This is made possible by way of archwire customization and the availability of round and rectangular archwires. Being metal-free, it is the ideal choice for those patients that suffer from nickel sensitivity.
MF: The uniqueness of SimpliClear is threefold. First, SimpliClear is the only clear labial braces system in the market today. Second, it offers archwire customization from start to end. The ability to customize allows one to introduce complex bends and archforms with very little effort. Third, SimpliClear is the only true all-inclusive system. Clinicians receive all the required wires, brackets in indirect transfer trays, and retainers. No software licensing or separate bracket or retainer purchases are required, though a clinician can elect to prescribe a bracket other than the one that comes with SimpliClear.

OP: What is the SimpliClear provider network?
MF: It is a network of clinicians that have undergone training in the use of SimpliClear. After becoming trained, clinicians are listed on the SimpliClear provider locator service that is available on the BioMers Web site. Prospective patients wanting to find their local SimpliClear provider need simply to enter their location. From there, the patient contacts the clinician to arrange for an appointment.
OP: How do orthodontists use SimpliClear?
GA: SimpliClear is based upon traditional metal braces in that you have an archwire and bracket bound to the teeth. As such, tooth movement is what you would expect with traditional braces. The process of starting cases differs slightly from traditional treatment in that a clinician needs to submit impressions, a bite registration, and prescription forms to BioMers for custom appliance fabrication to occur. Before appliance fabrication occurs, clinicians need to approve the design. Clinicians receive the customized appliances within 3 weeks upon approval. If one requires more customized archwires after the initial setup, BioMers does this at no additional cost.
OP: Considering the current economy, how can the SimpliClear provider network benefit providers and patients?
GA: SimpliClear is more affordable than aesthetic orthodontic treatment alternatives. For one flat fee, clinicians receive the full complement of customized and preformed archwires, brackets within indirect transfer trays, and retainers. There are no hidden costs associated for midcourse corrections or additional archwires and brackets. Cost aside, clinicians and patients also benefit from the fact that they can enjoy the predictability and efficiency associated with fixed appliances. Furthermore, clinicians that become SimpliClear providers enjoy the patient referrals generated by the company's clinician locator feature on the BioMers Web site.
OP: What do you think is the "next big thing" in orthodontic technology?
MF: Personalization of orthodontic appliances through computer technology is without a doubt the future of orthodontics. This is no different with SimpliClear, where orthodontists will eventually be able to view and determine the optimal treatment protocol for each patient with the submission of STL files from an in-office-generated 3D scan.
For more information on this and other orthodontic companies, visit our Buyer's Guide.