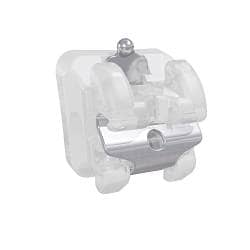 American Orthodontics, Sheboygan, Wis, has added Empower Clear Braces to its Empower® self-ligating brackets line
According to the company, Empower Clear are fully interactive brackets, feature a leading edge and a ceramic injection-molded body for strength. Constructed of silver-rhodium plated materials, the self-ligating clip is designed to blend with the bracket body.
Empower Clear uses American Orthodontics' Quad Matte™ Base. The mechanical lock base incorporates alumina particles only on the base's center, giving a strong bond in the center and a weaker bond on the edge to facilitate debonding.
Empower Clear is currently available in upper 5-5 and in McLaughlin, Bennett, Trevisi, or Roth prescriptions.
For more information about this and other orthodontic companies, visit our Buyer's Guide.