Orthodontic Products – March 2006
Focus on Pliers
Dentronix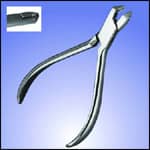 Dentronix offers ligature cutters available in standard and mini sizes. The cutters cut soft wire up to 0.016 inches. The mini-size straight ligature cutter features a smaller head with very fine tips for close-precision cutting, and it is available with a 15° angle to fit between small spaces. Standard-size ligature cutters are available straight (as shown) and angled, and may be used with soft wires, pins, and modules. Dentronix Royal Pliers are autoclavable and guaranteed against corrosion and bond failure for the life of the instrument.
For more information, contact Dentronix Inc, 235 Ascot Pkwy, Cuyahoga Falls, OH 44223; (800) 523-5944; www.dentronix.com.
LeoneAmerica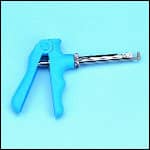 LeoneAmerica introduces a cap remover for convertible buccal tubes that features a ratchet-type trigger device. The cap remover has an adjustable shaft, allowing the converting tip to be positioned at different angles, giving the orthodontist access to hard-to-reach areas in the oral cavity.
For more information, contact LeoneAmerica, American Tooth Industries, 1200 Stellar Dr, Oxnard, CA 93033-2404; (800) 235-4639; www.americantooth.com.
Great Lakes Orthodontics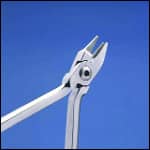 Great Lakes Orthodontics introduces pliers designed for accurate wire bending, adjusting, and contouring. The Three Prong Pliers (shown) feature precision-aligned, tapered tips for consistent and delicate bending. Single-piece construction of the double tip eliminates flaring and ensures strength. Other popular plier styles include the Serrated Wire Bending Pliers, the How, Jarabak, Hawley, Adams Clasp, and Bird Beak Pliers. Adjusting pliers and heavy-duty pliers are also available. All pliers are manufactured with stainless-steel forgings and easy-grip handles for reliable control and consistent results.
For more information, contact Great Lakes Orthodontics Ltd, 200 Cooper Ave, PO Box 5111, Tonawanda, NY 14151-5111; (800) 828-7626; www.greatlakesortho.com.
Carl Heyer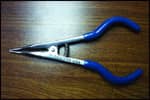 Carl Heyer introduces the Orthodontic Sep-A-Ring Plier. Designed for placing TP Sep-A-Rings, the plier limits excessive expansion, which could cause the rings to break. The plier's rounded beak protects the patient and holds the ring during placement. It may be used with large or small Sep-A-Rings. Its tapered tips provide accessibility to all quadrants.
For more information, contact Carl Heyer Inc, 1872C Bellmore Ave, Bellmore, NY 11710; (800) 284-5550; www.dexiter.com.
Ortho Organizers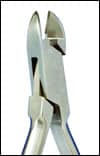 Ortho Organizers offers the Endura® line of pliers, which are manufactured with an even, ultrapolished finish (for stain and corrosion resistance) and smooth, contoured edges for patient comfort. Sliding lock joints ensure accuracy and long life, while ergonomically designed handles provide a comfortable, sure grip. The Acrylic Debonding Plier (a new addition to the Endura line) safely and effectively removes orthodontic acrylic from tooth surfaces. The plier has a hinged platform on one jaw and a debonding blade on the other jaw. When debonding acrylic, the hinged jaw is placed on the occlusal surface to create a secure brace, while the other jaw separates the acrylic from the tooth surface.
For more information, contact Ortho Organizers Inc, 1619 S Rancho Santa Fe Rd, San Marcos, CA 92078; (800) 547-2000; www.orthoorganizers.com.
Raintree Essix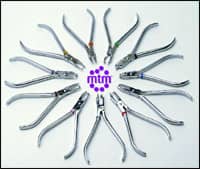 Raintree Essix offers Hilliard Precision Thermoforming Pliers, which make Minor Tooth Movement™ possible. The pliers allow rotation, torquing, lateral movement, and tipping up to 3 mm chairside, without resetting the teeth in a laboratory environment. They also allow the practitioner to create a series of bumps or protrusions in a clear Essix aligner to move teeth. Essix aligners can be fabricated in the office and can be adjusted in seconds using the Hilliard Thermopliers. A single aligner provides a 3-month treatment.
For more information, contact Raintree Essix Inc, 4001 Division St, Metairie, LA 70002; (800) 883-8733; www.essix.com.
Magnum Ortho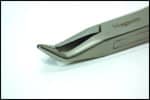 Magnum Ortho introduces two Weingart Plier styles. The Slim Jaw plier has narrow tips and allows accessibility; and the Small Jaw has smaller tips and allows access, yet has the tensile strength. The pliers are available in tungsten carbide.
For more information, contact Magnum Ortho, Division of Magnum Medical, 3265 N Nevada St, Chandler, AZ 85225; (800) 336-9710.
E.A. Beck & Co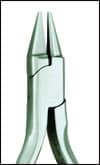 E.A. Beck & Co offers pliers manufactured from hot drop-forged surgical stainless steel, which may be custom made to customers' specifications. The joints of the pliers are assembled with pins that are machined to fit each pair of pliers, thus guaranteeing that the joint will not loosen. Beck offers a lifetime guarantee against defects in material and workmanship. A full-service, in-house repair department repairs most brands of instruments.
For more information, contact E.A. Beck & Co, 657 W 19th St, Suite E, Costa Mesa, CA 92627; (800) 854-0153.
Masel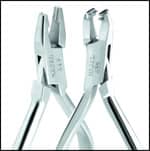 Masel offers two "V" Notch Stop pliers that place precise "V" bends in NiTi wire. The pliers are part of Masel's improved 600 Series line, which is available with a 5-year tip warranty and a lifetime warranty on the body. The newly designed Extraoral "V" Notch Stop Plier #649 forms a precise 1-mm "V" stop that prevents wire from disengaging from the buccal tube. Its female insert creates stability and bends round wire from 0.012 to 0.020 inches, and rectangular wire up to 0.017 x 0.022 inches. The Intraoral "V" Notch Stop Plier makes "V" stops right in the mouth with one squeeze. It bends round wire up to 0.016 inches and rectangular wire up to 0.016 x 0.022 inches. Masel offers a 30-day free trial on all new pliers. Through May 10, Masel is offering six free pliers with every order of 12 600-series pliers.
For more information, contact Masel, 2701 Bartram Rd, Bristol, PA 19007; (800) 423-8227; www.maselortho.com.
ClassOne Orthodontics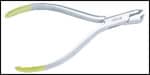 ClassOne Orthodontics introduces Ixion Instruments, which are made from German surgical steel with a satin finish to reduce glare. All cutting edges are made from carbide inserts and provide strength and sharpness. All the instruments feature a box joint, which provides reliable, smooth action and ensures that the tips align each time. With no square edges, the Ixion design provides maximum comfort. One year of free sharpening is included with purchase.
For more information, contact ClassOne Orthodontics Inc, 5064-50th St, Lubbock, TX 79414; (877) 797-1199; www.classoneorthodontics.com.
Bendistal Pliers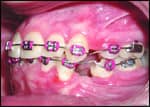 Bendistal Pliers allow orthodontists to bend titanium and NiTi wires intraorally using a V-bend technique that corrects many challenging orthodontic problems with single-squeeze adjustments. The pliers' tiny tips fit between brackets to allow placement of intraoral activating bends on tied archwires without breaking the wire or the brackets. The pliers are available in a set of two, featuring a long and thin design to reach behind the molar tube for easier cinch-back purposes and wire activations in the four mouth quadrants.
For more information, contact Bendistal Pliers, 175 Lamp & Lantern Village, Chesterfield, MO 63017; (636) 230-9933; www.bendistalpliers.com.
Ortho-pli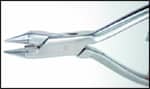 Ortho-pli offers 030-H light wire pliers with an arch former. The 030-H is a multipurpose and autoclavable instrument that can be dry-heat sterilized and prebagged for tray setups. The tip functions as light-wire pliers for forming round and rectangular wire up to 0.025 with a built-in arch former at the base of the instrument for contouring. Made of surgical stainless steel and available in either box- or lap-joint construction, the 030-H features an inserted tip for longevity.
For more information, contact Ortho-pli Corp, 10061 Sandmeyer Lane, Philadelphia, PA 19116; (800) 237-3737; www.orthopli.com.
GAC International

GAC International introduces Invecta, a complete line of pliers and cutters that are made from surgical-grade German stainless steel and are built to withstand repeated sterilization. GAC also offers an expanded line of Thermopliers that facilitate tooth movement and avoid expensive laboratory expenses. The heated Thermopliers are controlled with a digital instrument thermometer. All Invecta instruments have a 1-year warranty and a lifetime guarantee against manufacturing defects.
For more information, contact GAC International, 355 Knickerbocker Ave, Bohemia, NY 11716; (800) 645-5530; www.gacintl.com.
Ortho-byte

Ortho-byte introduces three different lines of pliers with optional molybdenum, carbide, or steel inserted tips. The SignatureT Series pliers come with special molybdenum and carbide alloy inserted tips and box joints that provide durability. The PlatinumT series pliers offer the widest selection of pliers. All Platinum pliers feature a satin finish, hardened steel inserts, and box joints that prevent wire-fraying and the scissoring effect. The XLT series of pliers present a smooth, polished surface with carbide inserts and precision screw joints. All pliers are corrosion resistant and come with a 5-year warranty on the tips and a lifetime warranty on the handles. Orthodontists can also get $15 for rusted pliers toward the purchase of new ones.
For more information, contact Ortho-byte, PO Box 9627, Wilmington, DE 19809; (866) 641-2128; www.ortho-byte.com.
Hu-Friedy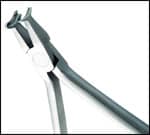 Hu-Friedy introduces the Hammerhead NiTi Tie Back Pliers, which allow orthodontists to tie back NiTi wire intraorally in a one-step process with no heat. The pliers also allow the orthodontist to make a range of bends in NiTi wire, including gable bends and omega loops. Hammerhead pliers are created from Immunity Steel, forged stainless steel with an optimal blend of chromium and carbon to prevent corrosion. The cutters are guaranteed for 7 years, while the pliers and benders are guaranteed for 10 years. If corrosion occurs within the guarantee, Hu-Friedy will replace the instrument free of charge.
For more information, contact Hu-Friedy, 3232 N Rockwell, Chicago, IL 60618; (877) HF-ORTHO; www.hu-friedy.com.
Ortho Technology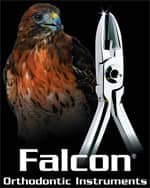 Ortho Technology offers its line of Falcon® pliers and cutters. The pliers are made of corrosion-resistant, surgical-grade stainless steel and are hard-chrome plated. The balanced joint assembly provides wobble-free performance and allows for precise tip alignment of the cutters. The cutters have tool-steel inserts with diamond-honed cutting edges for precise wire cutting. Falcon pliers and cutters are available with a lifetime warranty.
For more information, contact Ortho Technology Inc, 17401 Commerce Park Blvd, Tampa, FL 33647; (800) 999-3161; www.orthotechnology.com.