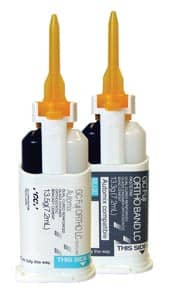 GC America, Alsip, Ill, introduces Fuji Ortho LC Automix, Fuji Ortho Band LC Automix, and Ortho Gel Conditioner.
Fuji Ortho LC (for brackets) and Fuji Ortho Band LC are dual-cured, resin-reinforced glass ionomer cements available in automix paste packs. Both release fluoride long-term to help aid in the prevention of white spot lesions.
Ortho Gel Conditioner is a 20% polyacrylic acid designed to mildly condition enamel. It is available in a syringe delivery with brush tips for easy application.
All three products are now available from GC Authorized Dental Dealers.
For more information, contact GC America at (800) 323-7063.