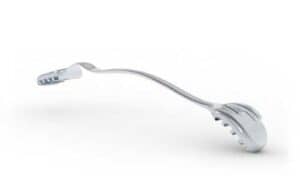 Henry Schein® Orthodontics™, Carlsbad, Calif,  recently launched the all-new Carriere® Motion™ Class III Appliance. Designed to be minimally invasive, the appliance is intended to treat Class III malocclusions without extractions, orthognathic surgery, or facemasks.
According to the company, the Motion Class III Appliance is used at the beginning of treatment, prior to braces or aligners, and delivers anterior-posterior correction to help reduce overall treatment times by several months. Intraoral elastics connect the appliance with maxillary anchorage to activate the mandibular posterior segment and to move it bodily as a block to achieve a Class I malocclusion.
Once this platform is achieved, brackets or aligners are placed to finish the case.