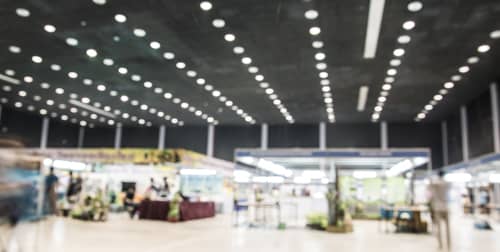 Walk into the AAO Annual Session Exhibit Hall and you enter a one-stop shop. Brackets, wires, intraoral scanners, 3D printers, practice management software, oral hygiene aids, marketing services: Every item your practice needs, and didn't know it needed, is there to be looked over and tried out.
With over 350 exhibitors expected in San Diego in April, Orthodontic Products asked a number of orthodontists who are veteran attendees of the Annual Session to offer up their advice on how to tackle the Exhibit Hall and get the most out of it.
Tip #1: Do some advance work
Prepping for the Exhibit Hall starts about 2 months prior to the Annual Session for C. William Dabney, DDS, of Dabney Orthodontics in Midlothian, Va. "I start paying even more attention to orthodontic journals and their ads (and ortho-related emails) looking for new products or specials being offered." He then keeps a list of all the products and companies he wants to follow up with in the Exhibit Hall on his cellphone so he has ready access to his notes.
Before leaving the office, Michigan-based Jay Bowman, DMD, MSD, of Kalamazoo Orthodontics, starts compiling a list of must hit booths. "I go through the AAO Exhibit Hall guide and review each company's offerings in their profile to consider if there is something I would like to learn about. I make note of the booth numbers of interest with the intent of going to those specific booths in number order or priority of interest."
[sidebar float="right" width="250″]
So what tops everyone's list for this year's Exhibit Hall in San Diego?
Again and again, we heard 3D scanners and printers, and presentations on how to integrate this technology to maximize efficiency and deliver better patient care. Also on the must see list: new products from the major bracket companies; CBCT machines; improvements to everyday products used in the clinic—from adhesives to new materials for in-house clear retainers; products designed to increase digital workflow, practice efficiency, and data security; and products geared toward oral hygiene. Attendees are also planning to spend time talking with the consultants and space planners on hand for new ideas for improving office flow and attracting new patients. And when there's a moment to spare: Plenty of our respondents plan to check out the leather massage chair booth that always seems to win the Exhibit Hall's popularity contest. OP [/sidebar]
Kristine West, DDS, MS, of West Orthodontics in DeWitt, Mich, also believes in having a plan before she picks up her badge at registration. "I like to have a list of people I want to see while I am at the AAO. If I can set up appointments in the Exhibit Hall with specific vendors ahead of time, I try to do that."
Lisa M. Davison, DDS, of Davison Orthodontics, located in Powell, Ohio, also advocates for scheduling appointments ahead of time. "If you are looking to demo items like software or an intraoral scanner, making an appointment with a rep in advance is a great way to ensure you have ample time to evaluate the product or attend a live demo/presentation."
And if you happen to be attending the Annual Session without your staff, West recommends getting their input before you leave the office.
One more tip before you head out: Bring plenty of business cards. Dabney hands them out to vendors and new colleagues he meets along the way.
Tip #2: Get the lay of the land
Derek Bock, DMD, MS, of Forest Orthodontics and Pediatric Dentistry in Lake Forest, Ill, also maps out his Exhibit Hall strategy before the doors open. "I look at the map and plan the circuit. If I'm searching for major equipment or supplies, I make my way there first for demonstrations. I like to give myself time to percolate on the decisions I'm about to make. I'm typically more interested in the emerging orthodontic market suppliers, so I focus on them first. I will visit the established vendors last to see what their updates are."
For Tennessee-based Kyle Fagala, DDS, MDS, of Saddle Creek Orthodontics, a full circuit of the entire Exhibit Hall on the first day is the plan. "I don't stop at all the booths, but I get the lay of the land before returning to specific booths later."
Dabney also likes to do a full circuit on that first day, keeping track of which booths are close to each other to maximize his route for the next day. And like Bock, he keeps an eye out for the companies he doesn't know.
"The big companies can afford sales reps to visit our office, but new companies use the show to introduce new products," says Dabney.
Tip #3: Work as a team
Bock, who brings members of his staff to the Annual Session, uses the Exhibit Hall as an opportunity to empower his team to be active decision makers in the products the practice introduces. "I have [my staff] team up in groups of two and give each group a list of four to six suppliers to visit. They are my scouts. They collect information to bring back so we can make team decisions together."
Meanwhile, Shawn L. Miller, DMD, MMSc, of Orange, Calif-based Miller Orthodontics, chooses to let his staff roam. "They like seeing new things and discovering products. And typically, they are more open-minded than me, so they find things I wouldn't normally look into. They also see products from a slightly different perspective—for example, how to improve some clinical aspects that patients dislike. They often get more candid feedback from patients [about what they do and don't like] than the doctor does."
Jacqueline M. Malone, DMD, MS, of Malone Orthodontics in Alpharetta, Ga, also values her staff's opinion. "I like to get [my staff's] input because they will probably be the one to use the equipment or supply item."
And even if you are the only member of your practice attending the Annual Session, that doesn't mean you have to go it alone in the Exhibit Hall. Malone likes to review products she's thinking of purchasing at the show with colleagues who are also attending. "We compare and decide," she says.
Tip #4: Visit more than once and find a quiet moment
"I try to go at least a few times," says Miller. "It's hard to take it all in at once." He also recommends hitting the hall when it's not too busy. Those moments offer an opportunity for more efficient interactions with sales reps at the booths.
Tip #5: Take advantage of what makes the Exhibit Hall unique
"Getting to be hands-on is the best part," Miller says. "Seeing things in a magazine or online isn't the same experience."
The Exhibit Hall also offers an opportunity to be the first to see and try out new items. West keeps an ear out for any early buzz around new products in the weeks leading up to the Annual Session. Once in the Exhibit Hall, she assesses whether the product meets her practice's needs.
Plus there are often "meeting discounts" to take advantage of if you make your purchase during the Annual Session. To ensure she is getting an actual deal, Malone recommends researching companies and products while still back at the office. Once in the Exhibit Hall, she is better prepared to know if she is getting an actual break with that "meeting discount."
What's more, the Exhibit Hall offers a unique opportunity to get real-user insight on the spot—even from colleagues you've never met before. "Sometimes I can learn more from a fellow doctor or staff member standing next to me at a booth," says Dabney. "Personal experience with a product from a fellow attendee gives me confidence to take on a new product. That is one of the great perks of attending the AAO Annual Session." OP
Save