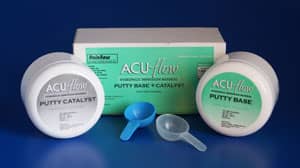 New from Great Lakes Orthodontics, Tonawanda, NY, ACU-flow™ Putty Impression Material is a dimensionally stable silicone material used for taking bite registrations, impressions, matrixes for temporary bridges, and indirect bonding of orthodontic brackets. The formula technology hydrophilic vinyl poly siloxane can also be used to create a matrix for bondable lingual retainers.
According to the company, ACU-flow Putty Impression Material is easy to use, and has convenient mixing consistency with problem-free removal and perfect elasticity after setting. It includes Putty Catalyst (420g), Putty Base (420g), and two plastic scoops.
For more information about this and other orthodontic companies, visit our Market Guide.