LeoneAmerica™, Avondale, Ariz, now offers the Pozzi Malibu Inman Power Component Kit. The kit can be used to fabricate low-cost distalization appliances. The IPC kit components are sized for immediate use and provide the ability to craft low-profile and comfortable patient treatment solutions, according to the company. Individual parts of the kit can also be purchased separately.
LeoneAmerica
(800) 242-9986
americantooth.com/leone_ortho
---
CariFree Tooth Gels
Oral BioTech, Albany, Ore, now offers CariFree pHluorigel HA Nano and CariFree HA Nano Gel tooth gels. CariFree pHluorigel HA Nano combines bioavailable nano hydroxyapatite crystallites with 5000 ppm sodium fluoride, xylitol, and CariFree's pH+ technology. Users can brush with pHluorigel one or two times daily, or wear it in a tray appliance to increase exposure. CariFree HA Nano Gel contains bioavailable nano hydroxyapatite crystallites, xylitol, and CariFree's pH+ technology. The gel has a minty flavor and is designed to neutralize acidic biofilm and repair of the enamel matrix. CariFree HA Nano Gel can be used as needed for whitening sensitivity, dry mouth, and acidic biofilm prevention. Both products are available in 2-fluid-ounce bottles.
Oral BioTech
(866) 928-4445
carifree.com
---
Maxima XL Torque Brushless Micromotor Handpiece System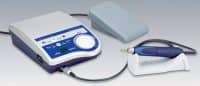 Henry Schein, Melville, NY, has introduced the Maxima® XL Torque Brushless Micromotor Handpiece System. The system contains a control unit, a micromotor with cord, a foot pedal, and a handpiece stand. The Maxima features torque speeds ranging from 1,000 to 50,000 RPMs. The system's microcomputer provides control with an auto speed function, while the ergonomic handpiece creates minimal vibration, according to the company. The Maxima has a dust-proof mechanism to lower the risk of contamination and increase durability.
Henry Schein
(800) 372-4346
henryschein.com
---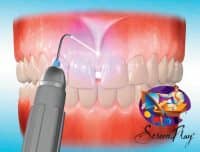 ScreenPlay Soft-Tissue Laser Animations
Solution by Design, Clovis, Calif, has released its latest addition to the ScreenPlay Patient Education content. The new Soft-Tissue Laser Series includes detailed 3D animation. The animations can be used to demonstrate the reduction of anterior gingival tissue for excess gingival display cases, frenectomy, operculectomy, TAD exposure, and impacted canine exposure. The Laser Series is available for ScreenPlay Pro, ScreenPlay Montage, and iScreenPlay.
Solutions by Design
(800) 888-4084
solutionsbydesign.com
---
Task-Vision LED Glasses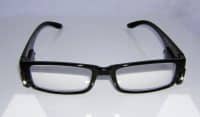 Vision USA, Cherry Hill, NJ, offers Task-Vision LED Glasses with highpower magnification. The glasses feature two LED lights that focus on the viewing area, and are available at +1.50, +2.00, +2.50, +3.00, +3.50, +4.00, +5.00, and +6.00 magnification. They are also available with a prescription. The Task-Vision glasses provide 50 hours of continuous use. Lithium batteries are included.
Vision USA Sunstar Americas
(800) 257-5782
visionusasupplies.com
---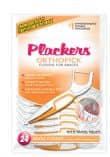 OrthoPick Flosser
Plackers, San Diego, has introduced the Plackers OrthoPick, a dental flosser designed for use with braces, permanent retainers, bridges, and other dental appliances that make flossing difficult. The OrthoPick features a thin flosser arm that fits between teeth and brace wire, offering an alternative to floss threaders and other similar products. The OrthoPick also features an adjustable floss head; a soft, flexible pick; and a comfort grip.
Plackers
(877) 752-2537
plackers.com
---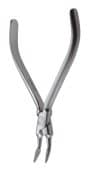 Triumph Orthodontic Instrument Line
Ortho Organizers®, Carlsbad, Calif, now offers the Triumph Orthodontic Instrument line. Each instrument features a stainless steel insert designed for enhanced cutting performance, as well as corrosion-resistant stainless steelorgings and diamond-honed cutting edges. In addition, the satinfinish instruments are laser-engraved with their partnumber and applicable archwire sizes.
Ortho Organizers
(800) 547-2000
orthoorganizers.com
---
M-Series Brackets and Buccal Tubes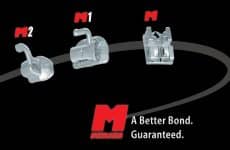 Dentaurum USA, Newtown, Pa, has introduced the new M-Series family of products, which features the discovery® mini brackets and OrthoCast™ mini buccal tubes. This M-Series line includes Dentaurum's patented laserstructured base, which, according to the company, has been proven to provide twice the bond retention of a traditional mesh-pad base. Dentaurum, in fact, offers a 150% money-back guarantee that the M-Series product line will provide better bond retention than any competing product. The brackets and tubes both have a low-profile design intended to be comfortable and aesthetically pleasing for patients. The molar tubes also offer a wide funneled opening and a compound, contoured base.
Dentaurum USA
(800) 523-2946
dentaurum.de
---
SmartSim Dental Simulation Bench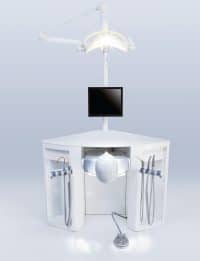 Midmark Corp, Versailles, Ohio, introduces SmartSim™, a dental simulation bench. The SmartSim is designed specifically for dental and orthodontic schools. The bench features a triangular shape and modular structure, and can be used as a simulation bench, multimedia station, and student workplace. It can be used by one person or a small group. SmartSim has a retractable mannequin to recreate patient positioning for users. The mannequin has double articulated joints, allowing for a range of inclination even at 90°. When not in use, the mannequin can be stored underneath the countertop, allowing the workspace to be used for other activities. SmartSim is available in standard and base model configurations. The standard configuration is equipped with both doctor's and assistant's instrumentation. The doctor's instrument holder contains a high- and low-speed handpiece and a three-function syringe with space for an optional fourth instrument such as a turbine or scaler. The assistant's holder includes a saliva ejector, HVE, and the option to tie into a central suction unit or its own individual suction. The base model configuration is equipped with an instrument holder on the doctor's side and a left-side storage unit with two open shelves and optional locking doors.
Midmark Corp
(877) 503-3756
midmark.com
---
Fusion LED 3.0 Curing Light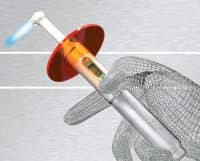 DENTSPLY GAC, Bohemia, NY, has added the Fusion LED 3.0 Curing Light to its product line. Weighing 3.9 ounces, the light features an anodized aluminum body and a rechargeable lithium-ion battery. One full charge allows for 540 5-second cures. The device also includes a direct power plug at the end of the handpiece for use when the battery is low. Fusion LED features an interchangeable 360° swivel light probe with a 10-mm tip and dual power settings (high plasmalike power or standard LED power). The handpiece also includes seven digital programs with battery bars and smart indicators, as well as sequential modes for full-arch, one-click operation. The standard Fusion kit includes the LED curing light, power adapter, 100 barrier sleeves, 3-mm tacking tip, a charging stand with stick pad, a unit-mount eyeshield, and a 2-year warranty on the light unit.
DENTSPLY GAC
(800) 645-5530
gacintl.com
---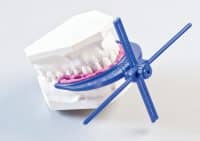 Esthetic CrossRef Centered Bite Record
Whip Mix, Louisville, has introduced the Esthetic CrossRef Centered Bite Record. The product records the patient's midline and horizontal plane, and allows vertical and horizontal bars to be aligned after the bite registration material sets. This bite record can then be used to mount casts on any articulator.
Whip Mix
(800) 626-5651
whipmix.com
---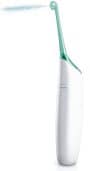 Sonicare AirFloss
Philips Sonicare, Stamford, Conn, offers the Sonicare AirFloss. Using microburst technology, the Sonicare AirFloss is designed to make flossing easier while maximizing interdental plaque removal. It works by using a rapid burst of air and microdroplets that fill up the interproximal area and force biofilm out. The Sonicare AirFloss features an ergonomic handle and an angled nozzle designed for access to all areas of the mouth. According to the company, the point-and-click one-button operation can clean the entire mouth in less than a minute, while using less than 1 teaspoon of water for two full cleaning sessions.
Philips Sonicare
(800) 676-7664
sonicare.com
---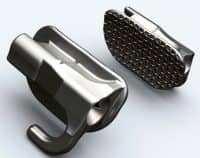 Avex Bx Single Bondable Tubes
Opal Orthodontics, South Jordan, Utah, offers the Avex Bx Single Bondable Tubes, available with both large and small pads. According to the company, the large pads provide increased bond strength and are shaped to fit to molars, while the small pads provide flexibility in placement and are available with occlusally offset tubes for better positioning on the tooth.
Opal Orthodontics
(888) 863-5883
opalorthodontics.com
---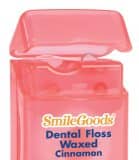 SmileGoods Cinnamon Floss
Practicon, Greenville, NC, now offers SmileGoods® Dental Floss in a cinnamon flavor. Designed to coordinate with SmileGoods toothbrushes and provide an inexpensive alternative to higher-priced floss, each pocket-sized plastic dispenser holds 12 yards of waxed nylon floss. SmileGoods floss is packaged 72 dispensers per case.
Practicon
(800) 959-9505
practicon.com