Suzanne Wilson is global brand manager for orthodontic appliances at Opal Orthodontics.
Orthodontic Products: What is the Avex CXi bracket?
Suzanne Wilson: The Avex CXi bracket is part of the industry-changing Avex Suite. What makes this ceramic bracket unique is the design, combined with superior aesthetics and functionality. The brackets feature a very low-profile design that enhances patient comfort and minimizes occlusal interference. They have tie-wing undercuts that are similar to a metal bracket for easier ligation, which is one of many details that were considered when designing this bracket to function as closely to a metal bracket as possible.

Opal Bond Flow
Avex CXi and Avex MX metal brackets share the same in-out dimensions, which is one of the most noteworthy and unique features we offer. Having the same in/out dimension between metal and ceramic appliances is an industry first. It gives clinicians the option to use an aesthetic appliance without having to make compensating bends in the wire; and when they use any Avex appliance, they know they are getting a precision bracket designed to achieve optimal occlusion and long-term stability. In addition, the mesial-distal pockets provide faster leveling and aligning and contribute to patient comfort, while the slot liner reduces friction. Avex CXi brackets are made from polycrystalline alumina, which blends extremely well with enamel and resists staining. Competitor brackets appear blocky and stark white or can be on the opposite extreme, appearing very translucent, which refracts light or reflects a less-than-aesthetic enamel shade. The Avex CXi bracket has enough translucency and milky white appearance that it truly blends with the tooth, from patient to patient, while still offering optimal performance to the clinician.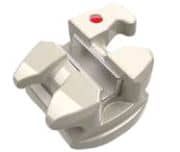 An Avex CXi bracket
OP: What do orthodontists need to know about Opal Bond Flow?
SW: Opal Bond Flow is a flowable adhesive that's ideal for bondable retainers as well as temporary bite ramps. Ultradent has a reputation for quality bonding and composite products. In the orthodontic division, we are fortunate to be able to leverage this expertise for our orthodontic bonding products. Opal Bond Flow was formulated to be kind to opposing enamel. It's easy to deliver and doesn't slump when placed. It cures translucent and has a smooth, glass-like finish with little to no polishing. It's also offered in a blue shade for easier visibility and removal.
OP: Considering the current economy, is Opal offering any discount or incentive plans to customers?
SW: Opal Orthodontics is a new player in the orthodontic market, so our customers can expect us to stay on the competitive edge with discounts. However, the greatest advantage to working with Opal Orthodontics is that our product offerings are industry-advancing, high quality, and produce results they can rely on. We plan on maintaining our reputation for quality, service, and innovation, which not only addresses the increasing needs of orthodontists operating in a strained economy, but a long-term strategy that transcends the provisional environment.
OP: What do you see as the "next big thing" in orthodontic technology?
For more information on this and other orthodontic companies, visit our online Buyer's Guide at orthodonticproductsonline.com.
SW: Isn't that the million-dollar question? I think doctors are focusing more on precision and evidenced-based methods, while looking for ways to make treatment as predictable and enjoyable for patients as possible. Orthodontics is much more of a science and a business than it once was, and doctors know that if they take the time to thoroughly diagnose, treatment plan, and select the right tools to do the job, they will get the results they are aiming for. I foresee a focus on the advancements in technology that improve diagnostics and treatment times without compromising the long-term stability and overall oral health of the patients.