by Alan Ruskin
Customization, convenience, and quality benefit orthodontists and patients alike
When Stephen Tracey, DDS, MS, moved to his Upland, Calif, facility in 1989, he wasn't really contemplating an in-house lab for making appliances. He had received his degree in orthodontics only 3 years earlier from Loma Linda University, and had just relocated his fledgling practice from a nearby Inland Empire office. However, another orthodontist invited him to partner up at his present location, so after bringing over his already established clientele, his patient count increased significantly. "When I first started I didn't have that many patients," he reflects, "so the last thing in my mind was to have my own in-house lab. It's only when you get busy enough that you can justify something like that."
Just a year later, Tracey's partner retired, and he's been on his own ever since at Tracey Orthodontic Specialists (except for 1 day per week when an associate and longtime acquaintance, Shannon Hilgers-Nissen, DMD, MS, daughter of well-known orthodontist, James J. Hilgers, DDS, MS, sees patients at his office).
So by 1990, with his practice considerably enlarged, it became feasible to entertain the notion of an in-house lab that would essentially pay for itself and provide him the ability to have appliances made very quickly.
"We do have patients that come in from out of town, sometimes fly in, so it would be inconvenient, if not impossible, for us to make appliances the traditional way—ie, take the impression, send it out, then have the patient come back a week or 2 later. In those cases, we have the ability to have the appliances made here in the in-house lab the same day." Tracey believes that he probably has more out-of-town patients than the average orthodontist because, "I've been in the business a long time, and I'm relatively well-known as a result of all the lecturing I do and the work I do in developing products."
The Ad Lib Lab
At the beginning, Tracey had no concrete plans to start a lab. It all came about serendipitously, he relates, when, one day in 1990, his current director of laboratory services, Donna Paciulli, appeared in his office with her daughter, who she had brought in for an exam.
"Donna told me how she had worked for another orthodontist for many years doing lab work, and that's when I got the idea that this could work. She had quit for a few years to stay home and raise her kids, but now they were grown and she wanted to get back to work. I had thought about doing it before, but all of a sudden I had this opportunity staring me in the face."
Tracey says that, had he had to go out and find a lab technician to start up the operation, "it would have been a bit of a chore." But luckily for him, someone appeared with whom he believed he had "immediate chemistry, and I said, 'Hey, we can do this.' "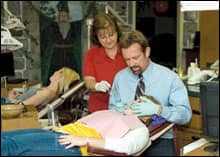 Donna Paciulli helps Stephen Tracey, DDS, MS, with a patient.
Even more fortunately for Tracey, he had some experience of his own in making appliances. When he was an orthodontics resident, each year one resident was given the job to make appliances for the clinic and some of the faculty members, "and I happened to be that resident, so I actually had quite a bit more experience than the average orthodontic resident in making appliances."
This naturally facilitated his working together with Paciulli to get things going, but, for the most part, she took over. She helped Tracey to decide what equipment was needed, then ran with it on her own, designing the lab and taking it from there. "I was too busy with patients to be looking over her shoulder, but she's a really good self-starter and manager."
To listen to Paciulli's side of the story, the in-house lab has been a pleasure from day one. "I have 28 years in this field, 17 here, and I really enjoy it," she says.
She initially designed the lab herself, shooting for maximum efficiency. The major benefits, she says, are turnaround time and customization. "You have interaction with the patients. Because you can talk to them, they don't need as many appointments. And you can customize more easily according to what the patient wants, such as color, glitter, etc. Instead of taking 1 to 2 weeks, as you would need if you sent the work out, you can do it right away."
The products that Paciulli and her assistant, Diane Bernardini, produce include typical appliances used during and after treatment: standard and bonded retainers, upper hyrax expanders, and lower 3-3s. Others are the Pendulum, Pendex, and mini-scope Herbst. The products may be standard, but, as Tracey maintains, based on convictions derived from his own experience and observations, "the quality is superior."
Equipment in the compact 10- x 12-foot lab includes a Biostar machine for making retainers, another Biostar for applying fashionable touches like zebra or tiger stripes (or polka dots, if you prefer), and a grinding burr to fit models, polish, and adjust wires. There's also a Pro-form vacuum machine and various implements manufactured by Great Lakes, including a pressure pot, a dual grinder, a combination welder, and two fume controllers. A pumice station and polishing lathe round things out. Paciulli and her assistant wear protective carbon masks, gloves, and eyewear, and there are ventilating fans throughout the lab.
Did we mention Invisalign? Paciulli also supervises the fitting procedure for patients who prefer clear aligners.
To find all the products you need to set up your own in-office lab, visit our online Buyer's Guide.
Tracey believes that in addition to the high quality of appliances produced in his lab, there are cost savings that also benefit the patient. In particular, if there is an emergency, such as a break requiring fast replacement, it can be taken care of right there and then, without the additional expense and time of having to send it out.
Tracey believes that any orthodontist with a busy practice should consider an in-house lab, and apparently more are doing so. According to the 2007 Journal of Clinical Orthodontic Practice Study, approximately 28% of the practices surveyed employed at least one full-time lab technician, with many more employing technicians on a part-time basis.
Equipment costs, Tracey says, are not especially prohibitive. "The larger expense is for the technicians, and finding the right ones is crucial." Tracey counts his blessings for having found Paciulli, whom he largely credits for the edge in quality he perceives in his appliances.
Simply stated, Tracey concludes, the in-house lab is "good for us, good for the patients."
---
Alan Ruskin is a staff writer for Orthodontic Products. For more information, contact /em>.