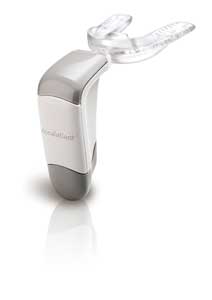 OrthoAccel® Technologies Inc, Houston, recently won the Silver Stevie Award in the 12th Annual American Business Awards (ABA) Competition in the category of New Product of the Year — Health and Pharmaceuticals for its AcceleDent® Aura. Manufactured by OrthoAccel AcceleDent Aura is an FDA-cleared, noninvasive medical device that accelerates orthodontic treatment.
"As the leader of the accelerated orthodontic industry, we are elated that our company and product, AcceleDent Aura, has been recognized for innovation alongside world-class companies like GE, American Express, Toshiba, and Sony," said Mike Lowe, president and CEO of OrthoAccel.
AcceleDent was one of more than 3,300 nominations submitted in the annual ABA competition, which is judged by 130 business professionals from varying industries. During preliminary judging, each entry is reviewed and rated by no fewer than five judges, and it must receive an average score of at least seven on a 10 scale to become a finalist. The judges then selected this year's Gold, Silver, and Bronze Stevie Award winners.
Winners were announced in September at an awards banquet in San Francisco.