What product do patients most connect to when they are in braces?
What product do you most commonly dispense to your patients?
More than likely both you and your patients will answer: dental wax.
So how is it that this one product that is a key component of orthodontic treatment often falls short when it comes to quality and safety standards?
The dental wax dispensed by orthodontic practices is the last commonly dispensed healthcare product that does not feature hygienic unit-of-use packaging, tamper evident packaging, labeling with product traceability, or ingredient disclosure. The product and its packaging have remained largely unchanged for decades. But now, a new product has entered the orthodontic space to challenge dental wax's prominence as the go to product for patients seeking relief from pain and irritation caused by braces, and more importantly to challenge practitioners' acceptance of dental wax's quality and safety shortcomings.
As Scott A. Tyler, DDS, MS, of Michigan-based TDR Orthodontics, puts it, "It's amazing that no one really took a second look at [dental wax]. I've been practicing for 30 years and there have been zero changes to the product or the packaging. Traditional dental wax as we've been getting it from our suppliers doesn't follow any traditional quality or safety compliance of any kind that you would expect for a product you put in your mouth. There's no traceability. There are no lot numbers. There's no single use.
"Wax in general is a pretty insignificant part of an orthodontist's life, and I think that's why it has been able to perpetuate all these years—because no one really gave it a second look. It's super inexpensive and it's generally only [used] at the beginning of treatment. I can almost guarantee you that if wax cost more, or were it a bigger part of treatment, we wouldn't be having this conversation now. We would have had [this conversation] a long time ago," says Tyler.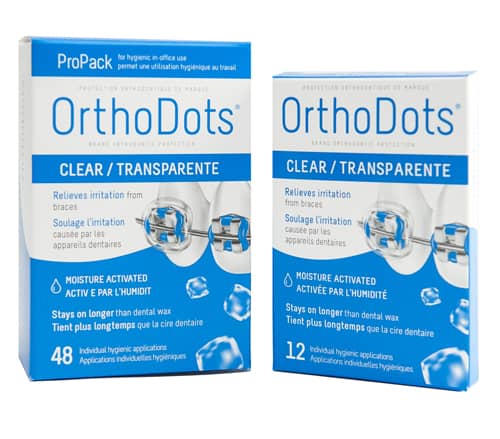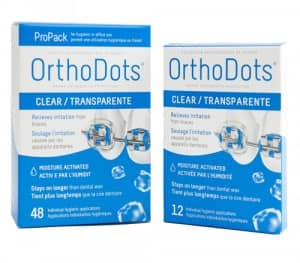 Leading the conversation now is OrVance, an orthodontic product company founded by orthodontist Eric Hannapel, DDS, MS, PC, and chemistry professor Michael E. Silver, PhD, who developed OrthoDots CLEAR, a dental wax alternative. Initially the pair set out to create a product that performed better than dental wax—one that not only adhered better but also resisted crumbling. What's more, they wanted to create a product that was effective at providing relief from pain and irritation caused by both fixed orthodontic appliances and aligners. But along the way, they also made product safety and hygiene a vital component of their mission.
When Ron Schutt joined Hannapel and Silver to set up the company in 2014 and bring OrthoDots to market, he was an orthodontic industry outsider, but he was a consumer packaged goods insider. He was used to consumer healthcare products that not only incorporated unit-of-use and tamper evident packaging, but also product traceability and ingredient disclosure—quality and safety improvements that emerged from the Tylenol tampering cases in the 1980s. But here was a product that had none of these features. Moreover, this was a product that patients used by tearing off pieces from a larger strip with dirty hands that may be contaminated with saliva or blood, and that has no controls that prevent users from sharing that same package of wax. Needless to say, Schutt was surprised.
"Dental wax is a real aberration," says Schutt, who serves as OrVance's CEO and head of business development.
To create OrthoDots, Hannapel and Silver turned to medical grade silicone and developed a moisture activated adhesive layer that allowed the silicone to stick not only to appliances but also the gingiva. The result was a transparent alternative to dental wax that can be used with both fixed appliances and aligners.
"Orthodontic appliances have evolved; patients are not wearing the same appliances they did 50+ years ago," says Silver, OrVance's director of R&D and technical affairs. "OrthoDots CLEAR is the first product that is designed to perform best with all types of orthodontic appliances, ranging from the many advancements in fixed appliances to the growing clear aligner market. Plus, OrthoDots CLEAR provides the aesthetic benefit of transparency over commodity wax, which is a feature that today's patients demand."
This is an aspect that Tyler appreciates about OrthoDots. "With the industry moving so heavily to clear aligner therapy, there are patients that experience irritation from the aligner edges." Often patients are advised to use an emery board or a cuticle trimmer to deal with those edges, but with OrthoDots, aligner patients now have a buffer.
"With one of these OrthoDots, you can just stick it on the edge of the aligner [or gingiva] and it adheres," he says.   
Before making the switch from dental wax to OrthoDots, Tyler decided to conduct his own beta testing to determine whether it really performed better.
"We would send patients out of the office with wax on one side and an OrthoDot on the other and ask them to call back when both fell off. Patients would call from the parking lot and say, 'I'm leaving the parking lot and the wax is off.' The OrthoDot made it through lunch and dinner." Now the practice provides patients with a starter pack in their patient bag.
Another consideration that went into the practice's shift to OrthoDots was its overall image. TDR Orthodontics prides itself on its modern, high-tech image. As Tyler puts it, old school, analog processes or products, if you will, don't mesh with that image.
"Yes, it's such a small thing, but it is more in keeping with who we are," he says.
For Mart McClellan, DDS, MS, of McClellan & Sagun Orthodontics, located in Kenilworth, Ill, it was as much the product's effectiveness as the company's commitment to quality and safety that led him to eliminate dental wax from his practice.
"Parents in our practice have latched onto the hygienic nature of OrthoDots because they come in a Band-Aid type packaging. They're used to getting the single-use Band-Aid out for their kids' cuts and scrapes," he says.
"In the world of parenting right now, parents are certainly more involved and engaged in what's being put on their kids' skin or in their mouths. On occasion with aligners, I have parents asking me what the plastic is made out of," says McClellan, adding that to dispense a product like dental wax that doesn't have an accessible ingredient list doesn't fit with the times. He goes on to say that until he saw OrthoDots single-use packaging, it never struck him before how unhygienic the dental wax he was giving to patients actually was.
"[Dental wax] is the only health product in dentistry that does not own up to the standards of all the other things that are out there. Everything else that we use, even the wires, have lot numbers, traceability, and single-use packaging," he says.
Since its launch, OrVance has ensured that OrthoDots is compliant with the current Medical Device Directive and upcoming Medical Device Regulations (MDR) that will be implemented in the European Union (EU), says Schutt.
"As a Class I Medical Device, the common unlabeled dental wax is in violation of current and upcoming regulations in the EU," he adds. The company's goal is to replace all noncompliant wax in the orthodontic industry by early 2020, before the new MDR goes into effect in May 2020. OrthoDots, which is manufactured in the United States and uses ingredients and packaging components sourced in the United States, is compliant with not only EU and U.S. quality and regulatory requirements, but also those in Canada and Australia.
Today, OrthoDots are available through a number of U.S. orthodontic suppliers, including American Orthodontics, G&H Orthodontics, DynaFlex, and Henry Schein Dental. Patients can purchase them at CVS and Amazon. In addition, the company's OrthoDots CLEAR ProPack now provides orthodontic practices with a product that can be used chairside. The ProPack provides a single-use application that is compliant with CDC and FDA guidelines for products used on multiple patients in healthcare settings.
Since last summer, OrVance has embarked on a campaign to educate orthodontic residents about the quality and safety features dental wax lacks—all in an effort to bring the industry into compliance.
"We are doing everything we can to educate the orthodontists because we feel that dental wax, in its current form, leaves our patients and industry vulnerable the way it is today," says Schutt.
The company has offered all 75 orthodontic residency programs in the United States and Canada OrthoDots CLEAR free, and as part of the program, the company provides the residents with "lunch & learns" to educate them on the product's features, as well as the quality and safety aspects.      
Today, 60% of the orthodontic programs in the United States and Canada are participating in the program. And in a recent resident survey conducted by the company, the majority of residents said it is no longer appropriate to dispense dental wax to patients with none of the quality and safety features OrthoDots possess.
The company will next take their education campaign to consumers, zeroing in on how generic dental wax falls short of current healthcare product quality standards.
"We are starting this consumer awareness campaign because patients and parents need to know about the importance of these quality features as they relate to consumer healthcare products used during orthodontic treatment," says Schutt. "Over the last 18 months we've worked hard to alert orthodontists and resident programs about the importance of these quality and safety features. Now we are expanding our focus to educate patients and parents." OP