by Anita d'Alessandro
Three orthodontists discuss how their chairside equipment works for them
Trevor S. Bonilla, DDS, MS, currently has practices at Six Day Dental and Orthodontics in Coppell, Plano, and Roanoke, Tex, and will soon open offices in Flower Mound and Allen, Tex. In the fall of 2001, Bonilla was a course instructor at the Charles H. Tweed International Foundation for Orthodontic Research. He is a member of the AAO, the Southwest Society of Orthodontists, and the Charles H. Tweed International Foundation for Orthodontic Research. He can be reached at [email protected].
Mark G. Mendlik, DDS, MS, is a second-generation orthodontist in private practice in Omaha, Neb. He is a Diplomate of the American Board of Orthodontics. He is a former assistant clinical professor of orthodontics at Creighton University in Omaha, Neb, and an active member of the AAO and the Roth-Williams International Society. He can be reached at [email protected].
Paul L. Ouellette, DDS, MS, has practiced orthodontics for more than 30 years. The results of his studies of sonographic analysis of temporomandibular joint sound have been presented to other professionals, nationally and internationally. He is a former assistant professor of orthodontics at Emory University in Atlanta. He has also served as a contributing editor and reviewer for various professional publications. He is a member of the American Dental Association and the American Association of Orthodontists. He can be reached at [email protected].
OP: How many delivery systems do you have in your office?
Bonilla: We have six in each office (a total of three offices).
Mendlik: We have one delivery system.
Ouellette: Our orthodontic practice has five locations. Three offices are in Brevard County, Fla, and two are located in Atlanta. Every office setup is basically the same. We find it most efficient to have at least five patient-delivery systems in each office. In addition, each office has a records room and one or two consultation rooms.
OP: Do you use side or rear delivery systems, and why?
Bonilla: We use side delivery, as you can see and grab everything in front of you, versus having to turn around.
Mendlik: Rear, because I found it to be most efficient for the majority of procedures routinely performed in our office. In my office, many of the procedures are performed by the doctor utilizing an assistant in the traditional four-handed method.
Ouellette: We use side delivery (one to two handpieces plus an air/water syringe) units mounted to each chair base. Most procedures are performed by our assistants under doctor supervision. When the assistant works alone, there is easy access to air, water, and suction. When the doctor uses the high-speed handpiece to remove bonding material or to perform IPR [interproximal reduction] procedures, the assistant is able to assist from the left side of the chair.
OP: Do you use fixed or mobile delivery units, and why?
Bonilla: We use fixed delivery units. I prefer to have everything in the same place all of the time so that we are consistent, which improves efficiency.
Mendlik: Both. We use a fixed rear-cabinet for our computer and operatory supplies, and we use a mobile cart for tray setups, air/water, vacuum, and handpieces.
Ouellette: We use fixed delivery units. Mobile units require umbilical cabling, and it can be more difficult to maneuver in the delivery area.
OP: Do you have issues with you or your assistants being left-handed?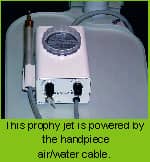 Bonilla: We haven't had any issues—it has been pretty easy for them to work with the delivery system as is.
Mendlik: No. However, the rear-delivery setup in my office would accommodate left-handed assistants and/or doctors, should the need arise.
Ouellette: We do not have issues with left-handed assistants or doctors. Our delivery units are generally installed on the left side of each chair. They are easily accessible by left-handed or right-handed operators.
OP: What is the most useful aspect of your current delivery system?
Bonilla: Everything is visible in front of you, including the computer monitor. You can compare pretreatment photos with the progress of the patient. This also makes it easy for patients to see their own progress.
Mendlik: We find the most useful aspect of our current delivery system to be the flexibility of incorporating additional procedures quickly because of the availability of sufficient work surface and the close proximity of instruments and supplies.
Ouellette: We recently added prophy-jet units to our delivery systems. We found a very economical prophy-jet unit on Ebay. Each unit costs approximately $200 and is powered with the handpiece air/water cable. We mix our own prophy-jet powder using half white aluminum oxide and half baking soda with a liquid mint flavoring.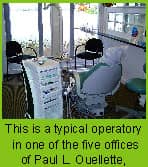 OP: What is the thing that gives you the most trouble?
Bonilla: The suction hoses are always in the way.
Mendlik: The thing that is most challenging with our current delivery system is the access to the computer for chairside electronic charting of treatment notes.
Ouellette: Operatory cabling sometimes becomes tangled.
OP: Are you planning to upgrade your delivery systems soon, and if so, what are you looking for in the new system?
Bonilla: No, everything is brand new and is working very well for us. All of our new offices will replicate what we already have.
Mendlik: I have recently completed a new office incorporating the latest design features and a delivery system, which I feel allows for modification should changes in technology occur.
Ouellette: No, we are not planning any equipment upgrades in the near future. We recently upgraded two of our Florida locations with 12 new chairs and lights. Each operatory also has updated delivery systems. z
Anita D'Alessandro is a contributing writer for Orthodontic Products.