On the Market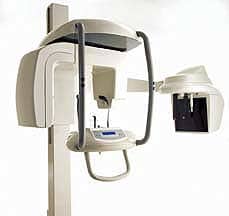 PracticeWorks KODAK 8000C Digital Panoramic and Cephalometric System
PracticeWorks Systems LLC, Atlanta, has updated the KODAK 8000C Digital Panoramic and Cephalometric System. The updated system has a reduced footprint, simplified cephalometric positioning, and improved temporal clamp positioning for panoramic radiography.
The KODAK 8000C System now requires a foot and a half less space to be installed, reducing the dimensions to 7 feet 8.51 inches in width. In addition, the cephalometric head has been redesigned to be smaller to improve positioning and imaging acquisition.
According to the company, the system is the first direct digital cephalometric system to expose all standard cephalometric images using "one-shot" technology, capturing images in less than 2 seconds and reducing blurriness and the risk of retakes.
The connection has been updated to Ethernet, improving transfer time of an image to practice-management software.
Image size, exposure time, and image procedure features remain the same.
PracticeWorks Systems LLC
(800) 944-6365
kodakdental.com
---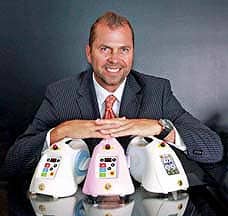 AMD Picasso Lite Laser
AMD Lasers, Indianapolis, has introduced the Picasso Lite soft-tissue dental laser. The laser, priced at $2,495, offers 2.5 watts of power and three customizable presets.
Picasso Lite cuts and coagulates tissue and can be used for soft-tissue surgery, including troughing; gingivectomies; frenectomies; exposing implants, teeth, or brackets; and treating aphthous ulcers and herpetic lesions.
Picasso Lite comes with a setup DVD, online laser certification, accessories, a world power adapter, and a 2-year warranty. It can be used with disposable tips or a strippable fiber.
AMD Lasers
(866) 999-2635
amdlasers.com
---
Imagination Dental Solutions Smile Tiles and Wall Busters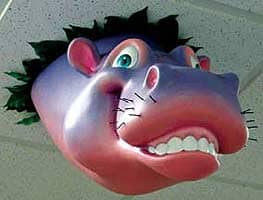 Imagination Dental Solutions (IDS), Calgary, Alberta, Canada, has released new online ready-to-order product lines for dentists, including Smile Tiles and Wall Busters.
Smile Tiles are jungle and underwater characters designed to attach to existing ceiling tiles in any room. Smile Tiles weigh less than 7 pounds. Wall Busters are characters that appear to have made an unexpected entrance through the wall. Wall Busters include a cracked wall graphic to emphasize the effect of a very sudden entrance. Wall Busters can be attached to any wall using the included hardware.
Braces can be attached to both the Smile Tiles and the Wall Busters for added orthodontic emphasis.
Imagination Dental Solutions
(800) 243-4024
imaginationdental.com
---
Ormco Smile Design System
Ormco Corp, Orange, Calif, introduces Insignia™, a computerized digital orthodontic system that creates custom-designed braces using a patient's unique facial structure and dental anatomy.
Using 3D imaging, Insignia's advanced smile design™ system allows patients to see a preview of the final results before treatment begins.
Insignia uses integrated software and a custom-manufactured bracket system. Brackets and wires are designed specifically for each patient with the goal of improving comfort, reducing wire adjustments, and speeding treatment time. A computer-generated 3D bracket placement guide, also designed specifically for each patient, helps orthodontists place brackets precisely.
Ormco Corp
(800) 854-1741
ormco.com
---
Solutions By Design Blink Appointment Reminder and Payment System

Solutions by Design, Clovis, Calif, introduces Blink, an alternative to Web-based appointment reminders and online account payment software. Blink features an integrated patient appointment reminder and payment application. Blink also has an auto-alert system that distributes educational video content on demand or through e-mail to the patient as they progress through treatment.
Solutions by Design
(800) 888-4084
solutionsbydesign.com
---
OrthoEssentials Transparent Bracket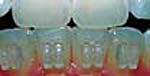 OrthoEssentials, Southampton, Pa, has introduced the Esteem II Ceramic Bracket. According to the company, Esteem II is 99.99% pure alumina oxide and is fully transparent so the tooth color goes through the bracket. Esteem II has a low profile and tie wings with deep undercuts designed for easy ligation.
OrthoEssentials
(866) 517-3257
orthoessentials.net
---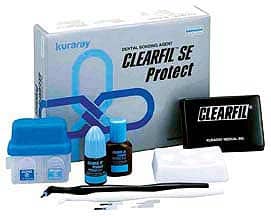 Kuraray Clearfil SE Protect
Kuraray America Inc, New York, introduces Clearfil™ SE Protect, a self-etch bonding agent with antibacterial cavity-cleansing and fluoride-releasing properties. According to the company, Clearfil SE Protect eliminates the extra step of applying a separate cavity cleanser to kill any bacteria that remain in cavities. The functional monomer in Clearfil SE Protect, MDPB, will not leak after light curing.
The sodium fluoride in Clearfil SE Protect is specially coated to allow it to be released while the physical properties of the bonding layer are maintained.
Kuraray America Inc
(800) 879-1676
kuraraydental.com
---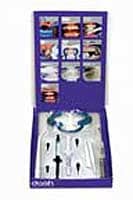 Discus Dash In-Office Whitening Product
Discus Dental® LLC, Culver City, Calif, now offers Dash™, an in-office, nonlight-activated whitening product. Dash provides immediate whitening results, according to the company. Features of Dash include the following:
a 30% hydrogen peroxide formula that requires no syringe-to-syringe mixing or refrigeration;
a single-barrel syringe with a flocked tip applicator that allows gel application directly from the syringe onto the teeth;
a single whitening procedure kit containing everything needed to whiten a patient's teeth in about an hour;
a pictorial "quick reference" guide on the kit packaging; and
a syringe of Relief ACP to provide sensitivity relief.
Discus Dental LLC
(800) 422-9448
discusdental.com
---
Midmark Vantage Digital Panoramic System
Midmark Corp, Versailles, Ohio, has introduced its Vantage™ Digital Panoramic System. Vantage is powered by CCD imaging technology, automatic spinal compensation, and Progeny's 3-Motion™ Imaging Rotation.
Three positioning lasers have been added, along with left and right mechanical controls, four preprogrammed exam selections, and the VantageTouch™ user interface, which functions like a smart phone, according to the company. Vantage also includes a dedicated PC workstation with TWAIN-enabled software. The system can be integrated with existing practice-management software, or images can be captured using Progeny Imaging Software.
Midmark Corp
(800) 643-6275
midmark.com
---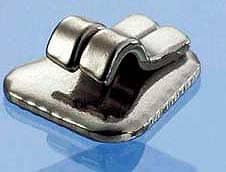 FORESTADENT MiniAnts 2D Lingual Bracket System
FORESTADENT USA, St Louis, has expanded its 2D lingual bracket system to incorporate a new bracket design called MiniAnts. MiniAnts feature a reduced width while maintaining their twin-wing design. The design is intended to deliver a better fit to the anatomy of the tooth and facilitate the compensation bends that are mainly required during the finishing phase. MiniAnts were designed to increase the intraoral comfort for the patient and to improve rotation control in the lower anterior region. MiniAnts are available with or without a gingival hook for torquing individual teeth.
FORESTADENT
(800) 721-4940
forestadent.com
---
DentalEZ NuTorque Lite
DentalEZ® Group, Malvern, Pa, introduces its new NuTorque® Lite programmable electric handpiece system, expanding its StarDental® line. The new system is a modified version of the NuTorque® and includes two customizable memory presets for general and endodontic procedures. It also offers speed, gear ratio, and forward/reverse direction settings; a universal E-type motor coupling that accepts seven different NuTorque attachments; adjustable light intensity; and an autoclavable, brushless motor. The NuTorque Lite has a 3-year warranty on the control box unit; a 1-year warranty on the motor, tubing, and attachments; and a 1-year warranty on the transformer.
DentalEZ Group
(866) 383-4636
dentalez.com
---
Ortho-Byte PROMPT 1×7 NiTi Wire

Ortho-Byte, Wilmington, Del, introduces the PROMPT 1×7 NiTi wire. Six strands of nickel titanium wires are wrapped around a single core nickel titanium wire to form the PROMPT's circular cross-section. It is then heat-treated to make it resilient. PROMPT is designed to deliver 55 grams of gentle and continuous force when subjected to severe malocclusions and serious deflection.
According to the company, PROMPT is a super-resilient wire that can accept sharp bends to a greater degree than ordinary nickel titanium wires without taking a permanent set. Its design and construction allows it to fully recover even when it is severely deformed.
Prompt is available in all round sizes and is guaranteed not to fray or unravel when cut.
Ortho-Byte
(866) 641-2128
ortho-byte.com
---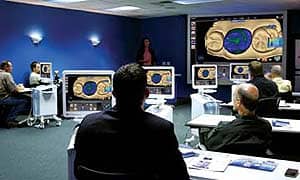 D4D 2010 CAD/CAM Course Catalog
D4D Technologies, Dallas, recently released its 2010 course catalog for CAD/CAM dentistry courses offered at E4D University in Richardson, Tex. The courses are designed to provide customers using the E4D Dentist system with hands-on training.
A 2-day basic training course is included in the E4D Dentist system package and includes airfare, hotel, and course materials for two people. The basic course is designed to make participants comfortable operating the system upon returning to the office. E4D University also offers intermediate and advanced courses, such as Smile Design, Multiple Posteriors, and From Good to Great with E4D. Several programs for dental assistants and technicians are also offered.
All courses offered at E4D University provide CE credits.
D4D Technologies
(972) 234-3880
e4dsky.com
---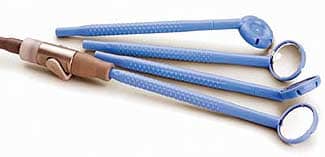 IndiGreen Saliva Ejector Mirror
IndiGreen Innovations, Greenville, NC, introduces its Mirro-Vac® saliva ejector mirror. The disposable mirror combines evacuator and mirror functions into one instrument and is designed to be used for sealants, air abrasion, bonding, and other dryfield procedures. An upper suction inlet relieves tissue grab and keeps the anti-fog acrylic mirror clear.
IndiGreen Innovations
(866) 429-4902
indigreen.com
---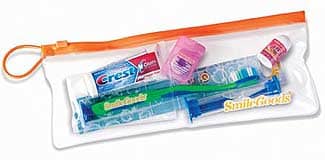 Practicon Child Deluxe SmileGoods Patient Paks
Practicon, Greenville, NC, has introduced a Child Deluxe style to its SmileGoods® Patient Paks™ dental care product line. The prepackaged 4- x 10-inch clear vinyl zipper bags contain a SmileGoods Y311 toothbrush, SmileGoods waxed bubble gum floss, toothpaste, a mini tube of lip balm, and a 3-minute brushing timer. The Patient Paks also include a pocket on the front to hold a business card or appointment reminder.
Practicon
(800) 959-9505
practicon.com
---