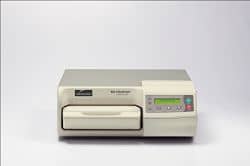 Midmark, Versailles, Ohio, has launched its "Why M3?" promotion, offering rebates and incentives for orders of its M3 UltraFast® Automatic Sterilizer.
Orthodontists who buy an M3 UltraFast and donate their old sterilizer to Direct Relief International® will receive a rebate of $700. In addition, for every M3 sterilizer purchased and redeemed online, orthodontists will receive a free Hu-Friedy Sterilization Kit, an approximate retail value of $200.
The promotion period runs through September 30, 2012. Customers must take shipment of products by October 15, 2012. Incentives must be claimed by November 15, 2012, and donations must be received by November 30, 2012.
The M3 sterilizes unwrapped instruments and handpieces in 6 minutes and pouched instruments in approximately 10 minutes. It also features a 25-minute drying time, one-step loading, automatic water monitoring, and a front reservoir drain.
For more information about this and other orthodontic companies, visit our Buyer's Guide.