Orthodontic Products – August 2006
Focus on Products for Patients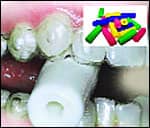 Glenroe Technologies
Glenroe Technologies introduces Aligner Chewies, which help properly seat imperfectly fitting aligners. The Aligner Chewie can be forced down repeatedly with biting forces over a period of days, until the space between the affected tooth and aligner disappears. The Chewie is the size of a cotton roll and provides a clean, professional alternative to standard cotton rolls, while providing uniform force in a specific area of the mouth where needed. Aligner Chewies are available in tamper-proof, individual patient packs of 10 (containing two chewies each) and are packaged in clear, bulk bags of 25 chewies for distribution.
For more information, contact Glenroe Technologies Inc, 1912 44th Ave E, Bradenton, FL 34203; (800) 237-4060; www.glenroe.com.
---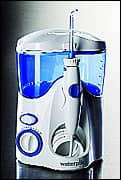 WaterPik
WaterPik introduces the Ultra Dental Water Jet™, which features an advanced pressure-control system with 10 settings. A high-volume, covered reservoir accepts most antimicrobials. Eight attachments are included for individual preference and multiple users. The system also has three jet tips, three tongue cleaners, one Pik Pocket® tip, and a new orthodontic tip designed with a tapered brush to remove plaque around fixed appliances while gentle pulsating water or antimicrobial agents clean interproximally and subgingivally. According to the company, clinical tests show that the Water Jet reduces bleeding, gingivitis, subgingival pathogenic bacteria, and inflammatory mediators (IL-1 and PGE2). Complimentary patient education brochures with a $5 rebate are available.
For more information, contact Water Pik Inc, 1730 E Prospect Rd, Fort Collins, CO 80553-0001; (800) 525-2020; professional.waterpik.com.
---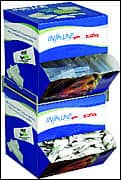 Infa-Lab
Infa-Lab introduces the Brace Relief™ Dispenser Box, which provides to patients a refill of either Brace Relief Orthodontic Gel or Brace Gard® Silicone Bracewax for their Brace Relief Pocket Kit organizer. The dispenser box holds 144 tubes of Brace Relief Gel or 200 modules of Brace Gard Silicone Bracewax.
For more information, contact Infa-Lab, PO Box 691, Rockaway, NJ 07866; (800) 247-7527; [email protected]
---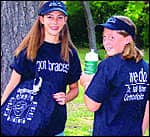 Wired Promotions
Wired Promotions introduces custom-imprinted products for patients and staff. Products include T-shirts, mugs, and water bottles. The products provide exposure for an orthodontic practice and can be given away as incentive rewards and debanding gifts for patients.
For more information, contact Wired Promotions, 11525 Blue Creek Dr, Aledo, TX 76008; (888) 516-WIRED; www.wiredpromo.com.
---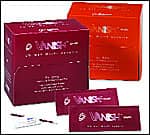 OMNII Oral Pharmaceuticals
OMNII Oral Pharmaceuticals offers Vanish®, a 5% neutral sodium fluoride white varnish that protects patients undergoing orthodontic treatment. The in-office therapy delivers 22,600 ppm of fluoride and virtually disappears after application. The formula provides enhanced flow characteristics for thorough coverage. The varnish takes seconds to paint on and sets rapidly in the presence of saliva. It is available in cherry and melon flavors. Packs contain 300 unit-dose blister packs and applicator brushes in individual foil packets. A bulk package containing 1,000 blister packs and applicator brushes is also available.
For more information, contact OMNII Oral Pharmaceuticals, 1500 N Florida Mango Rd, Suite 1, West Palm Beach, FL 33409; (800) 445-3386; www.omnipharma.com.
---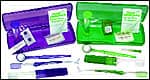 Plak Smacker
Plak Smacker offers Orthodontic Homecare and Survival kits in assorted colors. Both kits come in a versatile, hard, plastic case. Each kit contains a rubber V-trim dual-head toothbrush, a V-trim travel toothbrush, mint relief wax, a 3-minute timer, a mouth mirror, floss, and a floss threader. The Orthodontic Homecare kit also includes two disclosing tablets to check for brushing areas commonly missed and a proxie brush for patients on the go.
For more information, contact Plak Smacker, 755 Trademark Circle, Corona, CA 92879; (800) 558-6684; www.plaksmacker.com.
---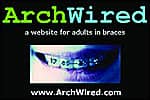 ArchWired.com
www.ArchWired.com offers a free Web site that provides helpful information and support for orthodontic patients worldwide. The site contains hundreds of tips on topics such as spacers, power chains, extractions, orthodontic appliances, braces and dating, soft-food suggestions, dental humor, dental news, an explanation of how braces work, an adult braces primer, retainer tips, and information about postorthodontic issues. The Web site is geared toward adults, older teens, and parents of children with braces.The site recently published a comprehensive article on the controversy surrounding bisphosphonate drugs and dental work. The site's Metal Mouth Message Board, which has thousands of members worldwide, allows parents from around the world to contribute their orthodontic stories and tips and to support one another. A soft-food cookbook that includes recipes from ArchWired.com readers is currently in the process of completion. A percentage of the profits from the cookbook will be donated to dental charities.
For more information, contact ArchWired.com, 2033 Ralston Ave, Suite 38, Belmont, CA 94002; (877) 329-4733; www.archwired.com.
---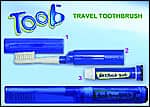 Aurelle
Aurelle offers the Toob™ Brush, which features a refillable toothpaste tube. The Toob Brush, which fits easily into backpacks, purses, and pockets, is made from Durastar™, a premium plastic. Its bristles are soft and end-rounded. The refillable tube is squeezable and can be used for more than 24 months. Replacement brush heads are available.
For more information, contact Aurelle, PO Box 431, Niagara Falls, NY 14304; (888) 970-2001; www.yourhealthysmile.com.
---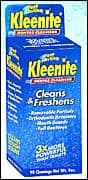 Regent Labs
Regent Labs introduces Kleenite, a fast and effective way to clean removable orthodontic retainers, including Invisalign, mouthguards, nightguards, and splints. Kleenite has a refreshing taste and eliminates the stigma associated with the use of denture tablets.
For more information, contact Regent Labs Inc, 700 W Hillsboro Blvd, Suite 2-206, Deerfield Beach, FL 33441; (800) USA-1525; www.regentlabs.com.
---
Honeysuckle Creations
Honeysuckle Creations offers the Presidential Ruler, which is a basic ruler featuring full-color photos of the presidents on one side. The other side can be customized with your practice's logo and message.

For more information, contact Honeysuckle Creations, PO Box 549, Urbana, OH 43078; (800) 487-9325; www.orthoclub.com/honeysuckle.html.
---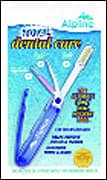 Prophy Perfect
Prophy Perfect offers Alpine Total, a compact oral-hygiene tool that combines three different functions. Alpine Total is a toothbrush, a dental pick, and a detachable interdental cleaner that is small enough to fit into any pocket or purse.
For more information, contact Prophy Perfect, PO Box 310, 14007 Tenth St, Osseo, WI 54758; (800) 776-3948; www.prophyperfect.com.
---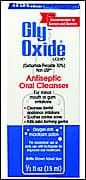 GlaxoSmithKline
GlaxoSmithKline Consumer HealthCare introduces Gly-Oxide® Liquid Antiseptic Oral Cleanser, which improves the cleaning of minor mouth and gum irritations caused by orthodontic appliances and minor dental procedures. The oral cleanser is made from 10% carbamide peroxide. Its cleansing action soothes painful irritations and promotes natural healing while helping to con-trol odor-forming germs. A patient-instruction sheet, which can be customized with practice information, is also available.
For more information, contact GlaxoSmithKline Consumer HealthCare, 1500 Littleton Rd, Parsippany, NJ 07054; 1-800-652-5625; www.dental-professional.com.
---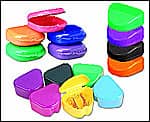 Masel
Masel offers a variety of colorful retainer boxes in basic, fluorescent, glow, and glitter colors. They are available in three different styles: Slim-line™, SuperTuff™, and Deep Dish™. All the styles feature a noncrushable, one-piece polypropylene construction. Slim-line is a compact retainer box that fits easily in a pocket. Deep Dish is for oversized appliances such as Hawleys and Frankels. SuperTuff has extralong hinges and ventilation holes. Each pack of retainer boxes includes a supply of peel-and-stick information labels.
For more information, contact Masel, 2701 Bartram Rd, Bristol, PA 19007; (800) 423-8227; www.maselortho.com.
---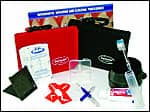 DentaKit
DentaKit introduces a hygiene kit that contains everything patients need to keep their braces and teeth clean when they are not at home. Orthodontists and dentists do not need to stock DentaKit in their offices, since the product is available for purchase on the company's Web site. A DentaKit for patients with "invisible" clear-aligner braces is also available. The 4- x 6-inch kit weighs 6 ounces and features a zippered denier nylon case; an orthodontic travel toothbrush; toothpaste; a folding mirror; Glide Threader Floss; Pick-a-Dent; dental wax; a spiral proxy brush; and a dishwasher-safe, pop-up Swedish folding cup. The "Invisible Braces" DentaKit includes an aligner-remover tool, Retainer Brite tablets, breath strips, and a retainer case. DentaKit opens flat and is available for adults and children in discreet black or cheerful red.
For more information, contact DentaKit.com LLC, 2033 Ralston Ave, Suite 38, Belmont, CA 94002; (877) 329-4733; www.dentakit.com.
---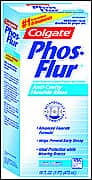 Colgate Oral Pharmaceuticals
Colgate Oral Pharmaceuticals offers Phos-Flur® Rinse, a sodium fluoride and acidulated phosphate rinse that prevents decay when used regularly in conjunction with a decay-prevention fluoride toothpaste. According to the company, the rinse is safe, great tasting, and easy to use. It promotes remineralization and strengthens teeth by forming a submicroscopic reservoir of fluoride on the tooth enamel. It is clinically proven to reduce white spots by 58%.
For more information, contact Colgate Oral Pharmaceuticals Inc, 300 Park Ave, New York, NY 10022; (800) 962-2345; www.colgateprofessional.com.
---
L Brooks Co
L Brooks Co offers the Ortho ER Kit™, a patient emergency repair kit that contains the tools necessary to fix sticking wires, loose bands, and brackets. The kit includes simple-to-follow instructions with full-color illustrations; an easel mirror; a mouth mirror; wax; a toothbrush; a Soft Stick Wiremender®; and a colorful zipper bag available in blue, green, or red colors. The kits may be customized with a practice-logo imprint.
For more information, contact L Brooks Co, 2328 Haverhill Rd, Tallahasee, FL 32312; (850) 668-6136; www.lbrooks­company.com.
---
Den-Mat
Den-Mat offers Sapphire Professional Chairside Whitening Gel, which works with the Sapphire Light for optimum whitening. With a newly formulated desensitizing enhancer, the gel virtually eliminates the sensitivity many patients feel during and/or after a professional chairside bleaching procedure. When used during chairside bleaching, the Sapphire Whitening light emits no harmful UV rays and whitens both arches up to 10 shades simultaneously or one tooth at a time. The light works well with all bleaching gels and can bleach teeth in 20 to 30 minutes, with maximum results after 1 hour of use.
For more information, contact Den-Mat Corp, 2727 Skyway Dr, Santa Maria, CA 93455; (800) 548-3663; www.denmat.com.
---

Dr. Fresh
Dr. Fresh offers the Float'n Fire Fly toothbrush. Each bright and sparkly toothbrush contains a favorite cartoon character floating inside the base, and the entire handle lights up and flashes for 1 minute to inspire kids to brush for 1 minute on the uppers and 1 minute on the lowers. The bristles are gentle for kids—the nylon strands are individually end-rounded to prevent microscopic cuts to the gums.
For more information, contact Dr. Fresh Inc, 6645 Caballero Blvd, Buena Park, CA 90620; (866) 373-7374; www.drfresh.com.
---

GMZ Associates
GMZ Associates offers the Ortho ReadyBrush with its "V"-trim bristled design that cleans teeth without interfering with oral appliances. A patented process activates the toothpaste by wetting the bristles. Ortho ReadyBrush is a full-sized, quality toothbrush with soft, end-rounded, and polished DuPont Tynex nylon bristles. Refreshing mint-flavored toothpaste is bonded to the bristles. Each brush is individually wrapped and hermetically sealed. Ortho ReadyBrush is available in a 30-brush patient pack.
For more information, contact GMZ Associates Ltd, 86 Cain Dr, Brentwood, NY 11717; (631) 273-5088; www.wetnbrush.com.
---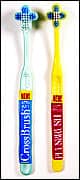 OnGuard Dental Products
OnGuard Dental Products introduces two toothbrushes—the CrossBrush and the Plusbrush—which remove plaque and massage the gingival tissues. The brushes require little dexterity and can be used to clean the tongue as well. The toothbrushes may be used by adults and children.
For more information, contact OnGuard Dental Products Inc, 4304 Park Rd, Charlotte, NC 28209; (800) 299-0048; www.onguardbrush.com.
---
The Ortho Club/Imperial Orthodontics
The Ortho Club/Imperial Orthodontics introduces Leone Mini Implants manufactured from surgical-grade stainless steel. The implants are designed for temporary insertion and do not induce osseointegration. They can be loaded with tractions to get dental movement with the biomechanical advantage of the maximum anchorage and in critical anchorage situations due to lack of teeth. The implants can be easily removed after use by unscrewing them. They are available as kits or as individuals, with a low head or a high head.
For additional information, contact The Ortho Club/Imperial Orthodontics, PO Box 549, Urbana, OH 43078; (800) 679-6793; [email protected]
---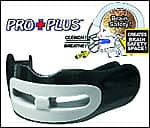 Brain-Pad
Brain-Pad introduces the Plus Series mouthguards in Pro Plus and LoPro Plus models. The mouthguards are slim and are available in translucent colors. Their quick-change, strap/nonstrap option allows their use in helmeted and nonhelmeted sports. The mouthguards fit easily over braces, brackets, and dental appliances, and protect against lower-jaw impact injuries to teeth, the temporomandibular joint, the base of the skull, and the brain. The Plus Series covers and protects braces and protects the lips and soft tissues from lacerations. Its center breathing space allows constant breathing even during clenching. The mouthguard is made from dual thermoplastic so that it can be reboiled as teeth straighten.
For more information, contact Brain-Pad Inc, 322 Fayette St, Conshocken, PA 19428; (888) 424-9477; www.brainpads.com.