Four orthodontists discuss how they achieved just the right brightness
OP: What factors did you take into account when creating your current operatory lighting setup?
Astuto: I actually had the architect who built our building do a lighting study and present his findings for optimal lighting conditions given the layout, ceiling height and slope, indirect lighting from the windows, and needs of the staff. He presented me with his findings, which recommended industrial lighting. Some of the proposed lighting didn't fit with my vision of the design and architectural elements of the operatory, so less overall lighting was implemented, with four arc-shaped fixtures that utilize halogen lighting and milky glass diffusers. The result is seamless integration of architectural elements in both lighting and structure.
Cope: I wanted as much light as possible, but as visually appealing as possible in my dÉcor.
Gladwell: The architect that designed my space developed the lighting plan. I think he was a little off on how much light would come from the overhead fluorescents. I decided in the beginning to have task lighting attached to each chair (from Dexta Corp, Napa, Calif). Because I started from scratch with my practice, in order to help control start-up costs I wanted to have enough chairs to fill the space, but not a corresponding side unit. The task lighting on the chair combined with mobile side units allows me to use all of my chairs when needed.
Yanosky: In my residency, we had the classic dental lamp mounted to the chair. I really intensely disliked having to grab the light and move it around constantly for myself or an assistant, and found that I would either hit my head on the lamp or run into it going from chair to chair. It also introduced a sterilization issue because, to adjust the lamp, you have to change gloves or simply leave it alone and deal with it.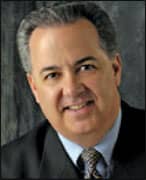 Steven Astuto, DDS, MSD
When we were building our current office, I wanted a high ceiling. This created a larger space for light, but required more ambient lighting, which we solved with placement of skylights and supplemental lighting such as sconces. Because our office is in a wooded area, we added supplemental lighting via floodlights mounted outside the office above the skylights. These are especially nice to have on cloudy days or in the wintertime near the end of the day. We also selected contemporary lighting suspended from the high-vaulted ceiling, which is not only cosmetically appealing, but is light and accommodates halogen lighting.
OP: What type of overhead lighting do you use?
Astuto: My four arc-shaped fixtures are suspended from the ceiling to mimic the roundness of the treatment room and the curved windows in the room. Halogen lights provide maximum lightening with a natural light. In addition, there is a halogen-lighted ceiling fan in the center of the room for additional artistic design and lighting.
Cope: I have an exposed ceiling to make the room look bigger. Therefore, the fixtures are hung from the rafter. I have one four-bulb light over each chair. The fixture is from Ross Orthodontic (Midlothian, Tex) and has reflectors built in so that, when the patient is lying back in the chair, all of the light is directed into his or mouth … very bright. Most patients complain about the lights, which I'm 99% sure are fluorescent.
Jason B. Cope, DDS, PhD
Our initial attempt at lighting was incandescent, and it created too much heat and made the clinic quite uncomfortable during the summer. The halogen lamps do not generate nearly the same heat and are more aesthetically pleasing. The way we had ours arranged, each lamp can not only be directed to the patient's mouth, but can also be directed at art on the walls, etc for supplemental lighting and/or artistic enhancement.
OP: Is your operatory lit by natural light at all?
Astuto: Yes, the entire operatory looks out onto a garden area. Not only is the patient soothed by quiet, natural surroundings, but added natural light fills the operatory.
Cope:Yes, I have two moonroof-style openings above the chairs. They are about 1.5 by 4 feet in length. They were installed specifically to give a little natural light.
Gladwell: We do get a lot of natural light that comes in through the windows.
Yanosky: Yes, as mentioned before, we have overhead skylights that offer natural light. In addition, one entire wall of our operatory is glass and allows in natural light.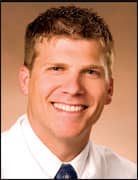 Jason Gladwell, DDS, MSD
OP: What chairside lighting do you use?
Astuto: Faro 115-watt swing arm lamps are equipped at each chair for focused intraoral light.
Cope: None.
Gladwell: I basically have a setup where each side unit is shared by two chairs. The task lighting makes all the difference.
Yanosky: Chairside lighting up until recently has been a real challenge. With our desire to have the track lighting and not chairside dental lighting, we occasionally found it difficult to see on certain procedures such as bonding second molars and other procedures in the posterior part of the mouth. Our solution was to use magnification loupes with a cordless light mounted on the frame of the loupes. The power pack is about the size of a large cell phone and is light and easy to manage around the clinic. There is no better chairside lighting, in my opinion.
OP: What would you change about your operatory lighting if you could?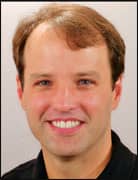 Mark R. Yanosky, DMD, MS
Astuto: Because there is so much natural light, during the few weeks before the fall daylight savings time change, we get an excess of natural light beginning around 4 pm in one area of my treatment room, causing patients to squint their eyes when sitting up in the chairs. I will probably need to add some sort of blinds or covering to block the sun during those times. I would have liked to take that into consideration when we were designing the operatory setup.
Cope: Nothing, maybe make it brighter.
Gladwell: If I could change anything, I would probably try to get a little more light from the overheads. Possibly drop them down a little more, but I really don't think it would make a huge difference. When I need extra light, the task lighting is plenty. During bondings, we actually don't use the task lighting (to help make sure our brackets don't cure before we are ready). The overhead lighting provides enough light to work without a problem.
Yanosky: At this point we are pretty happy. It may be nice at times to have more ambient lighting in our clinic bay, but we have to balance this with the desire to not appear too washed out and "clinical."
---
Steven Astuto, DDS, MSD, is in private practice in Amarillo, Dalhart, Childress, and Hereford, Tex. He is a Diplomate of the American Board of Orthodontics and a member of numerous local and national professional organizations, including the American Dental Association, AAO, American Board of Orthodontics, Panhandle District Dental Society, and the Southwestern Society of Orthodontists. He can be reached at
Jason B. Cope, DDS, PhD, has a private practice in University Park, Tex. He is an adjunct clinical assistant professor at Baylor College of Dentistry. He is the author of OrthoTADs: The Clinical Guide and Atlas. He is a Diplomate of the American Board of Orthodontics and a member of the Edward H. Angle Society of Orthodontists. He can be reached at
Jason Gladwell, DDS, MSD, has a private practice in Wake Forest, NC. He is a Diplomate of the American Board of Orthodontics, a member of the American Association of Orthodontists, as well as a member of the regional and state orthodontic associations. He can be reached at
Mark R. Yanosky, DMD, MS, is in private practice in Vestavia Hills, Ala. He can be reached at