On The Market
Aligner Appliance

Great Lakes Laboratory offers the Invisible Inman, an alternative to using multiple aligners for anterior correction. The Invisible Inman appliance uses NiTi coil springs to achieve up to 3 mm of continuous and controlled lingual to labial movement. The piston-like forces of the lingual component gently and precisely move teeth while a labial acrylic shell controls incisor alignment as teeth are pushed outward. In the majority of cases, alignment is accomplished using one appliance. The appliance has a clear labial component and a lingual wire framework. A low, thin profile makes the Invisible Inman more comfortable than most spring aligners. The NiTi coil-spring mechanism retracts for easy insertion and seating of the appliance. Adjustments are virtually unnecessary, according to the company. A thin, flexible acrylic covers the posterior dentition to enhance retention.
For more information, contact Great Lakes Laboratory, 200 Cooper Ave, Tonawanda, NY 14150; (800) 828-7626; www.greatlakesortho.com.
Palatal Cleaner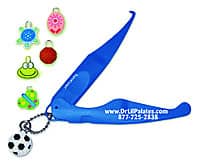 L'il Palates™ offers the L'il Palates sweeper, which has a hooked end that cleans between a palatal expander and the palate. Thin and flexible, the sweeper bends with the palate's curvature to reach areas where food is trapped. It also can be used with lingual bars; and NANCE, Herbst, MARA®, pendulum, and distalizing appliances. Individually packaged, the device stores within its own handle (like a pocketknife) when not in use. It is available in lavender and blue, and it includes an attached keychain with a rubberized emblem that comes in six designs. The sweepers can be custom-imprinted with your practice's name, Web site, and phone number.
For more information, contact L'il Palates, 34 Berkley Rd, Suite 100, Devon, PA 19333; (877) 725-2838; www.lilpalates.com.
Business Web Site

Michael J. Foy, DDS, MS, a board-certified orthodontist, introduces www.orthocase.com, a Web site that includes a treatment-planning service for dentists and orthodontists interested in Invisalign or OrthoClear cases. Orthocase.com helps practitioners decide on appropriate cases, explains the submission process, and helps modify the case to provide a successful treatment for the patient. Foy has submitted more than 700 clear aligner cases.
For more information contact Michael J. Foy, DDS, MS, 7560 Rangewood, Suite 100, Colorado Springs, CO 80920; (719) 597-6800; [email protected] or www.orthocase.com.
Interdental Brush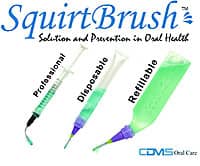 Sqb introduces Squirtbrush®, a patented interdental brush that helps patients clean difficult areas, including around dental implants, bridge abutments, brackets, and interproximal spaces. Squirtbrush comes in three versions: Refillable allows patients to fill the bottle with any oral rinsing agent; Professional comes attached to a standard luer-lock syringe for use by physicians in chairside applications; and Disposable comes prefilled and unit-dosed with a specific oral rinse. The replaceable brush tips are available in different shapes, including cylindrical or tapered.
For more information, contact Sqb LLC, PO Box 9487, Brea, CA 92821; (909) 598-0958; www.squirtbrush.com.
Orthodontic Chair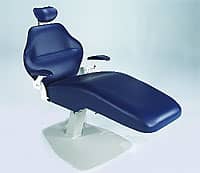 MCC Equipment offers the MCC Orthodontic Chair, which features a fixed pedestal base with manual height adjustments and a motorized adjustable back. The chair's contour and Naugahyde® upholstery ensure patient comfort while giving orthodontists access to the oral cavity. An adjustable headrest allows positioning of the patient's head. Optional folding arms are available. The MCC Orthodontic Chair can accommodate all standard dental lights. The chair is available in a variety of colors, and operator stools in matching colors are also available. A 5-year manufacturer's warranty is included.
For more information, contact MCC Equipment, 29600 SW Seely Ave, Wilsonville, OR 97070; (800) 388-6236; www.mccequipment.com.
Dual-Point Flash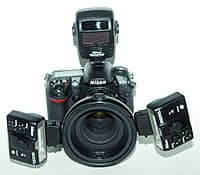 Lester A. Dine introduces a dual-point flash for Canon and Nikon cameras. The flash offers flexibility in dental lighting and illumination of a full range of cosmetic dental photographs. The flash can be tilted and angled to provide anterior illumination. It has the ability to use shadowing to enhance full smiles and anterior close-ups. According to the company, the light is capable of showing the structure of teeth, creating a descriptive photograph for laboratory communication. The Flash is i-TTL capable and works on 105-mm and 60-mm macro lenses. The light offers manual flash metering as well as flash compensation and ratio control for desired lighting effects. The flash works on Nikon's D70, D70s, and D200; and on Canon's XT Rebel and 20D digital SLR camera systems. Lester A. Dine offers complete kits that include a digital SLR camera, a 105-mm macro lens, and the dual-point flash, along with all necessary dental and computer accessories. The flash is also sold separately for current owners of Nikon and Canon digital SLR cameras.
For more information, contact Lester A. Dine Inc, PGA Commerce Park, 351 Hiatt Dr, Palm Beach Gardens, FL 33418; (800) 624-9103; www.dinecorp.com.
Back-Support Chair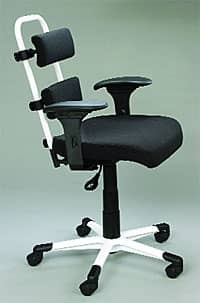 The YogaBack Co offers the Zackback Posture Chair, which features a multiadjustable, dual-back-support system for healthy work posture with spinal stabilization. Zackback's sacral support, adjustable in height, depth, and angle, reduces stress to the low back by stabilizing the pelvis in its proper neutral position and promoting activation of the deep lower abdominal muscles. The thoracic support, adjustable in height and depth, reduces stress to the neck, upper back, and midback by elevating the rib cage and elongating the spine, correcting slumped posture.
For more information, contact The YogaBack Co, PO Box 9113, Rochester, MN 55903; (800) 748-8464; www.yogaback.com.
Online Patient-Inquiry Tool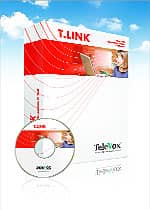 TeleVox Software introduces T.Link 5, an online patient-inquiry tool that is compliant with the Health Insurance Portability and Accountability Act of 1996. T.Link integrates with existing practice-management software and allows practices to send customized, automatic e-mail appointment reminders and messages to patients. The system provides patients 24/7 access to appointment and account information and allows them to make online payments. Practitioners and their staff also have the ability to send online newsletters. The system features Easy At-Home Activation™, which allows responsible parties to activate their accounts from any PC, saving the time of processing sign-up paperwork and mailing activation letters. The InfoAnywhere function provides clinical and administrative staff with fast and easy access to patient and responsible party information.
For more information, contact TeleVox Software, 1110 Montlimar Dr, Suite 700, Mobile, AL 36609; (800) 644-4266; www.televox.com.
X-Ray Machine and Software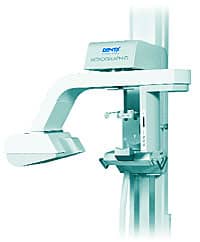 AFP Imaging Corp introduces the Rotograph Digital™ Panoramic x-ray machine and software under its Dent-X brand. According to the company, digital panoramics provide large-format images of the patient's teeth, jaw, and surrounding bone structure for a more complete analysis and diagnosis without the use of x-ray film. The Rotograph-D digital technology eliminates the need for film, cassettes, and chemicals. The core of the Rotograph-D is a CCD sensor with a CsI (Cesium Iodide) scintillator screen, which provides high-resolution, sharp, and clear images with even the finest details. Images can be stored directly on CompactFlash® memory cards or transferred directly to a PC through the provided USB 2.0 connection. ProImage software, included with the unit, is a useful tool to acquire, process, print, and store images.
For more information, contact AFP Imaging Corp, 250 Clearbrook Rd, Elmsford, NY 10523; (914) 592-6100; www.afpimaging.com or www.dent-x.com.
Brushless Motor System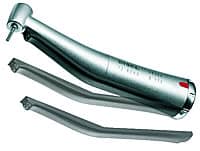 Sirona Dental Systems offers the SIROTorque L+ Brushless Electric Motor System, which features a powerful motor, less ambient noise, and virtually no vibration. Integration between similar motors for the SIROTorque L and SIROTorque L+ is easy. All of the Sirona Classic brand attachments fit on the SIROTorque L SL or SIROTorque L+ BL motors. Additionally, all Line and Revo attachments fit on the SIROTorque L EL, SL ISO, or SIROTorque L+ BL ISO motors. The 2-year warranty on the Sirona electric attachments may be extended to the optional 3-year or 5-year warranty.
For more information, contact Sirona Dental Systems, 4835 Sirona Dr, Suite 100, Charlotte, NC 28273; (800) 659-5977; www.sirona.com.
Telescopic Expansor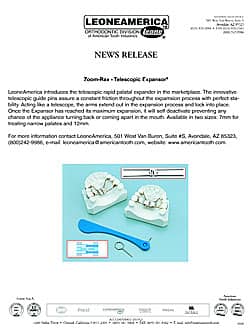 LeoneAmerica offers the Zoom-Rax telescopic rapid palatal expansor, which features guide pins that ensure constant friction throughout the expansion process. Acting like a telescope, the expansor's arms extend out during the expansion process and lock into place. Once the expansor has reached its maximum expansion, it deactivates, preventing any chance of the appliance turning back or coming apart in the mouth. It is available in 7-mm and 12-mm sizes.
For more information, contact LeoneAmerica, 501 W Van Buren, Suite S, Avondale, AZ 85323; (800) 242-9986; www.americantooth.com.
Oral Hygiene Kits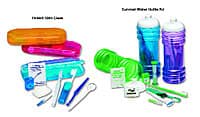 Masel introduces two oral hygiene kits: the Survival Water Bottle Kit and the Patient Slim Case. Both kits are easy to travel with and store. Patients will enjoy the bright colors and appreciate the assortment of hygiene items, which include an orthodontic toothbrush, an interproximal brush, a travel brush, mint wax, threaders, a 15-yard spool of mint floss, and a dental mirror.
For more information, contact Masel, 2701 Bartram Rd, Bristol, PA 19007-6892; (800) 423-8227; www.maselortho.com.
Surfactant Debubblizer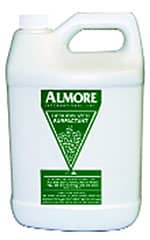 Almore International introduces a surfactant debubblizer in a gallon size. The surfactant produces consistent working models on the first pour. To avoid repouring and distortion of models, spray the debubblizer directly onto impressions before pouring alginate, rubber, or silicone. According to the company, surface tension and voids will be reduced, and bubbles will be eliminated. The gallon size comes with a refillable 8-ounce spray bottle. It does not contain alcohol.
For more information, contact Almore International Inc, PO Box 25214, Portland, OR 97298; (503) 643-6633; www.almore.com.
Radiography System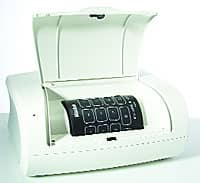 Kodak offers the CR 7400 digital radiography system, which delivers a full range of intraoral and extraoral images digitally, eliminating the need for traditional film processing. Using existing positioners and techniques, the system offers a full range of sizes (0 to 4) for intraoral diagnostic examinations. In addition, the system easily converts existing film-based panoramic and/or cephalometric systems to digital for extraoral imaging needs. The system features a similar workflow to film; a flexible FMS editor feature that allows users to customize their own full-mouth series workflows; adjustable scanning speed and image resolution for different treatment needs; and protective barrier envelopes and light-protection pouches that prevent infection, image degradation, and scratches.
For more information, contact Kodak Dental Systems, 1765 The Exchange, Atlanta, GA 30339; (770) 226-3202; www.kodakdental.com.
BioDental Models
BMi-Biomedical Modeling introduces BMi BioDental models made from translucent acrylic. The models show bone structure and density, soft tissue, teeth and roots, and sinus and maxilla features. The inferior alveolar nerve channel is highlighted in red. The models provide coordination between surgeons and dentists to ensure a positive outcome, and also aid in the fabrication of immediate-load interim restorations. The models are also useful in educating patients about their implant procedure. No software is required. BMi works directly with CT providers to translate patient scans into an accurate model of a patient's mandible or maxilla using a laser and photopolymer resin to create an accurate stereolithographic model that can be used to make precise measurements.
For more information, contact Biomedical Modeling Inc, 167 Corey Rd, Suite 108, Boston, MA 02135; (888) 246-6633; www.biomodel.com.
Dental Composite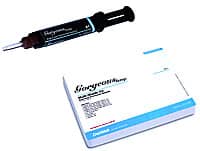 Den-Mat introduces Gorgeous Temp™, a nanohybrid composite that provides natural results that resemble a restorative. Gorgeous Temp is strong, wear-resistant, and dual-cure. According to the company, it cures in half the time it takes self-cure materials. It does not require a dispensing gun; and it is easy to fabricate, contour, and polish. The composite is available in a four-shade kit, and its automixing syringe-delivery system is easy to use, creating 60% less mixing waste than cartridge-based systems. Each syringe provides 15 or more units. The material is radiopaque for easy identification on radiographs.
For more information, contact Den-Mat Corp, 2727 Skyway Dr, Santa Monica, CA 93455; (800) 445-0345; www.denmat.com.
Apple-Flavored Gloves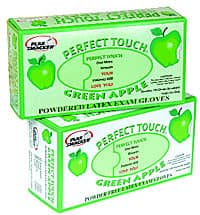 Plak Smacker has added green apple-flavored gloves to its Perfect Touch glove line. Available in powder and powder-free versions, the gloves offer patients a pleasing alternative to the taste of latex gloves. The gloves are nonchlorinated, nonsterile, and offer a consistent fit.
For more information, contact Plak Smacker, 755 Trademark Cir, Corona, CA 92879; (800) 558-6684; www.plaksmacker.com.
Practice-Management System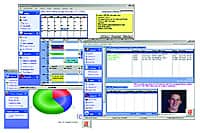 PerfectByte offers a practice-management system designed for orthodontic and dental practices. PerfectByte is loaded with all the features a practice needs to increase efficiency and profitability. The program includes billing, patient scheduling, image storage, customizable documents, payment plans and contracts, and a prescription writer. The system interfaces with Dolphin Imaging and VistaDent. Visit the company's Web site to download a free trial. The orthodontic package costs $1,500.
For more information, contact PerfectByte, 5131 S Ridgewood Ave, Suite A, Port Orange, FL 32127; (877) 767-7007; www.perfectbyte.net.
Mouthguard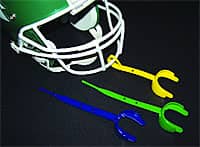 Glenroe Technologies offers the Tuff Guard orthodontic mouthguard, which protects upper and lower arches. It features a breakaway strap to protect the user and contains three breathing vents that allow optimum airflow. The mouthguard is available in 15 vivid colors, allowing patients to match sports team colors. Multicolor packs are also available. The mouthguard is available in one size, with or without a helmet strap, and it can be easily trimmed with scissors to fit the patient's mouth.
For more information, contact Glenroe Technologies, 1912 44th Ave E, Bradenton, FL 34203; (800) 237-4060; www.glenroe.com.
Orthodontic Paste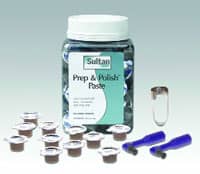 Sultan Dental offers Topex® Prep & Polish™ Paste, which delivers a consistent flour of pumice blend that is free of flavors, oils, dyes, and fluoride. It may be used to prep a variety of dental procedures, including orthodontic etching and bonding, acid-etching procedures, sealants, restorative cementation, and bleaching and whitening techniques. Prep & Polish can also be used for cleaning and polishing stained teeth, amalgam, and composite restorations. The paste is free of glutens and gluten derivatives. Each resealable container of Topex Prep & Polish Paste contains 100 disposable unit cups, each of which contains approximately 2 grams. Two Upgrade® disposable prophy angles and one autoclaveable prophy ring are included free in each package to facilitate paste handling.
For more information, contact Sultan Dental Products, 242 S Dean St, Englewood, NJ 07631; (800) 238-6739; www.sultandental.com.
Curved Tip Ligature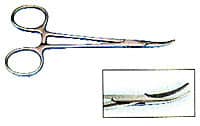 Ortho Organizers offers a stainless-steel Curved Tip Ligature Hemostat, which features a Mosquito handle and a secure locking mechanism. Its precision-curved tips are serrated for a sure, nonslip grip; and it may be used for ligature placement in the posterior teeth. The tips are also useful for working in hard-to-reach places.
For more information, contact Ortho Organizers, 1619 S Rancho Santa Fe Rd, San Marcos, CA 92069-5198; (800) 888-7244; www.orthoorganizers.com.
Dental Textbook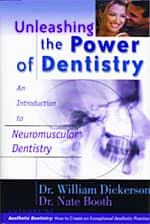 Myotronics introduces Unleashing the Power of Dentistry—An Introduction to Neuromuscular Dentistry by William Dickerson, DDS, FAACD, and Nate Booth, DDS, of the Las Vegas Institute for Advanced Dental Studies. The 311-page hardcover book explains neuromuscular aspects of dentistry and how they inter-relate with traditional tooth-gum concepts. The text also contains true experiences of dentists and information on how they integrate these principles into their dental practices.
For more information, contact Myotronics, 15425-53rd Ave S, Tukwila, WA 98188; (800) 426-0316; www.myotronics.com.
Toothbrush Holder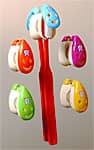 Pacific Dry Goods introduces Smiley toothbrush holders, which keep toothbrushes germ-free. The Smiley holder has a hinged cover made from antibacterial plastic that snaps down over the head of a toothbrush to keep it safe from germs. Three vents in the cover form a smiling face and provide just enough ventilation for the bristles to dry, preventing bacteria from multiplying in a damp environment. The holder has a silicone suction cup that sticks to mirrors, tile, glass, or any smooth surface. The Smiley is available in a variety of colors.
For more information, contact Pacific Dry Goods, PO Box 4222, Hayward, CA 94540; (877) 367-8695; www.pacificdrygoods.com.
BloodStop Gauze
LifeScience PLUS introduces BloodSTOP™ EX hemostatic gauze, which immediately controls bleeding and creates a protective barrier over the affected area. BloodSTOP EX speeds coagulation, expanding to form an odorless and tasteless gel that adheres to the surface and applies pressure to seal the wound. It is made from biologically inert, naturally regenerated cellulose, and interacts with blood platelets and fibrin to form a clear, gelatinous shield to stop bleeding during extractions and other oral surgical procedures.
For more information, contact LifeScience PLUS, 473 Sapena Ct, Suite 7, Santa Clara, CA 95054; (877) 587-5433; www.lifescienceplus.com; www.lifecore.com.
Tongue and Void Filler
Dental Creations offers Wonderfill®, a tongue and void filler used for casting dental models. Wonderfill is a premixed, water-soluble filler that requires no setup time or cleaning. Place Wonderfill in tongue voids left in lower impressions, then add plaster. Once the plaster sets, Wonderfill is easily removable, providing a clean model. In addition, Wonderfill eliminates bubbles, air pockets, missing teeth, and undercuts for better-fitting appliances and bleaching trays.
For additional information, contact Dental Creations Ltd, 1411-J N Valley Mills Dr, Suite 309, Waco, TX 76710; (866) 235-5757; www.wonderfill.com.
Dental Spring

Dentaurum offers the SUS2 (Sabbagh Universal Spring), a universal dental spring with a telescope element that can be used intermaxillarly for obtaining skeletal and dentoalveolar effects. The spring is used to correct distocclusions, to distalize the upper posterior teeth, and to provide TMD therapy. It may be used in noncooperative patients, in late cases with little remaining growth, and to help treat diseases of the upper respiratory tract. According to the company, the SUS2 helps avoid extractions and dysgnathic surgery. The spring can be quickly and easily fixed using the Arch Adapter. The SUS2 is gentle to the temporomandibular joint and allows great freedom of mandibular movement, thereby increasing patient acceptance.
For more information, contact Dentaurum, 10 Pheasant Run, Newtown, PA 18940; (800) 523-3946; www.dentaurum.com.