On the Market
Acrylic color, a new podcast, and more
Orthodontic Brackets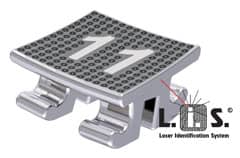 Dentaurum offers brackets that feature minimal dimensions, maximum strength, and rounded edges and bases shaped to fit perfectly into the patient's mouth. The biocompatible laser identification system (L.I.S.©) has been optimized to simplify identification and positioning of the metal brackets. In the future, Dentaurum brackets will include the FDI tooth designation number on their bases. This new designation system will first be introduced successively for the equilibrium® line. All remaining metal brackets will follow. The changes will also include optimizing the REF numbers to provide more transparency. Every digit of the eight-position order number has been allotted a specific meaning. The first digit denotes the bonding system applicable to this bracket (ie 7 stands for resin-bonding). The second and third digits denote the slot dimensions (18 stands for a size 18 slot and 22 for a size 22 slot). The fourth digit stands for the product line and indicates which type of bracket it is. The figure 4 represents equilibrium mini brackets. The fifth and sixth digits provide information about the treatment system and whether the bracket includes a hook or not. The final two numbers designate the tooth with the FDI system or describe the amounts in an assortment.
For more information, contact Dentaurum Inc, 10 Pheasant Run, Newtown, PA 18940; (215) 968-2858; www.dentaurum.com.
Ceramic Blocks
Sirona Dental Systems offers millable ceramic blocks for the Sirona CAD/CAM systems CEREC and inLab. The feldspath ceramics for chairside restorations are available as CEREC blocks. The company's inCoris product line for dental labs will expand to include aluminum and zirconium oxide blocks. The new ceramics assortment complements the current selection from the company's partners, including VITA, Ivoclar Vivadent, and 3M ESPE for the CEREC and inLab CAD/CAM systems.
For more information, contact Sirona Dental Systems, PO Box 410100, Charlotte, NC 28241; (800) 659-5977; www.sirona.com.
Acrylic Color
Great Lakes Orthodontics offers Magicryl 2 acrylic color that disappears and reappears. Magicryl 2 features vivid, vibrant colors and is easy to use. Magicryl color is now available in a powder polymer to allows labs to fabricate a variety of colorful appliances. In the mouth, the color disappears. Remove it, and the color magically reappears. It is available in six colors, including black, and many color combinations. Magicryl is also available as a kit, which includes all six Magicryl colors: yellow, orange, red, blue, teal, and black. Magicryl colors are also sold separately in 4-ounce and 1-pound bottles.
For more information, contact Great Lakes Orthodontics Ltd, 200 Cooper Ave, Tonawanda, NY 14151-5111; (800) 828-7626; www.greatlakesortho.com.
Dental Podcast
Ultradent Products introduces a weekly dental product podcast. The free podcast presents audio commentary on topics ranging from the anticaries benefits of tooth whitening to minimally invasive endodontics. The podcast also provides subscribers with relevant information about industry trends. Because podcast audio files are accessible at any time and place, orthodontists who subscribe can browse and choose from a growing library of more than 20 episodes at their convenience. Special equipment, such as an iPod, is not required. Podcast files can be downloaded in mp3 format and played over computer speakers, or burned to a CD for playback at home or in the car. To subscribe to the Ultradent podcast, visit podcast.ultradent.com.
For more information, contact Ultradent Products Inc, 505 W 10200 S, South Jordan, UT 84095; (800) 552-5512; www.ultradent.com.
Camera Flash
Lester A. Dine introduces the Dine Ring and Point Flash for the new 10 mp Nikon D80 and the Canon EOS Rebel XTI line of Digital SLR Cameras. The cameras are part of a complete package for dentistry. Featuring the only through the lens meterable (TTL) Ring and Point Flash for Nikon and Canon Digital SLR's, the Dine Digital System includes the Sigma 105 mm macros lens with Dine dental standardization guide or Canon/Nikon's 60 mm macro lens. The Dine Flash features a ring flash for intra-oral photography and a point flash for facial picture taking. The flash is completely metered by the camera to simplify dental photography. The Dine Digital SLR system accomplishes the full range of intraoral photography from 1:1 posterior intraoral quadrants to anterior, lateral, occlusal, and facial photography. The Dine dental camera kits include an intra-oral mirror and cheek retractors, 256 MB memory card, memory card reader, and hard carrying case for the camera as well as Dine's Pixelease Imaging Software.
For more information, contact Lester A. Dine Inc, PGA Commerce Park, 351 Hiatt Dr, Palm Beach Gardens, FL 33418; (800) 624-9103; www.dinecorp.com.
Flash Drive
Kanguru Solutions introduces the Kanguru Bio Drive, a USB2.0 flash drive made with a biometric fingerprint-recognition sensor. The Bio Drive provides a built-in biometric sensor that scans the user's fingerprint, allowing access to an encrypted part of the drive once an exact fingerprint match is confirmed. Since an individual fingerprint acts as a password, the password to your secure Bio Drive is always at your fingertips. The Bio Drive stores up to five fingerprints per drive and offers the option to set a recovery password should the sensor undergo substantial damage. The system weighs 19 g and resists up to 1,000 g of shock. It offers storage capacities ranging from 256 mb up to 1 g, and operates on Windows 98/SE/ME/2000/XP.
For additonal information, contact Kanguru Solutions, 1360 Main St, Millis, MA 02054; (888) 526-4878; www.kanguru.com.
Infection-Control Gloves
Henry Schein introduces the Criterion glove line, which includes powdered and powder-free latex gloves. The powdered latex gloves feature a natural color, a light powder level, and a solid thickness. The powder-free latex gloves feature online chlorination and polymer coating. Criterion-CL is an online chlorinated textured glove with a low protein level and a superior touch and fit. Criterion-PC is a nonchlorinated, white-textured glove that is polymer-coated so that it is easy to pull on. Criterion Nitrile is a fully textured glove that feels more like latex in stretch and is distinguished by its blue color. Clear vinyl and traditional PVC gloves are available in powdered and powder-free versions and expanded size ranges.
For more information, contact Henry Schein Inc, 135 Duryea Rd, Melville, NY 11747; (800) 372-4346; www.sullivanschein.com.
Dental Resin
Pulpdent Corp introduces Ortho-Coat™, a fluoride-releasing, light-cure resin that coats the bracket and tooth to stop food and bacteria from collecting under the brackets. It prevents decalcification, staining, and discoloration during orthodontic treatment and protects soft tissue from sharp edges of brackets, bands, and wires. Ortho-Coat cures with all lights, bonds well to self-cure and light-cure orthodontic adhesives and to enamel, and does not discolor. Ortho-Coat incorporates the company's patented Embrace technology, which is moisture-tolerant and behaves favorably in moist oral environments; integrates with tooth structure; and is noted for its marginal integrity and ability to prevent microleakage. Ortho-Coat is sold in boxes containing two 5 mL syringes of the product, applicator tips, and informational literature.
For more information, contact Pulpdent Corp, 80 Oakland St, Watertown, MA 02471-0780; (800) 343-4342; www.pulpdent.com.
Surgical Ear-Loop Mask
Defend offers the Diffuser Anti-Fog Surgical Pleated Ear-Loop Mask with a comfortable nosepiece. The Ear-Loop Mask is made from three-ply nonwoven polyester material. It has a soft inner layer and is fiberglass- and latex-free. Soft, rounded ear loops hold the mask in place. The Diffuser mask is rated 99%+ BFE at 3 µm. It is packaged in boxes of 50.
For more information, contact Mydent International, 80 Suffolk Court, Hauppauge, NY 11788; (800) 275-0020; www.defend.com;
Lingual Instruments
DB Orthodontics Ltd has extended its range of Ixion Orthodontic Instruments to include the Lingual Instrument range. Developed specifically to facilitate lingual orthodontics, the instruments feature narrow interbracket widths to access parts of the mouth that are hard to reach with traditional orthodontic instruments. Ixion Lingual Instruments have longer handles and smaller heads to accommodate the lack of space. They also feature the advantages of the complete Ixion range, including smooth contours for added patient comfort. The instruments are manufactured from German surgical stainless steel with a glare-reducing satin finish. The cutting edges are manufactured from tungsten carbide inserts to provide strength and sharpness. They are fully autoclavable and feature precision box joints for reliable and smooth action, which ensures that the tips align perfectly every time, according to the company.
For more information, contact ClassOne Orthodontics, 5064-50th St, Lubbock, TX 79414; 001 806 799 0608; www.classoneorthodontics.com.
Dinosaur and Shark Toothpaste
Plak Smacker offers Dinosaur and Great White Shark Fluoride Gel Toothpaste. Available in bubblegum and berry flavors, the 4.2-ounce tubes display fun, colorful characters that children love. With no sugar added, the sodium fluoride anticavity toothpaste keeps young patient's teeth healthy.
For more information, contact Plak Smacker, 755 Trademark Circle, Corona, CA 92879; (800) 558-6684; www.plaksmacker.com.
Orthodontic Floss
Plak Smacker offers UltraThin Floss Threaders. The new thin design makes it easy to thread floss under bridges, orthodontic appliances, implants, and between connected crowns. The threaders may be used with your choice of floss. Each box contains 100 envelopes with 10 threaders per envelope.
For more information, contact Plak Smacker, 755 Trademark Circle, Corona, CA 92879; (800) 558-6684; www.plaksmacker.com.